29th Annual Meeting of General Assembly of IOS concludes with Lecture on "Towards an Inclusive India: Vision for 2015"

September 6, 2015 at 162, Jogabai, Jamia Nagar, New Delhi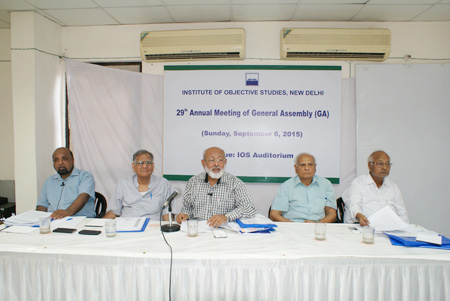 New Delhi, September 6: The 29th Annual meeting of General Assembly (GA) and 58th meeting of Governing Council (GC) of the Institute of Objective Studies (IOS) concluded here today. A number of decisions were taken on the occasion. According to the decisions taken, the IOS will celebrate its 30th anniversary next year. National and international seminars and workshops on the new education policy will be organised in Delhi and other places of the country. Similarly, about six seminars on "Minority Rights and Identities and Constitutional Safeguards: The Role of State, Judiciary and Civil Society" will be organised.

It was also decided to award scholarships to students with madrasa background pursuing courses in social sciences and law in universities besides students studying journalism. Five priority areas, viz, law, history, education, Islamic Studies and comparative study of religions, have been selected for research. In addition, a committee will be constituted to study the nature of schemes being implemented by the Central government and create awareness among Muslims. Another committee will be set up to review school and higher education as also research under the new education policy. A decision was also taken to undertake work on books on Seerah in regional languages.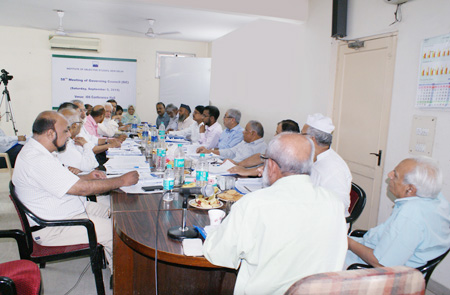 The 58th GC meeting was held on September 5, which was attended by 30 members and special invitees followed by 29th GA meeting, attended by 60 members and special invitees from across the country, held on September 6, 2015.

The IOS also organised a lecture on "Towards an Inclusive India: Vision for 2025" on the occasion of the annual meeting of GA. The lecture was based on the findings of a long on-going research commissioned by the Institute of Objective Studies under Dr. Amir Ullah Khan. The project will try to gauge the exact Muslim situation and suggest measures to improve their lot. Delivering the lecture, Dr. Amir Ullah Khan, Consultant and Policy Advisor, Gates Foundation and Visiting Professor, Indian School of Business, Hyderabad and Infinity Business School, Gurgaon held that following the parliamentary elections 2014, development continued to be in the limelight for the state elections that followed in Maharashtra, Haryana, Jharkhand and Jammu and Kashmir.

He said that in today's world and times, it was important to look at what the vision for Indian Muslims would look like. Formulating a vision statement for an entire community was an onerous responsibility and, therefore, needed to be done with utmost care and wide consultation. He observed that the study reached out to a wide constituency across the country to elicit views of Muslims about the difficulties encountered by them and what the country held out for them in the next ten years. The study also sought to know if Muslims would be a part of this development, given their negligible presence in Parliament and state legislatures. This, he said, was the main challenge before the Muslims, who according to official census figures, constituted 14.2 percent of the population.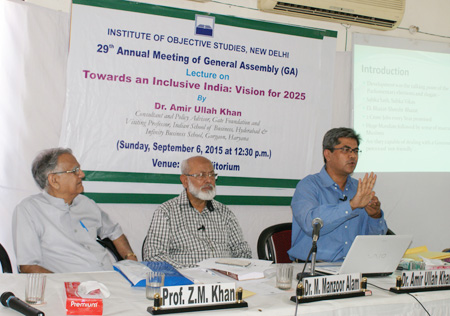 Dr. Khan observed that the study was divided into five parts, each one focusing on various strands of insight and information. Referring to the methodology the survey team adopted, he said that a comprehensive study of Indian Muslims during the last ten years was undertaken. The team also went into the literature on Indian Muslims of preceding ten years. He noted that the team spoke to about 3,500 people claiming that this was the largest study conducted in the country in the last thirty years. He said that 50 percent respondents were educated and the rest were semi-educated. About 45 percent respondents were graduates.

Commenting on the outcome of the study, he said that today 95 per cent Muslim boys went to school with the percentage of school-going girls standing at 90 per cent. About 90 percent boys dropped out at the level of 10th standard. Opining that there was tremendous scope for improvement in the situation of the community, he expressed confidence that Muslims would improve in terms of education and per capita income. He pointed out that during the last 10 years the number of middle-class families had gone up. Following the migration of Muslim population from east to the west, the growth rate increased in the case of latter than the former. The case of Assam could be cited in this connection. Claiming that 37 percent Muslim population in the urban areas did not improve as much as expected, while the growth rate in Bihar and western Uttar Pradesh registered an increase.

Dr. Khan said that questions like how Muslims would fare if their condition had changed for the better; what happened to the Sachar Committee Report; effect of the Rangnath Misra Committee Report and if the government took note of the Kundu Committee Report, were fielded to respondents. Regrettably, most of the respondents were ignorant of the Sachar Committee Report. He informed that a separate study was being conducted to gauge the level of awareness among Muslims about the welfare schemes for them. This would give us a deeper insight into what various groups divided under demographic heads believed of the situation today and what it would look like ten years from now. Such a large and comprehensive survey of what Indian Muslims faced and looked forward to, was a first of its kind and should generate some interesting results. He said that a third of these respondents were non-Muslims.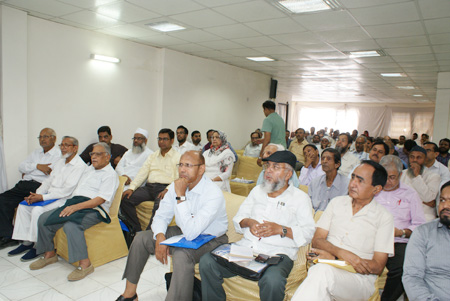 Dr. Khan held that the survey team went across the country and organised roundtables where specially invited academics, activists, lawyers, columnists, journalists and other experts sat together to deliberate on the study. The attempt was to bring together views from all sections of society, both Muslims and non-Muslims, and articulate a vision for Indian Muslims. He observed that the underlying assumption was that an inclusive India would grow economically and politically if we understood various inequalities that existed today, both as a matter of fact and as a matter of perception. These faultlines would create serious bottlenecks for India's pace of growth in the next few decades as it became the fastest growing economy in the world. Such workshops discussed five parameters: health, education, security, political representation and employment, he added.

In his presidential speech, Chairman of the IOS, Dr. Mohammad Manzoor Alam, pointed out that the study had not been made public so far. He informed that the IOS would hold a discussion on the outcome of the report in the near future and decide on the action to be taken in this regard. He wondered that in spite of much ado about the Sachar Committee Report, nothing substantial came out as the number of Muslims who were aware of it was not more than 17 percent. How could the rest 83 percent of them get enlightened about the welfare schemes meant for them, he wondered. He emphasised that serious efforts must be made to ensure that Muslims marched ahead in different fields.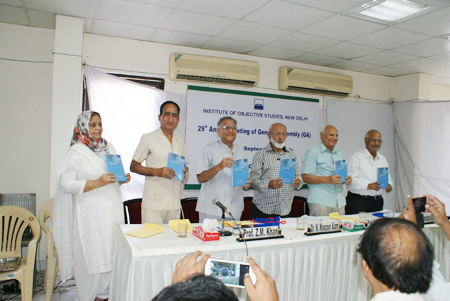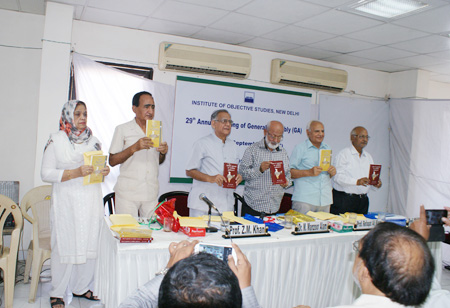 On this occasion, two books, Qalmi Khake by late Prof. Zafar Nizami, and Musalmanon ka Siyasi Empowerment by Prof. ZM Khan in Urdu and Hindi published by the IOS were released. Those who attended the function included Vice-Chairman of the IOS, Refaqat Ali Khan, Secretary General of the IOS Prof. ZM Khan, Prof. Ishtiyaque Danish, Prof. Manzoor Ahmed, Maulana Atique Ahmad Bastavi, Dr. Major Zahid Husain, Prof. Shamim Ahmad Ansari, Prof. Mohsin Usmani Nadvi, Prof. Arshi Khan, Mushtaq Ahmad advocate, Prof. Sanghasen Singh, Prof. M. Muqeem, Maulana Amin Usmani, Dr. Fakhruddin Mohammad, Dr. Priyasen Singh, Dr. Shakeel Ahmad Tamanna, S. Pervez Bari, Suhail Anjum, scientist Mohammad Khalil, Prof. Obaidur Rahman Hashmi and Dr. Imtiyaz Husain.