PROF. YASIN MAZHAR SIDDIQUI BAGS 5TH SHAH WALIULLAH AWARD
New Delhi, September 24, 2005: Prof. Yasin Mazhar Siddiqui of the Aligarh Muslim University was awarded the prestigious Shah Waliullah Award at a function at the Engineering College auditorium of Jamia Millia Islamia here today. The award carries a memento, a citation and a cheque of Rs 100,000.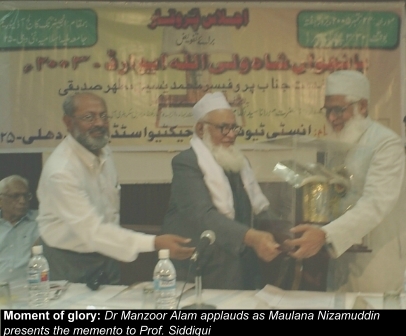 Prof. Siddiqui, who is the fifth recipient of the honour, got it for his erudition and scholarship, especially in the area of "philosophy of historiography". A professor of Islamic Studies, he has got similar awards from other Muslim countries, including Pakistan.
Following his acceptance speech, he delivered a lecture on the philosophy of Shah Waliullah to thunderous applause from the cognosenti. For the uninitiated, Shah Waliullah was a great thinker and sufi of 18th century India.
The programme began with the recitation of the holy Quran by Maulana Abdullah Tariq. Dr Manzoor Alam, chairman of Institute of Objective Studies (IOS) which gives this annual award, explained the criteria for selecting the winner.
He also elaborated upon the major projects of the IOS, which included the release of a seminal work early next month called 100 Great Muslim Leaders of the 20th Century. Another major project underway was The Heritage of Islam, which in its ambition and scope could overshadow the 100 Great Muslim Leaders book, which took four years to complete.
Eminent Islamic jurist Hazrat Maulana Nizamuddin, Amir Shariat Bihar and Orissa, presented the memento to Prof. Siddiqui while the cheque and the citation were presented by Mr Mahmood Ali, former registrar of AMU and one of the leading lights of the IOS.
The programme was conducted by Dr Ishtiyaque Danish of Jamia Hamdard, New Delhi. The vice-chairman of the IOS Dr Manzoor Ahmed and secretary-general Prof. Z.M. Khan graced the occasion. The Engineering College auditorium was packed to capacity by ulema, Muslim intellectuals, students of universities and madrasas.g