Muslim social scientists meet at AMU

June 20-21, 2018 at faculty of social sciences, Aligarh Muslim University, Aligarh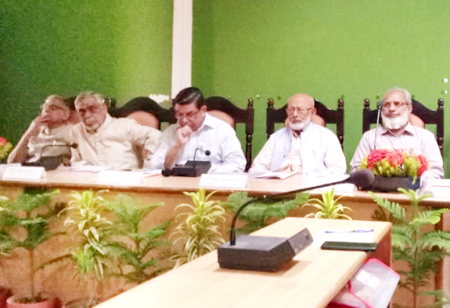 IOS-AMU two-day meet to revitalise Indian Association of Muslim Social Scientists (IAMSS) under the theme "Role of Social Scientists in Global Changing Scenario with Special Reference to India" concludes.

A two-day meet to revitalise the Indian Association of Muslim Social Scientists (IAMSS) under the theme "Role of Social Scientists in Global Changing Scenario with Special Reference to India" was organised by faculty of social sciences, Aligarh Muslim University, Aligarh, in collaboration with the Institute of Objective Studies, New Delhi, on June 20-21, 2018 at Aligarh.
The programme began with a welcome address by Prof. Shamim Ahmad Ansari, dean, faculty of social sciences and convener of the meet. He emphasised the pivotal role of social scientists in articulating issues and challenges and suggesting intervention strategies to cope with the situation and find amicable solutions.
Prof. Z. M. Khan, Secretary General, IOS, in his introductory remark, emphasised the obligation of Muslim social scientists and requested youngsters to come forward and contribute at least a little to the uplift of the Muslim community.
Prof. Akhtarul Wasey, President, Maulana Azad University, Jodhpur, in his inaugural address, suggested changing the nomenclature of Indian Association of Muslim Scientists as Muslims lived in a secular country. He said there was a need for cognitive correction and Muslims' approach to issues.
Dr. Mohammad Manzoor Alam, Chairman, IOS and President, IAMSS, in his special address, elaborated the need to revatilise the IAMSS to meet the present-day challenges. He advocated development of appropriate strategies to effectively deal with the challenges today as well as by generations to come. He assured his support to those who wanted to contribute to this endeavour.
Prof. Tabassum Shahab, pro- vice-chancellor, AMU, in his presidential remarks, applauded the organisers of the meet. He drew attention towards the need to address the issues of Muslim society and suggested the inclusion of medical professionals also in the endeavour. Prof. Arshi Khan, deptt. of political science, AMU, proposed a vote of thanks and congratulated Prof. Ansari for his efforts in revitalising Indian Association of Muslim Social Scientists and providing a platform to them for discussion and action.

The inaugural session was concluded with AMU tarana, followed by national anthem.
The first business session comprised a lecture by Prof. Irfan Habib, Professor Emeritus, deptt. of history, AMU, on the "Role of Social Sciences and Importance of Values in Human Development". He spoke about economic and educational issues related to Muslims. He also dwelt upon discrimination and madaris.

The second business session on "Contemporary National Scenario in Relation to Muslim Social Scientists" started with a lecture by Prof. Afzal Wani, faculty of law, GGSIP University, Delhi. He stressed the need to expand the search for knowledge. He focused on the importance of human being in their intellectual capability and qualities mentioned in the holy Quran.

Prof. Abdul Ali, former professor of Islamic Studies, AMU, while discussing the role of Muslim social scientists pointed out that failure of Muslims could be explained by a knowledge deficit. He centered his lecture around various examples from the holy Quran and its implications in different fields.

Prof. Shoeb Abdullah, former professor, deptt. of teachers' training and non-formal education, Jamia Millia Islamia, New Delhi, dwelt upon the fact that there was a need to revisit the educational system, policies and resources. He added that the next important issue was making the young generations aware about the existing policies and opportunities and giving them a roadmap to move on.
Day 2

The third business session on "Challenges and Strategies: Role of Indian Association of Muslim Social Scientists" was started by Prof. Shamim Ansari. He introduced the session by discussing the theme and strategies to cope with issues of Muslim empowerment.
Prof. Ishteyaque Danish, former professor of Islamic Studies, Jamia Hamdard, New Delhi and finance secretary, IOS, discussed the challenges and strategies in the context of Islamic Studies. He differentiated theology from Islamic Studies and explained that Islamic Studies was an umbrella for theology. He also differentiated theology from Islamic Studies and West Asian Studies.

He added that Muslims usually focused on inteshar (disunity) rather than ittehad (unity) and stressed the need to change approach towards life.

There was a need for clarity in Islam regarding sub-sects of Hanafi Islam: Deobandi and Barelvi. God is One, and the method of prayer is same. Then why and how differences are being created? he asked. Muslims didn't have adequate information about Partition, which broke their backbone. Because of differences in their perspectives they did not meet socially as they were taught to be against other sects and fight each other. He said Muslims should study Partition in depth in order to understand recent history.

Prof. Shafey Qidwai, professor in deptt. of mass communication, AMU, in his lecture on "Media's Role in Making Societal Regulations" mentioned that facts shown by media were often untrue. Truth is rarely shown by media.
Prof. Arshi Khan discussed the challenges that had to have certain strategies to resolve them. He also discussed the media which debated about Muslims negatively. While discussing secularism, he said that people portrayed themselves as secular, but actually they were not secular. He talked about education among Muslims that needed concentrated efforts as Muslims were lagging in education.

Prof. Asmer Beg, deptt. of political science, AMU, stressed the need for qualitative research, rather than quantitative research.

Prof. Shah Alam, deptt. of psychology, AMU, focussed on students who were forced by their parents to go in for subjects of study irrespective of their own interest. He said that students were future leaders and their capabilities were being destroyed by their parents, forcibly sending them to stream/fields of their own choice and not as per the interest and aptitude of students. He requested the IOS to initiate a programme through which parents of students could be sensitised to the need of their children to opt for streams of their choice in class 10th or 11th as per their interest and aptitude.
Dr. Md. Aftab Alam, asstt. professor of political science, Zakir Husain College, Delhi, said that Muslims needed to portray themselves as ambassadors of Islam. Self-critical thinking was essential to critically look at themselves and improve accordingly so that they could be productive for society and humanity at large. Conceptual clarity was lacking among Muslims, which required attention.
Prof. Khalid Azam, deptt. of business administration, AMU, discussed different courses in management studies and mainly focused on Islamic banking. He mentioned lack of specialised teachers in different disciplines who could make students learn in real sense. He talked about a subtle bias that was often encountered by Muslims in work and social situations.

The valedictory session started with presentation of a brief report on the proceedings of the meeting by Dr. Nasheed Imtiyaz.
Prof. Afzal Wani in his valedictory address emphasised the role of Muslim social scientists in present-day India. He called upon scholars to see the challenges around them and play their role in building society and nation. He said the outcome of deliberations had achieved more than what was expected.
Dr. Mohammad Manzoor Alam in his presidential address laid emphasis on revitalisation of IAMSS to meet the challenges in the changing scenario of the country. He stressed the need to look into the issues Indian Muslims were confronted with, especially in social, economic and educational fields, and present the facts before policy makers. While calling upon social scientists to study emerging trends in geo-politics, foreign policy and legal studies, he emphasised the need to have collaboration with like-minded people and institutions, and said that the IAMSS would work on common programmes for the Muslim community with involvement of different schools of thought.
Earlier, a 13-point resolution unanimously adopted was read out by Prof. Shamim Ansari, convener of the meet. The resolution read as follows:

1. Serious efforts should be made to launch a drive to enroll new members of the Association.

2. Medical and legal awareness cells may be organised to serve people at large, and Muslims in particular, against unlawful behaviour of police and other security agencies.

3. The Association should organise an expert committee to study and analyse constitutional safeguards available to suffering citizenry.

4. There should be a standing committee on madarsa education and its improvement at all levels.

5. There should be serious efforts to utilise skill and educational development and organise coaching centres for employment and education.

6. An expert committee should also be organised to suggest ways and means to avail of benefits available under welfare and development schemes of various governments.

7. A special drive may be launched to organise new and specialised NGOs for specific purposes at all levels.

8. Panchayat-level governance should be given due place in functioning of local bodies.

9. A data bank is the need of the hour. Data at macro and micro levels should be collected, classified and made available for specific uses.

10. Efforts may be made for empowerment schemes and researches should be conducted on important issues.

11. Preparation of reading material along with arrangements for translations into different languages has to be made. A stage is envisaged when the Association would have its own competent and vibrant translation unit.

12. The Indian Association of Muslim Social Scientists should take appropriate initiatives for working on Indian history and historiography.

13. Efforts may be made to institute a centre for policy research and studies to work within the objectives of the Indian Association of Muslim Social Scientists.