Tajdar Taj's anthology Barfili Zamin ka Suraj released at IOS-NSS function

March 20, 2016 at University's Shankar Rao Chavan auditorium on the Kalina campus, Mumbai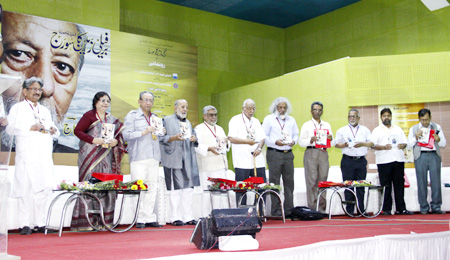 New Delhi: The third anthology of Tajdar Taj, Barfili Zamin ka Suraj (Sun of the Snowy Land), was released on March 20, 2016 at a function jointly organised by the Institute of Objective Studies and the National Service Scheme of Bombay University at the University's Shankar Rao Chavan auditorium on the Kalina campus, Mumbai. Commissioner for Linguistic Minorities, Padma Shri Prof. Akhtarul Wasey, released the collection amidst applause from the audience who gave it an standings ovation. Speaking on the occasion, he read out a couplet from the collection: Garmiye fikr mili shahr-i-ghazal ko humse/Humne barfili zaminon mein ugaya suraj (the city of ghazal got the warmth of thought from us/ we grew the sun in snowy lands).
The current situation demands the awareness of feelings and the warmth of thought. This shows that Taj is a poet of the sensivities of today who attaches importance to thought. The intensity of thought and art have mesmerising impact due to the hidden universal pain of our times. When we look at his poetry in a proper perspective we are astonished to see his complete sway over language and expression, Prof. Wasey remarked.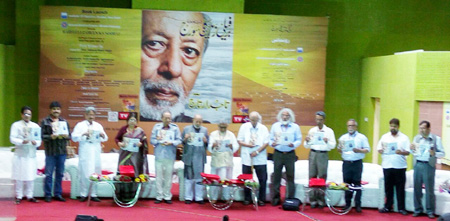 In his paper, noted linguist Dr Abdul Sattar Dehlvi commented that Taj's poetry had social and cultural glimpses. Besides, it was punctuated with historical events as also philosophical depth, simplicity, flow of language and a commitment to realism which were not affected while presenting ideas. This showed his mastery over language and expression. He possessed all the qualities that made Tajdar Taj a poet in his own right, Dr. Sattar observed.

Another prominent Urdu poetess, Dr Rafia Shabnam Abidi, said that Taj always put human life at the centre and honestly used it as a symbol in his poetry. His poetry itself was reflection of his individuality, she added.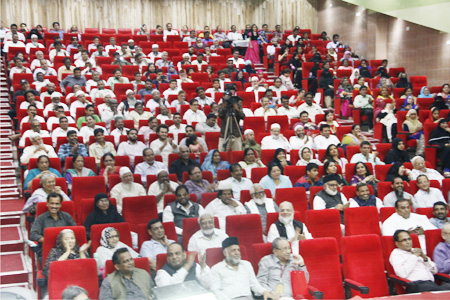 Supreme Court advocate and chairman of the Alami Urdu Trust, Abdul Rehman, held that he did not know Taj till he invited him for the mushaira (poetic symposium). He got a copy of his collection of poems from Prof. Akhtarul Wasey while on a journey. Hailing his poetry as superb, he noted that language and diction used by Taj was not witnessed in Urdu poetry in the last 60-70 years. This was important as nobody could think of such a style in a commercial city like Mumbai. He announced that the collection of his poems would be released at a function to be organised by Alami Urdu Trust in Delhi in the near future.

Referring to the hospitality and warmth of Taj, the editor of the Urdu daily Inquilab and a veteran journalist, Shahid Latif, observed that he knew Taj for the last forty years. He said that his mellowness, firm conviction and open-heartedness formed part of his overall personality. He never allowed himself to be influenced by the Progressive Writers' Movement or modernity in literature. His individuality reigned supreme.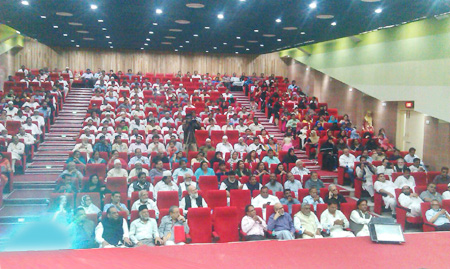 The function was presided over by the eminent Urdu journalist and poet Hasan Kamal. The function was made memorable by Urdu poets like Shaz Ramzi, Hasti Mil Hasti, Alam Nizami, Yusuf Diwan, Irfan Jaffery, Dr Qasim Imam, Deepti Mishra, Sagar Tripathi, Jane Alam Rahbar, Zameer Kazmi, Shahid Latif, Adbul Ahad Saz, Dr Rafia Shabnam Abidi, etc. who recited their ghazals.

On this occasion, famed singer Ghulam Abbas Khan presented the ghazals of Taj in his melodious voice leaving the audience spellbound. Sheikh Nizamuddin, the representative of the Institute of Objective Studies, presented a brief account of the Institute. Head of the Department of Hindi, Dr Hub Nath Pandey, dwelt on the aims and objective of the National Service Scheme of Bombay University. Abdul Ahad Saz and Shakeel Warsi jointly conducted the proceedings.