IOS Chairman's address to youth in Riyadh

November 5, 2017 at Riyadh (KSA)

By Khalid Noor Mohammed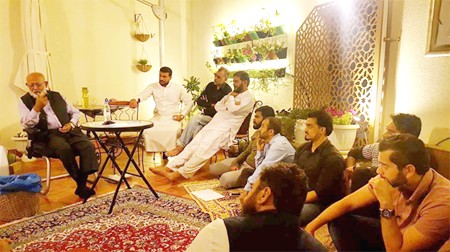 Riyadh, November 5: Dr. Mohammad Manzoor Alam, Chairman of the Institute of Objective Studies, Delhi, addressed a group of youngsters in Riyadh. He highlighted the need to acquire knowledge to remain calm in the face of provocation.

He pointed out that there is an acute shortage of good quality Muslim legal experts. We need to fund at least 2 brilliant Muslims to pursue legal studies in Harvard or other prominent universities, he suggested.
He disclosed that he has proposed before the Muslim leadership in India that a group of 5 leading Islamic scholars in India meet with the 5 Sankaracharyas in India and initiate a movement to promote greater harmony between communities.

He lamented the suspicion a section of the community harbours with regard to working closely with the Dalits. He said that there is a pressing need to work closely with the weaker sections.

He called upon the youngsters to use Information Technology to present the true picture of Islam, so as to combat the large-scale demonization of Islam in Cyberspace.

He commended the role of non- Muslim activists who were increasingly raising their voices in support of the beleaguered Muslim community in India. These activists have realised that they need to join forces with Muslims to be able to defeat fascism, he added. In answer to questions, he said that the expatriate community should have a plan to resettle in their own country. However, he added that if opportunities presented themselves in other countries where laws of naturalization were in place, these chances must be made use of. But not at the cost of one's ability to practice his faith, he cautioned.