IOS organise lecture on "Challenges to Constitutional Mandate for Religious Harmony"

October 17, 2015 at 162, Jogabai, Institute Building, Jamia Nagar, New Delhi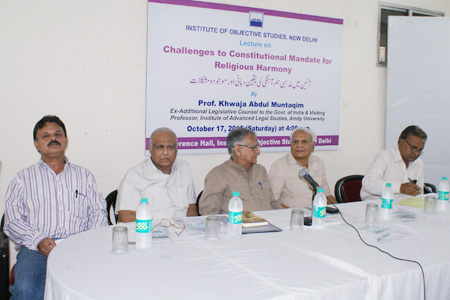 L-R: Dr. Tariq AShraf, founder member, Civil Society Network, New Delhi; Prof. Khwaja Abdul Muntaqim, Ex-Additional Legislative Counsel to the Govt. of India and Visiting Professor, Institute of Advanced Legal Studies, Amity University; Prof. ZM Khan, Secretary-General of the IOS; Prof. Refaqat Ali Khan, Vice Chairman of the IOS; Prof. Eqbal Husain of the Faculty of Law, JMI
A lecture on "Challenges to Constitutional Mandate for Religious Harmony" was organised by the Institute of Objective Studies in its conference hall on October 17, 2015. Delivering the lecture, Ex-Additional Legislative Counsel to the Govt. of India and Visiting Professor, Institute of Advanced Legal Studies, Amity University, Prof. Khwaja Abdul Muntaqim, pleaded for immediate enactment of the "Prevention of Communal and Targeted Violence (Access to Justice and Reparations) Bill, 2011 against the backdrop of incidents of communal violence against Muslims in different parts of the country.

He said that in our country, communal violence had assumed the form of a multi-factorial disorder, though we Indians were considered as one of the most tolerant nations in the world. These factors were divisive, mostly hidden and sometimes open. Communal propaganda, communal instigation by individuals and so-called political leaders, indifferent attitude of law enforcement agencies, delayed justice and poor rate of conviction and misuse of religion had greatly contributed to the prevailing situation. He held that divisive forces and religious fanatics were raising their ugly heads. Such elements were bent upon polluting the atmosphere. They were demolishing religious places, desecrating deities and resorting to loot and arson, besides killing innocent people by applying most inhuman methods.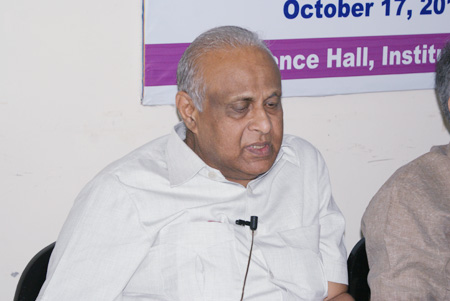 Prof. Muntaqim remarked that anyone who did not love his country and its people or any section of people, was not a patriot in any sense of the term whatever or whichever the meter of patriotism might be. But the spirit of patriotism must come from within. It was not to be injected. It could, however, be inculcated in those wandering in the grey area by taking corrective measures. He said that a tooth for a tooth and an eye for an eye approach was no solution. He suggested that efforts should be made to find out as to what were the factors that had dragged them to this thorny track. As far as possible, reformative approach should be the first preference, because in case of its failure, law would ultimately take its own course. He opined that Part-III of the Constitution of India, if acted upon in letter and spirit, was a complete charter of human rights. The provisions contained in this part provided for complete foolproof protective cover to the minorities. But religious fanaticism, which was wrongly described as religious fundamentalism, had plagued the global atmosphere, he said. He noted that in the Charter of the United Nations, the nations of the world had agreed to affirm faith in fundamental human rights, in dignity and the worth of the human person and to practise and live together in peace with one another as good neighbour.

Prof. Muntaqim held that the essence of secularism in India was the recognition and preservation of different types of people with diverse languages and different beliefs, and placing them together so as to form a whole and united India. He said that the proposed legislation was brought to respect, protect and fulfill the right to quality before law and equal protection of law by imposing duties on the Central government and state governments to exercise their powers in an impartial and non-discriminatory manner to prevent and control targeted violence. He asked the masses to realise that Hindus and Muslims had to co-exist in India even if some of them hated some of them or all of them hated some of them or some of them hated all of them or some of them loved them as individuals and not as a community or some of them remained indifferent. He said that it was the constitutional duty of the majority and minority communities to conduct themselves in such a manner that they earned the trust and confidence of each other. The minorities must also realise that the religious feelings of the majority community were as sacred to them as their own feelings were to them, he remarked.

Referring to the provisions of the proposed law, he said that this also included mass violence against the Scheduled Castes, Scheduled Tribes and religious minorities in any state in the Union of India and linguistic minorities in any state in the Union of India. This was aimed at upholding secular democracy, helping to secure fair and equal access to justice and protection to vulnerable groups through effective provisions for investigation, prosecution and trial of offences under the Act. He said that the Act also provided for restorative relief and reparation, including rehabilitation and compensation to all persons affected by communal and targeted violence.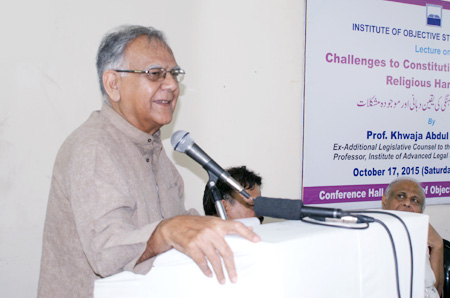 In his presidential remarks, the Secretary-General of the IOS, Prof. ZM Khan observed that legal remedies were available to the minorities and other weaker sections within the framework of the Constitution. Tracing the history of intolerance, he said that since 1923 attempts had been made by Veer Savarkar and the RSS to target Muslims. He commented that non-liberal elements in the Hindu community had become vocal in the wake of the Babri Masjid demolition. Though in the Constitution remedies against discrimination to Muslims were available, there was nobody to speak on their behalf. Referring to early Hinduism, he said that only those who were covered under the 'Varna' were Hindus and the rerst, including backwards, like Kurmis, Yadavs, etc, did not come under its ambit. The number of such high caste Hindus did not, however, exceed nine percent, he concluded. On this occasion Prof. Khwaja Abdul Muntaqim donated a set of one dozen books written by him, to the IOS library. Of these, seven books were in Urdu and the rest in English.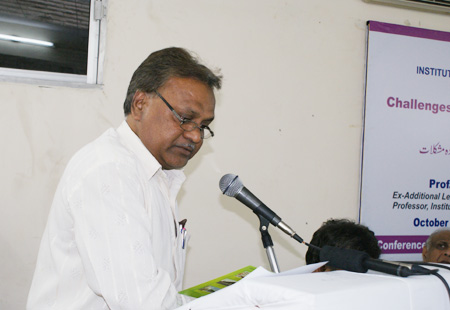 Prof. Eqbal Husain of the Faculty of Law, JMI presented his expert comments on the topic. While the lecture began with the recitation of a verse from the Quran by Hafiz Athar Husain, founder member, Civil Society Network, New Delhi, Dr. Tariq AShraf introduced the topic and conducted the proceedings.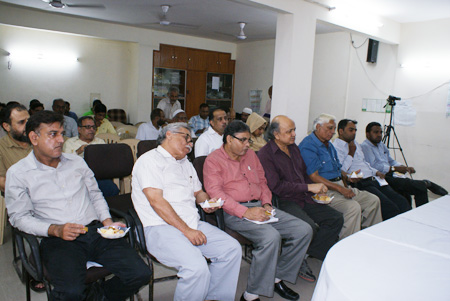 A view of audience
The lecture was attended by a number of academics, social activists, researchers and prominent citizens, including Vice Chairman of the IOS Prof. Refaqat Ali Khan, Prof. Afzal Wani, Dr Aftab Alam, Dr Mohd. Ehsan, AR Khan, Hasib Ahmad, Khalid Nadeem Khan, S Haja, Shameena, STH Zaidi, Rashid ul Zafar, Iqbal Husain, and Syed Ashraf Rizvi.