Condolence meeting on the demise of Saiyyid Hamid,
B.S. Abdur Rahman and Dr. Ausaf Ahmad

February 5, 2015 at IOS Conference Hall, New Delhi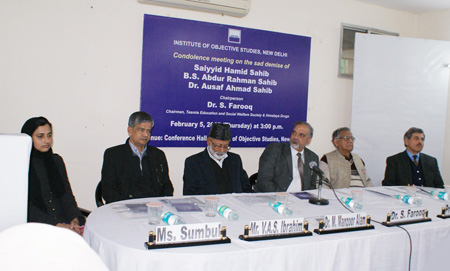 L-R: Ms Sumbul Begum, daughter of late Dr. Ausaf Ahmad; Mr V.A.S. Ibrahim, Resident Director, Coastal Energy Pvt. Ltd. and associate with late B.S. Abdur Rahman; Dr. Mohammad Manzoor Alam, Chairman, Institute of Objective Studies; Dr. S. Farooq, Chairman, Tasmia Education and Social Welfare Society & Himalaya Drugs; Prof. ZM Khan, Secretary General, Institute of Objective Studies; Mr Samar Hamid, son of late Saiyyid Hamid
New Delhi, Feb. 5: Glowing tributes were paid Saiyyid Hamid, B.S. Abdur Rahman and Dr. Ausaf Ahmad at a condolence meeting organised by the Institute of Objective Studies here today. Recalling the services of Saiyyid Hamid, his son, Samar Hamid said that his father left an indelible mark on public life. He saw Saiyyid Hamid from close quarters and found that he was special, unique and a man of determination and indomitable courage. He said that Saiyyid Hamid left a trail of qualities for others to follow. He had a keen understanding of things and transcended barriers of thought.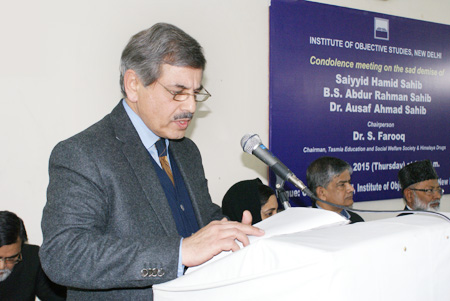 He was for all ages. He was a scholar, poet, author, thinker, social activist, reformer, institution builder, editor, and above all an extraordinary human being. A man of unimpeachable integrity, Saiyyid Hamid encapsulated compassion, love and foresight. He believed in the dictum "simple living and high thinking". He used to bring home nothing for himself, except books. Samar Hamid said that his father would help others without fanfare. He was so preoccupied with his work that he would not waste time even for a second. Always gentle and smiling, he never spoke ill of anyone. He stood for "good food for good health", Samar Hamid concluded.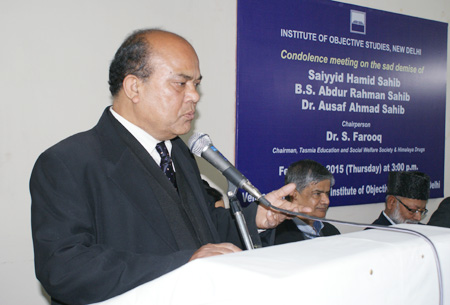 Advocate-on-record, Supreme Court of India, Mushtaq Ahmad described Samar Hamid as worthy son of a worthy father. He praised Saiyyid Hamid for enthusing students of Aligarh Muslim University with the aspiration for Civil Services. Editor, IOS Current Affairs and senior journalist Mohammad Zeyaul Haque, who had worked with Saiyyid Hamid for several years, recalled that he went with him in a caravan up to some length. Making an obituary reference to Saiyyid Hamid, he said, "we are celebrating his life and it should continue in future as well." He was an admirer of Saiyyid Hamid even before he had met him. He said that he was part of a delegation that went to Dubai for raising funds for the magazine Nation and the World, whose editor-in-chief was Saiyyid Hamid and the speaker was the editor. B.S. Abdur Rahman, who was on board of the Nation and the World, received Saiyyid Hamid in Dubai. Saiyyid Hamid was so concerned over the riots of the Ayodhya movement that he wrote several articles during 1992-93 on the issue. These articles were published in a book form later. Describing Saiyyid Hamid as a man who had a systematic style of working, he noted that simplicity and a sense of humour formed part of his personality. He concluded by reciting a line from an Urdu couplet, "Tum kya gaye, ke rooth gaye din bahaar ke" (With you have gone the days of spring).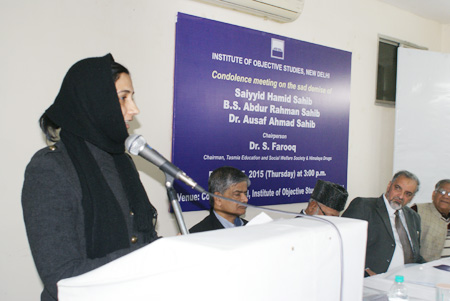 Sumbul Begum, daughter of late Dr. Ausaf Ahmad hailed her father as a scholar, researcher, economist and a poet. He taught at several institutions of higher learning like Aligarh Muslim University, Jamia Millia Islamia and Zakir Hussain College, Delhi University and had several books to his credit. Besides, she said, he delivered lectures on various aspects of Islamic banking. Though he did not begin life as a privileged person as he was not born in a rich family, he carved out a niche for himself as an eminent economist by dint of hard work. She said that Dr. Ausaf Ahmad always laid stress on the education of Muslims, so that they could compete with others in different fields. Religion was part of his life and he always acted according to the preachings of Islam, particularly on charity, love and care for others.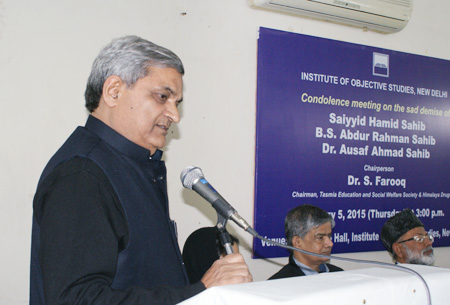 Prof. Naushad Ali Azad from the Department of Economics, JMI, said that Dr. Ausaf's life was worth emulating. Referring to the financial constraints he faced during his student days, Prof. Azad said that he used to work as a newspaper hawker while doing his B.A. from Lucknow University to support his mother. He was a very good teacher as well as researcher. He was all praise for the Chairman of IOS, Dr. Mohammad Manzoor Alam, for acknowledging his erudition and involving him in the activities of the Institute.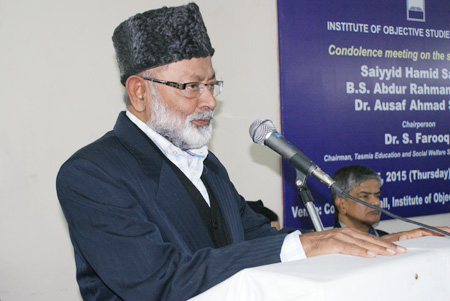 Condoling the death of the three eminent figures, Chairman of the IOS, Dr. Mohammad Manzoor Alam said that all of them were awarded by the Institute in recognition of their services in their fields. Everyone excelled in his field. Recounting his association with Saiyyid Hamid, he said that during his mission to raise funds for his newspaper, he had suggested to Saiyyid Hamid to fix the price of the paper in keeping with the purchasing power of the reader. Remembering B.S. Abdur Rahman, he noted that he had met the latter for the first time in 1986. Besides being a successful businessman, he was a great philanthropist who used to help the needy through the charitable trusts he had created. A strict practitioner of Islam, he built colleges and a university for imparting education to the Muslim community. Recalling his association with Dr. Ausaf Ahmad, he noted that he had met him first at the AMU and then in Saudi Arabia during his tenure at the Islamic Development Bank (IDB). Dr. Ausaf had promised him to associate himself with the IOS after completion of his tenure at IDB. He kept his promise and joined the IOS without taking any remuneration. Calling for the preservation of their legacy, he said that the mission of all the three should be taken forward. He also suggested that a book on the life and times of Saiyyid Hamid be brought out.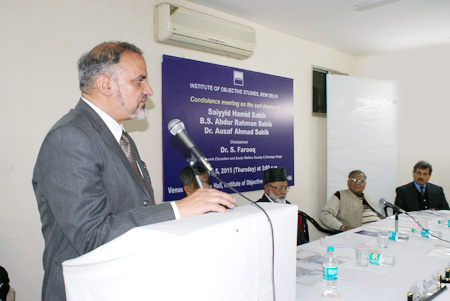 The Chairman of Tasmia Education and Welfare Society and Himalaya Drugs, Dr. S. Farooq, who presided over the meeting, said that every living being born in the world had to taste death. But those who left an indelible mark on society and rich legacy behind were always remembered. All the three gave their children good education by sparing some time for their family. He explained that Gandhiji was a great leader but a bad father as he had no time for his family. He expressed his dismay over those who, after attaining position, skipped namaz.

Paying rich tributes to Saiyyid Hamid, B.S. Abdur Rahman and Dr. Ausaf Ahmad, he said that they worked for educational development of Muslims. Despite reaching the top, their humility was worthy of emulation.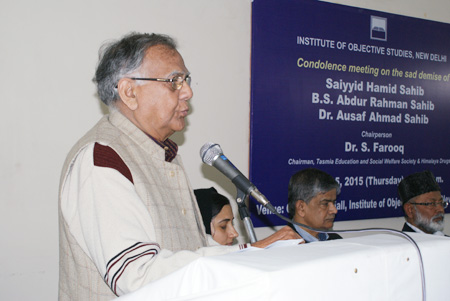 In his introductory speech, Secretary General of the IOS, Prof. ZM Khan observed that he came to know Saiyyid Hamid in 1956 when he was the District Magistrate of Bulandshahar in Uttar Pradesh. He was impressed with the rescue and relief operations he undertook during the floods. He also had an opportunity to join him as a member of a delegation to Cairo. He came into contact with Dr. Ausaf Ahmad when the latter was appointed as a teacher in the Economics Department of JMI. Prof. Khan said that B.S. Abdur Rahman did a lot of work in the South in the field of education.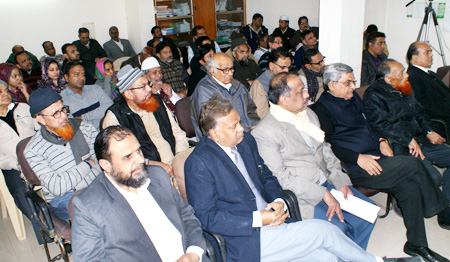 Earlier, the condolence meeting began with the recitation a verse from the Quran by Hafiz Athar Husain Nadvi. Dr. Nakhat Husain Nadvi conducted the proceedings. Those present on the occasion included Resident Director, Coastal Energy Pvt. Ltd. and associate of late B.S. Abdur Rahman, V.A.S. Ibrahim, President of Welfare Party of India, Dr. SQR Ilyas, Professor in University of Kashmir, Prof. Hamid Naseem Rafiabadi, Professor of AM Khwaja Chair, Jamia, Prof. Mohd. Hashim Qureshi, Associate Prof. of Law, Jamia, Dr. Eqbal Husain, Prof. Hasina Hashia, Dr. Mohd. Mushtaq Tijarwi from Jamia, Research Scholar, Jamia Hamdard, Mir Shahid Sattar and Prof. M. Afzal Wani, Dean, School of Law and Legal Studies, GGS Indraprastha University, New Delhi and Assistant Secretary General of IOS, besides a number of friends and admirers of the three personalities.