IOS Discussion on the book "Hindustan mein Dini Sahafat Ka Manzarnama"

May 13, 2017 at Institute Building, 162, Jogabai, Jamia Nagar, New Delhi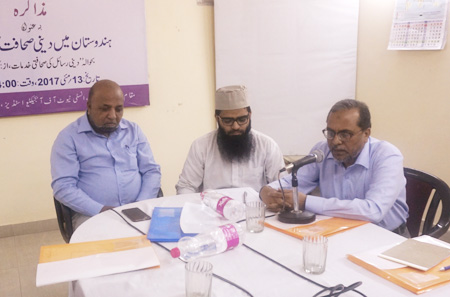 A discussion on the book "Hindustan mein Dini Sahafat Ka Manzarnama" (The Scenario of Religious Journalism in India), was organised by the Institute of Objective Studies at its conference hall on May 13, 2017. Initiating the discussion, the author of the book and a veteran Urdu journalist, Suhail Anjum, commented that the number of religious journals and periodicals had gone up abnormally and what was needed was to honestly critique the journals published in the past as well as the present, irrespective of their association with one school of thought or the other. He noted that the labour he put in during the last 4-5 years resulted in a book which was his individual venture. The book saw the light of the day due to the interest shown by the IOS chairman, Dr. M. Manzoor Alam. "Maybe, there are some shortcomings in the book, but this is my first such work", he said. It was up to the reviewers to suggest further additions for making it more useful. He insisted that he honestly accessed the journals representing various schools of Islamic thought to the best of his capabilities and gave them a proper place in his book.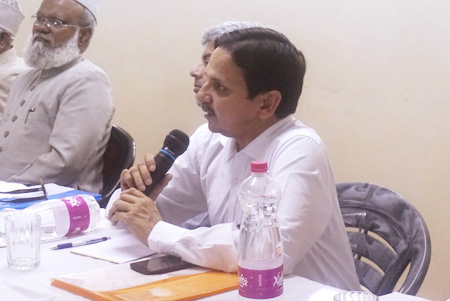 Expressing his views, Dr. Muzaffar Husain Ghazali said that an element of bias had crept into the religious journals today. He urged the editors of these periodicals that news and views carried by them must be factually correct and conform to journalistic standards and accuracy. Assistant Professor of Arabic, Delhi University, Dr. Mohammad Akram stressed that there was a good number of journals that were devoted to Sufism and were brought out from various dargahs. Such journals should also attract our attention, he said.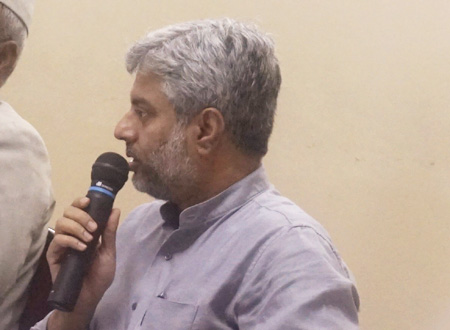 Journalist Dr. Moin Shadab, hailed Suhail Anjum's book as an example of good work. He observed that Anjum's understanding of the subject was deep as was reflected in the book. His contribution to the field of Urdu journalism required no introduction. The editor of the monthly Zikra, Dr Salman Asad, held that journalism should be close to facts and the clarity of the idea or view would make it meaningful. The Secretary of the Academy of publications, Jamat-i-Islami Hind, Dr Raziul Islam, pointed out that in certain chapters of the book, the author had failed to treat the subject in depth. He also said that the date of the publication of some journals had been erroneously quoted. There were certain mistakes that were striking. Referring to chapter four, he observed that whatever had been mentioned there in connection with the contemporary journals and periodicals, was confusing. He however, expressed confidence that the discrepancies and mistakes would be rectified in coming editions.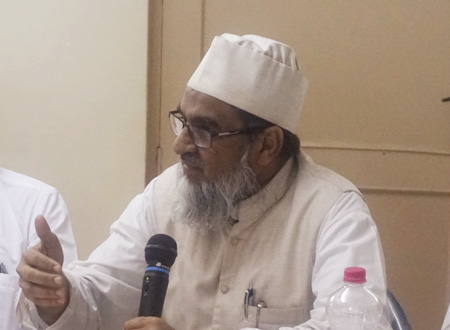 Chairman of Shah Waliullah Institute, New Delhi, Maulana Ataur Rehman Qasmi, made a special mention of Maulana Imdadullah Sabri's well-researched books and held that they were worth emulating. If the pattern set by the maulana was followed, the authenticity of the work could be unquestionable. The vice-chairman of the Idarah Adab Islam-i-Hind, Dr Tabish Mehdi described Suhail Anjum's work as an important milestone the history of religious journalism. The editor of Afkar-e-Milli, Dr Syed Qasim Rasool Ilyas, lauded the efforts of Suhail Anjum and opined that a book was prone to shortcomings when it came out for the first time, but these were overcome in future editions. Since such a book appeared for the first time, certain mistakes might have occurred, Anjum's serious journalism would take care of them. He said that today's journalism was instant and there was every possibility that reality check was overlooked due to lack of clear information about facts. He maintained that a number of journals were being brought out by religious institutions in the South, but they were either in Kannada, Tamil, Malyalam or Telugu. The mention of those journals was missing in Anjum's book. It was hoped that these issues would be addressed in the next edition, he added.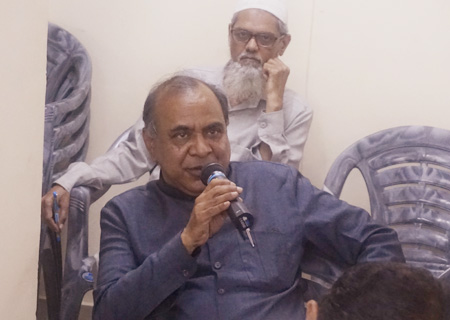 Editor of the Urdu weekly Chauthi Duniya, AU Asif, expressed the view that if such periodicals and newspapers that were religious in nature and content were taken out from purview of journalism, it would do a grave injustice to journalism. He complimented Suhail Anjum for laying special focus on "Sidq-i-Jadid", "Tajalli" and some other journals.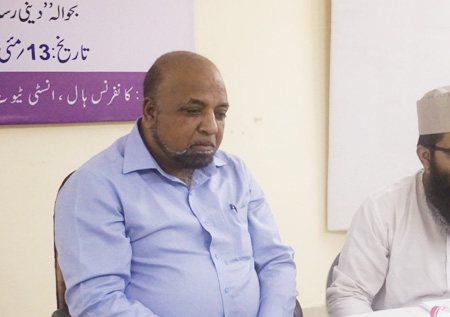 Presiding over the meet, Secretary Finance, IOS and Professor of Islamic Studies, Jamia Hamdard, Prof. Ishtiyaque Danish held that objections were bound to be raised over a book in its first edition. One aspect or the other of this was criticised. However, it was a matter of satisfaction that despite resource crunch, the religious and milli institutions were rendering intellectual service through these journals. He was all praise for their endeavours.

Earlier, the discussion began with the recitation of a verse from the holy Quran by Hafiz Athar Husain Nadvi, in-charge, Urdu Wing, IOS Shah Ajmal Farooq Nadvi, conducted the proceedings and extended a vote of thanks.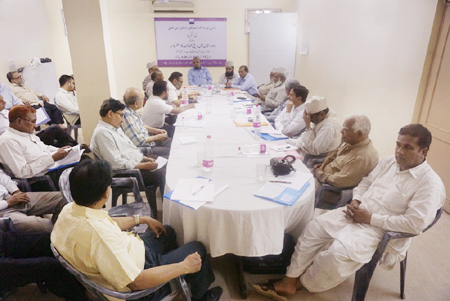 Notables who attended the discussion included Masud Javed; consultant to the IOS (media), Mohd. Zeyaul Haque; Salman Faisal; Syed Mohammad Ali Kirmani; Zahid Husain; Safi Akhtar, and Dr. Nakhat Husain, besides several journalists, social activists and prominent citizens.