IOS Aligarh Chapter's panel discussion on 70 years of UDHR

December 10, 2018 at 4:30 p.m. at IOS Aligarh Chapter, Aligarh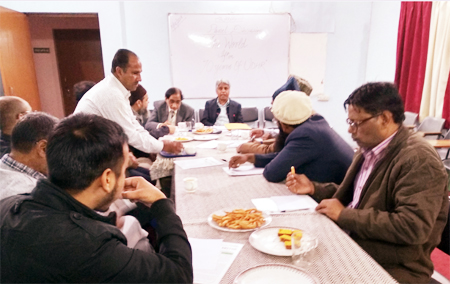 On the occasion of International Human Rights Day, a panel discussion on "The world after 70 years of Universal Declaration of Human Rights (UDHR)" was organised by Aligarh Chapter of the Institute of Objective Studies, on December 10, 2018 at 4:30 p.m. with participation of students and teachers of the Aligarh Muslim University, advocates, human rights and social activists.


Prof. Mohammad Muqim, co-ordinator of the IOS Aligarh Chapter welcomed the speakers and the audience. He was of the view that the violation of human rights could be witnessed in every nook and cranny of the world on one pretext or the other. He emphasised the urgent need of checking rampant violations by the Union and state governments in India and elsewhere in the world.


Prof. Arshi Khan of the deptt. of political science, AMU, said that the violation of human rights was being witnessed everywhere in the world but such violation of rights are more dangerous in Afro-Asian and Latin American countries. "India's society violates human rights, individually and collectively. One very often comes across violations by the state and its agencies" he said. He claimed that lynching too is a very gross violation of human rights which was not being taken seriously by law enforcement agencies. Prof. Khan suggested that everyone has to be careful about the minimum performance of one's responsibilities for the betterment of society to curb violations.


Dr. Abdullah Danish said that one witnessed the violations of human rights not only in India and the developing world, but also in the supposedly developed countries. He said more such violation are seen when anti-social elements participate in mass violence in connivance with government agencies. He asserted that the so called champions of human rights have been found violating these rights. Dr. Danish emphasised that human rights of saints and sinners are equal.

Prof. Abdulrahim Vijapur, professor of political science in AMU, dwelt at great length on the subject in general and the theme of the UDHR and its impact during the last 70 years, in particular. He opined that all other documents relating to human rights, such as treaties or declarations on specific human rights, adopted at the United Nations, Council of Europe, African Union, Organisation of American States, and South Asian Association of Regional Cooperation acknowledged in their preamble that they were inspired by UDHR.


These human rights documents number more than 100. He said that UDHR document had been translated by the United Nations in 439 languages spoken and written all over the world. Interestingly, it had been translated in more languages than the Bible. Moreover, the UDHR was adopted unanimously without any negative voting. He also said that the Arab Charter on Human Rights, adopted by the League of Arab States in 2004, a regional human rights treaty for Arab states, acknowledges UDHR in its preamble.

He doubted whether the recognition, implementation and enforcement of human rights, enshrined in the UDHR, had become universal or not, but there was no doubt that their violation was universal.

He said equality was essential for the enjoyment of human rights and cited the examples of the 3rd Caliph of Islam Hazrat Umar Farooq, who treated his slave equally for riding his camel one after another, when they were going to Jerusalem.

Prof. Vijapur advocated that equals should be treated equally but the unequal should be treated differently if we want to see the prevalence and protection of human rights and gave the example of Sikhs who drive 2-wheelers without wearing helmets whereas others compulsorily are required to wear them when such orders are implemented in the United Kingdom and in India. He also advocated the continuance of reservations in education and jobs for eradicating inequality.

He emphasised that people at large must be given HR education and their enforcement must be ensured by the Central and the provincial enforcement agencies of governments. Violation of HRs must be dealt with rule of law and the perpetrators should be properly prosecuted and punished as per law of the land and the obligations arising from the ratification of international human rights treaties by India.


The programme ended with a vote of thanks proposed by Mohammad Serajuddin Khan.