Meeting of IOS Committee on Electoral Reforms and Use of EVMs in India

May 9, 2017 at Institute Building, 162, Jogabai, Jamia Nagar, New Delhi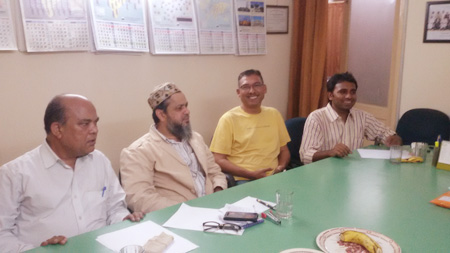 L-R: Mr. Mushtaq Ahmad, Advocate, Prof. Arshi Khan, Mr. V.B. Rawat, Dr. Md. Aftab Alam
A meeting of the newly-constituted IOS committee on Electoral Reforms and Use of EVMs in India was held on May 9, 2017 at 6:00 pm. at IOS, New Delhi, in which the following were present.

1. Prof. Z.M. Khan, Secretary General, IOS & Chairperson
2. Prof. Arshi Khan, Convenor of the committee
3. Dr. Md. Aftab Alam, Member
4. Mr. Mushtaq Ahmad, Adv., Member
5. Mr. V.B. Rawat, Member

The committee decided to focus its deliberations firstly on use and alleged misuse of EVMs in elections in India as raised by several political parties as well as civil society organisations.

Prof. Arshi Khan, while initiating the discussion said that it was necessary to uphold legitimacy of the state, rights of citizens as well as purpose of political parties in election system. He elaborated the elections system in India and said that India followed the FPTP principle in which the candidate with most votes won the election.

As regards use of EVMs in elections in India, he said that there had been allegations of tampering with EVMs and it had now become clear that the use of EVMs was a threat to democracy in India. He presented a fact-sheet giving the misuse of EVMs and emphasised the need to make elections transparent, verifiable and reliable, thus making the political system legitimate in the eyes of the people of the country.

He cited several examples of alleged tampering of EVMs reported since general elections in 2014, followed by state assembly elections and civic bodies' elections in several states in 2016 and 2017. He gave specific examples of violence on alleged tampering of EVMs in Maharashtra civic polls at Panchwati, Nasik, Yerawada, Nagpur, Pune, Kolhapur, Amravati etc. besides similar reports from Assam, UP, Uttarakhand, Punjab and Delhi.

A view of meeting
After assembly elections in Assam, the then chief minister Tarun Gagoi termed the result as "unthinkable", while after the UP elections, leader of the opposition Ms Mayawati did not concede defeat and questioned the use of EVMs. Akhilesh Yadav of SP issued similar statements alleging tampering of EVMs. Arvind Kejriwal of AAP said after Punjab elections that tampering of EVMs was the reason of AAP defeat.

He also cited the recent example of Bhopal where State Election CEO Sarina Singh was giving a demo of EVM. She pushed button 4 for SP and the machine generated receipt with lotus symbol, i.e., for BJP.

Interestingly, the currently ruling BJP was also against the use of EVMs before 2014 and GVL Narismha Rao, spokesperson of BJP, wrote a book Democracy at Risk which has foreword by L.K Advani. In his book, he raised the question whether EVMs could be trusted. Subramaniam Swami of BJP and Devendra Fadnavis (BJP CM of Maharashtra) also raised doubts about the use of EVMs several times before 2014.

He said that Congress, NCP, AAP, Shiv Sena, Trinamul Congress and TRS etc. also demanded use of paper trail machine as part of EVM or use of ballot paper in elections. NGOs and civil society organisations across the country have questioned EVM.

The Supreme Court had directed to convert all machines with VVPAT by 2019, which was not possible and would take at least 10-12 years, he observed. The judiciary says it is "not 100 percent tamper-proof". In several cases, the courts issued notices to EC on the misuse/tampering with EVMs.

The Election Commission of India does not show any doubt about the vulnerability of EVM's manipulation. It always supported the strength and goodness of EVMs and gave no consideration to the objections raised by opposition and concerned citizens of this county, he said.

The mainstream media does not support anti-EVM activists in the country.

L-R: Prof. Z.M. Khan, Secretary General, IOS & Chairperson and Mr. Abdul Majeed
As regards use of EVMs in other countries, Prof. Khan informed that Germany rejected the use of EVM in 2009, Netherland did not use it after 2007, the UK and France never used it, whereas Japan, Turkey and Pakistan uses ballot papers instead of EVMs. Even in the US, EVMs were used in some parts or portion of election, which produced receipt.

He further said that people in general in states like Haryana, Assam, UP, Uttarakhand and Punjab who were adversely affected had developed a kind of consensus that the EVM machine could be ruinous for democracy.

Mushtaq Ahmad, while wondering over the modus operandi of tampering with EVMs, suggested that the use of EVMs should be scrapped. He informed that even the Supreme Court's Bar Association election was now conducted through ballot papers.

V.B. Rawat was of the view that the credibility of the institution is at stake. He urged EC to form a committee to look into complaints received and ensure time-bound action by courts, especially in view of the fact that the record was preserved with the EVMs for four months only.

Md. Aftab Alam was of the view that the mechanism had some problems. Those in opposition questioned it and forgot it when they came to power. He asked for a thorough enquiry into the matter by agencies concerned.

Prof. Z.M. Khan said that the use of EVMs was under a shadow and demanded from the EC to appoint an expert committee to examine the matter in a scientific manner.

He requested Prof. Arshi Khan to prepare an exhaustive note on the issue and Dr. Md. Aftab Alam to prepare a brief, giving comparative study of use of EVM in different parts of the world, and V.B. Rawat to prepare a note on how it impacted common people and voting pattern as a whole. Prof. Khan asked Mushtaq Ahmad to prepare a note on his observations from legal point of view, so that the matter could be further pursued by the committee.

The meeting concluded with thanks to the chair.