IOS organises Lecture on "Empowerment and Mainstreaming of Muslims - A Distance Education Perspective"

November 21, 2015 at 162, Jogabai, Institute Building, Jamia Nagar, New Delhi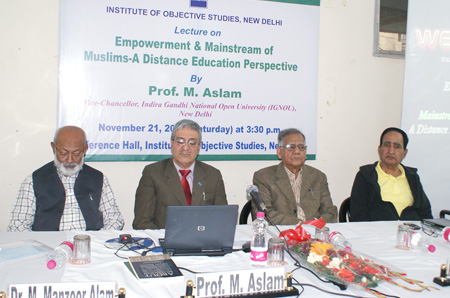 L-R: Dr. Mohammad Manzoor Alam, Chairman, IOS; Prof. M. Aslam, Vice-Chancellor, Indira Gandhi National Open University (IGNOU), New Delhi; Prof. ZM Khan, Secretary General IOS; Prof. Obaidur Rahman Hashmi, NCPUL, New Delhi
The Institute of Objective Studies organised a lecture on "Empowerment and Mainstreaming of Muslims-A Distance Education Perspective" at the conference hall of the Institute on November 21, 2015. Delivering the lecture, the Vice-Chancellor, Indira Gandhi National Open University (IGNOU), New Delhi, Prof. M. Aslam, held that the plight of Muslims had not changed even after more than six decades of Independence. This was a matter of serious concern. Referring to the Sachar Committee Report, he said that it also made it evident that the socio-economic deprivation of the community was fuelled by their lack of education and representation in the governance structures. The spatial distribution of population figures of Muslims revealed two distinct features. First, they were widespread and concentrated in selected districts. Second, they were disproportionately urban.
Commenting on the poverty and employment scenario, he said that the Muslims were trapped in abject poverty. They were mostly landless and lacked access to employment opportunities. A majority of Muslims obtained their livelihood through petty business. The employment scenario of Muslims, he observed, was also not encouraging. The Muslim community's placement in various jobs and educational institutions remained much less than the qualified and eligible sections of their population. Describing educational backwardness of Muslims as a major obstacle to their progress, he said that there was a lack of empirical evidence and data which hindered proper planning, adding that educational backwardness and poverty were inter-linked.
Prof. Aslam noted that the withdrawal of the Muslim community from the educational mainstream was prompted by a number of factors which, among others, included lack of awareness, lack of adequate opportunity to take advantage of available educational avenues; a perception that the existing system was irrelevant and, resistance to girl education. He suggested several measures to ameliorate the plight of Muslims. These included undertaking a comprehensive study, massive awareness programmes, extensive use of mass media, skill development programmes; promotion and organisation of special coaching classes and exploring the possibility of using distance education mode. Pleading for educational development of Muslims, he said that lack of education failed to fetch good employment opportunities for them. Referring to the education of Muslim girls, he observed that about 86 percent of them were without education. Attributing the rise in Muslim population to marriage at an early age, he said the trend had however, registered a fall of late. He expressed happiness that Muslims had now started paying more attention to education of their children and girl education received a boost.

Underlining the importance of distance education, Prof. Aslam said that the IGNOU alone accounted for 400,047 enrolments in 2014, out of which 66,667 were Muslims. He also said that owing to his personal efforts, about 25,000 Muslims were enrolled in Kashmir Valley alone.
The Secretary General of IOS, Prof. ZM Khan opined that Muslims had opportunities, but they needed to tap them. Muslims themselves would have to do this job. He expressed concern that a fear psychosis among Muslims was created leading to their ghettoisation. They were trapped in poverty and a sense of insecurity due to ghettoisation. He said that a number of people were sincerely working towards the empowerment of Muslims.
In his presidential remarks, the Chairman of the IOS, Dr. Mohammad Manzoor Alam, described Prof. Aslam's lecture as eye-opener. The situation was so bad that one could only weep over it. He announced that the IOS would work out a mechanism for coordination between different universities and the IGNOU for the empowerment of Muslims.
The programme began with the recitation of a Quranic verse by Hafiz Athar Husain. Assistant Professor Aftab Alam of Political Science, Zakir Husain College and member, General Assembly of IOS, conducted the proceedings. A number of academics, scholars, activists and prominent citizens, including Prof. Qazi Obaidur Rahman Hashmi, Prof. Eqbal Husain, Prof. Ishtiyaq Danish, Javed Farooq, Haseeb Ahmad, Dr. Mohammad Qasim, Dr. Mehfoozur Rehman, Prof. Habib Ullah Khan, Afzal CK Azizur Rehman, Huma, Naushad Ahmad Chaudhary, AU Asif, Syed Ashraf Rizvi were present.