IOS Seminar on "Application of Equality before Law in India: The Constitutional Mandate and Present Trend"

January 17, 2015 at Indian Law Institute, New Delhi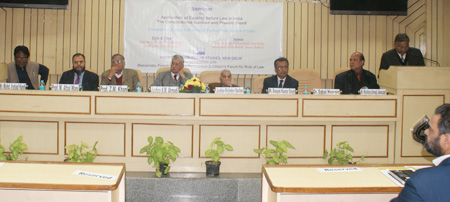 L-R: Mr. Arun Kumar Maji, Advocate, Supreme Court and convener, Democratic People's Lawyers Association ; Prof. M. Afzal Wani, Dean, School of Law and Legal Studies, GG Singh Indraprastha University; Prof. Z. M. Khan, Secretary General IOS; Justice A.M. Ahmadi, Former Chief Justice of India; Justice Rajinder Sachar, Former Chief Justice of the Delhi High Court; Mr. Deepak Kumar Singh, advocate, Supreme Court; Mr. Mushtaq Ahmad, Advocate-on-record, Supreme Court of India; And Dr. Eqbal Hussain, Associate Professor, Faculty of Law, Jamia Millia Islamia delivers his views
New Delhi, Jan. 17: A Seminar on "Application of Equality Before Law in India: The Constitutional Mandate and Present Trend" was jointly organised by the Institute of Objective Studies, Democratic People's Lawyers Association and Citizens' Forum for Rule of Law at the Indian Law Institute, here today.

Former Chief Justice of the Delhi High Court and a noted public figure, Justice Rajinder Sachar in his address held that the country was currently passing through a difficult phase of its history. However, there was no cause for despondency as we had not weakened yet, he said.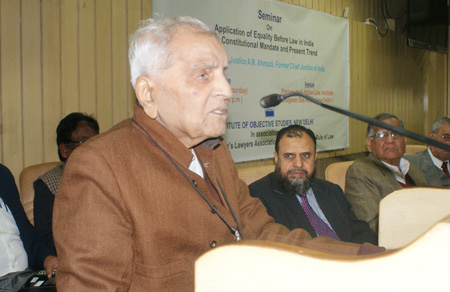 Speaker: Justice Rajinder Sachar, Former Chief Justice of the Delhi High Court
Referring to secularism, he noted that it found mention in the Preamble to the Indian Constitution and was thus the key to the Constitution. Secularism, he said, was the basic structure of the Constitution. Secularism did not signify anti-religion as the state would have no religion of its own, according to a ruling of the Supreme Court of India.

He contended that this vindicated the Hadith of the Prophet of Islam (SW) that a white skinned person had no supremacy over a black skinned one. He said that the American struggle for equality centuries after the Prophet (PBH) upheld the same concept. Holding the Muslims and the Christian "not outsiders", he observed that inclusive development was a must for the progress of the country. No die-hard Hindu could claim that he had exclusive sovereignty over his religion. He said Vivekanand believed that without Islam, Vedanta philosophy was valueless as Islam was the only hope for the country.



Courtesy: India Tomorrow
Assailing caste-system as a fetter on Hinduism, Justice Sachar said that Eklavya, a tribal, offered his right thumb by cutting it out, to Dronacharya, a high-caste teacher of archery, as guru dakshina as a mark of respect to him. Defending the rights to the minorities guaranteed under the Constitution, he said that even the UN Human Rights Council held in 2010 called for no discrimination against minorities in matters of employment.

Pleading for "targeted approaches" for inclusive development of the minorities, he insisted that the data on the diversity of their living must be honestly collected. Referring to the findings of the team of the Peoples' Union for Civil Liberties (PUCC) sent to Muzaffarnagar in the wake of communal riots in 2013, he favoured Muslim Inspectors of Police in Muslim-dominated areas to inspire confidence among them. He quoted excerpts from a speech of the first Union Minister for Education, Maulana Azad in which he felt proud to be a Muslim and described Hindus and Muslims as rivers Ganga and Yamuna without saying anything against Hinduism.

He said that both Hindus and Muslims shared a common heritage and common nationality. This gave the message of democracy and equality, he said. He termed it as heretic to say that India belonged to a particular religion. He concluded by saying that what Sir Syed Ahmed Khan said about the commonness of Indians in 1877 was repeated by Mahatma Gandhi in 1920.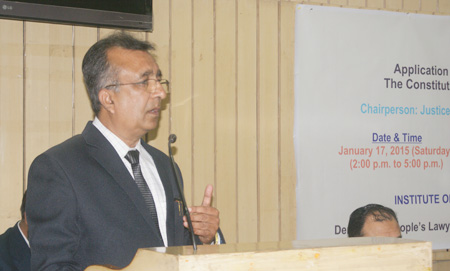 Speaker: Mr. Deepak Kumar Singh, advocate, Supreme Court
Mr. Deepak Kumar Singh, advocate, Supreme Court, defined equality as water which changed shape wherever it went. He said that the equality was defined by its meaning. While in Fascism, it meant something, it had a totally different meaning under laissez-faire and market economy. Explaining the concept of welfare state, he said that one's right was an individual claim which protected individual right. He held that the meaning of equality under Article 38 was different from what was generally understood.

He submitted that the Constituent Assembly debated the issue of political, social and economic equality as a goal and devised a methodology to achieve it. In this connection, he quoted the eminent jurist, H.M. Seervai, who in his monumental work Constitutional Law of India, observed that welfare state had been downgraded by laissez-faire or the market economy. He held that the framers of the Constitution devised a system of balance between capitalism and socialism with a mixed economy, adding that the concept of welfare state had been changing according to the circumstances. Blasting the theory of "Sarva Dharma Sambhav" (equal respect for all religions), he said that it was not true, or else the "pogrom" of 1984 and the "genocide" in 2002 would not have taken place.

Calling the present state as a theocratic one, he agreed with Mr. Sharad Yadav who termed the present Indian state as a "liberal Hindu state". He remarked that there was a fight between liberal Hinduism and Fascism. While observing that the equality between two corporate houses was discernible, he said that in order to achieve equality, we would have to fight the growing influence of corporate business groups.



Speaker: Justice A.M. Ahmadi, Former Chief Justice of India
Former Chief Justice of India, Justice A.M. Ahmadi, in his presidential remarks observed that the Preamble to the Constitution gave a mature idea of equality. Though graded equality in society existed before Independence, the concept of equality found expression in the Constitution. Describing equality as the basic value of our Constitution, he said that it was one of the values of a social order. The main question today was how to bring up those above the poverty line under which they had been living for a long time. Bringing them up was not discrimination, but an "affirmative action" which was stipulated in Article 14,15 and 16 of the Constitution.

Commenting on the Indian politics today that the game of one-upmanship was played to deliberately commit mistakes only to apologise later, he warned that it could not be replicated every time as the nation was not a child to be fooled again and again. He deplored that the previous government did not implement the recommendations of the Sachar Committee report which was conscientiously and diligently prepared by Justice Rajinder Sachar. Especially lauding the recommendation to set up the equality commission, he believed that it would have helped to do something tangible for the community.

Advising Muslims not to get disheartened, he counseled them to cultivate a strong determination for achieving their goal. He cited the examples of Barak Obama, a black man, and Kapil Dev who got success in their respective fields against heavy odds. In this connection, he read out the famous couplet of Allama Dr. Mohd. Iqbal: "Khudi ko kar buland itna ki har taqdeer se pahle Khuda bande se khud poochhhe bataa teri raza kya hai" to drive home his point.

He emphatically said people need not fear the government, but it was the government that should fear people, adding that if this was not so, it was a failure of democracy.

Illustrating his point further, he said that the Maharashtra government had recently removed the chairman of the state minority panel due to his decision to seek information on the number of Muslims languishing in different jails of the state. Certainly, this was a failure of democracy, he noted. He called Hindus as elder brother of Muslims and added that if the former returned the respect given to them by the latter with disrespect, it would not be equality. Referring to the ruling of late Justice J S Verma in a case relating to the election of Manohar Joshi that "Hinduism is a way of life", he said that it was used by ultra-Hindus when it suited their interest.

Justice Ahmadi asked the larger minority to bring under its umbrella other minorities with a view to making a bigger minority. We have to fight for the concept of equality with determination, he concluded.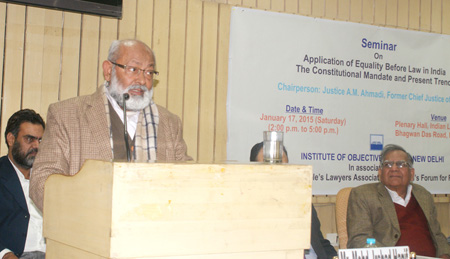 Speaker: Dr. M. Manzoor Alam, Chairman, IOS
Chairman of the IOS, Dr. M. Manzoor Alam, explained the rationale behind organising the lecture. He said that the current political situation warranted deliberations on the Constitution and its application with regard to equality as the present political set up was taking resort to such steps that could undermine the majesty of law and the Constitution. He informed that the IOS was alive to its duties to bring experts on the Constitution together to share their views and arrive at a consensus.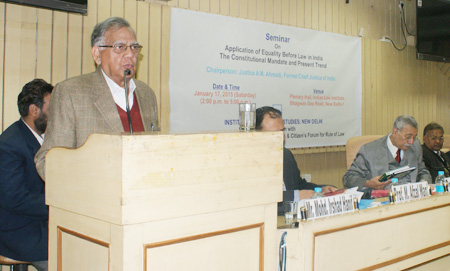 Speaker: Prof. Z. M. Khan, Former Dean, Faculty of Social Sciences, Jamia Millia Islamia and Secretary General, IOS
These deliberations would continue to be held in future too, he pointed out. Former Dean, Faculty of Social Sciences, Jamia Millia Islamia and Secretary General IOS, Prof. Z. M. Khan welcomed the speakers and the participants. He also introduced the subject. Associate Prof. of Law, J.M.I., Dr. Eqbal Husain held that the state was responsible for marginalising the minorities. He said that while the Dalits were being comforted, Muslims were oppressed. He asked the government to focus on progress in the light of the Constitution with the slogan "Sab Ka Sath, Sab Ka Vikas".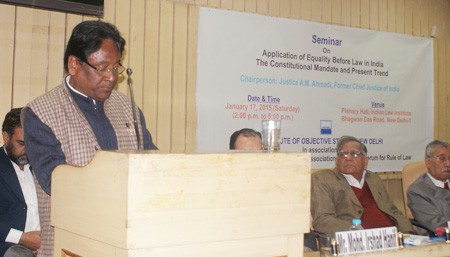 Speaker: Mr. Arun Kumar Maji, Advocate, Supreme Court and convener, Democratic People's Lawyers Association
Those who spoke on the occasion included the Dean, School of Law and Legal Studies, GG Singh Indraprastha University, Prof. M. Afzal Wani, Mr. Mohd. Irshad Hanif, Advocate, Supreme Court, and Mr. Harsh Kumar Gautam from Democratic People's Lawyers Association. Mr. Arun Kumar Maji, Advocate, Supreme Court and convener, Democratic People's Lawyers Association proposed a vote of thanks.

Earlier, the lecture began with the recitation of a verse from the holy Quran by Hafiz Athar Husain. Advocate-on-record, Supreme Court of India, Mr. Mushtaq Ahmad conducted the proceedings.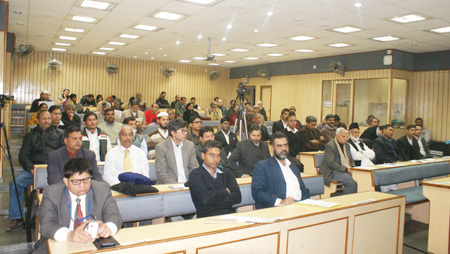 A view of audience
Besides the Vice-Chairman of the IOS, Prof. Refaqat Ali Khan, a large number of lawyers, law students, social activists and prominent citizens were present on the occasion.