63rd IOS governing council meet

April 28, 2018 at Institute Building, 162, Jogabai, Jamia Nagar, New Delhi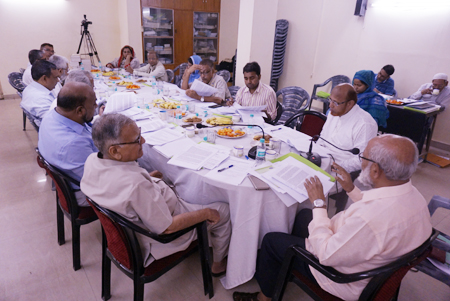 The 63rd governing council meeting of Institute of Objective Studies took place at the IOS building on April 28, 2018. The meeting took a host of decisions, including the holding of a two-day programme of the Indian Association of Muslim Social Scientists (IAMSS) at Aligarh on June 20 and 21.
A two-day workshop of the panel of IOS translators, editors and reviewers will be held at IOS on June 29-30 to understand the problems concerning translation, editing and review related works. A workshop on the book Future of Political Islam will be held on August 18 at New Delhi.
Another workshop will be organised for the preparation of syllabi and textbooks of Islamic Studies at New Delhi on September 15. It was also decided to hold a two-day national conference on the life and contribution of Maulana Manazir Ahsan Gilani at Jahangirabad in Barabanki district of UP on November 2-3.
The governing council decided to organise a workshop on Islamic Civilisation at New Delhi sometime later this year. The date and venue of the workshop would be decided shortly. It was also decided to hold 5-6 workshops on 'Tawhidic Paradigm' at the places, like Aligarh, Delhi, Patna, Srinagar, etc., over a period of two years. Significantly, the governing council decided to set up an IOS Centre for Historical Studies at New Delhi in order to correct the distortions of the history of India, particularly the Muslim period, orchestrated by Hindutva votaries, leading to the rise of intolerance in polity and widening of the communal divide. This decision followed a resolution adopted at the Chennai conference held last December.
The meeting was presided over by the chairman, IOS, Dr. M. Manzoor Alam. Others who attended the meeting included, secretary general, Prof. ZM Khan, asstt. secretary general, Prof. M. Afzal Wani, finance secretary, Prof. Ishtiyaque Danish. Prof. P Koya, Prof. (Ms.) Hasina Hashia, Dr. Major Zahid Husain, Ms. Farhat Azad and Mohammad Alam, all members. Prof. Shamim A. Ansari, Prof. M. Ishtiyaq, Prof. S. Jamaluddin, Prof. Javed Ahmad Khan, Dr. Mohammad Aftab Alam, VB Rawat and Ibrahim Alam attended the meeting as special invitees.