59th Meeting of Governing Council (GC) of the IOS

April 19, 2016 at 162, Jogabai, Institute Building, Jamia Nagar, New Delhi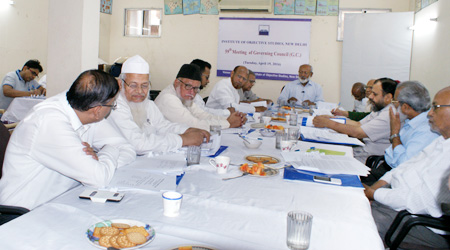 New Delhi, April 19: The 59th meeting of the Governing Council of the Institute of Objective Studies held here today which was attended by members of the governing council and special invitees from across the country.

The meeting reviewed the progress of its various ongoing research projects, and other activities and programmes undertaken by it.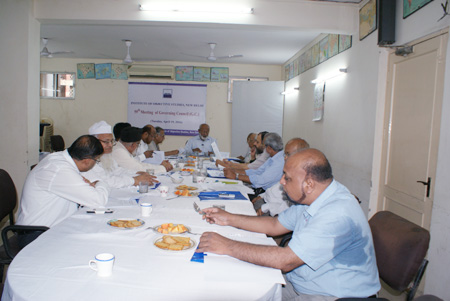 On completion of 30 years of the existence of the Institute of Objective Studies, it has been decided to organise an international conference on the broader theme "Towards Equality, Justice and Fraternity in Contemporary India - Creating a Better Tomorrow" on November 4-6, 2016 at New Delhi. Four parallel sessions will be organised each on 'Education', 'History', 'Law' and 'Islamic Studies', identified as priority areas by the IOS, apart from the inaugural and valedictory sessions. Various books published by the IOS in different languages will be released on that occasion.

It was also decided to organise an international conference on "The Legacy of Muhammad Hamidullah and Its Contemporary Relevance" in collaboration with Maulana Azad National Urdu University (MANUU), Hyderabad on December 24-25, 2016.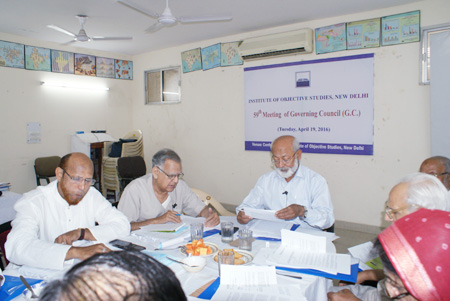 Apart from the above, it was decided to organise an orientatation programme/summer camp for 50 students selected from social sciences, law and management with a view to inculcate Islamic values in them.

A national seminar on "Minority Rights and Constitutional Safeguards: The Role of State", on the lines of national seminar on the theme held at Patna in February this year, will be organised at Kolkata soon. Also, a two day national seminar on "Importance of Inter-religious Understanding: Its Implications for Mankind" will be held in collaboration with Magadh University, Bodhgaya on September 3-4, 2016.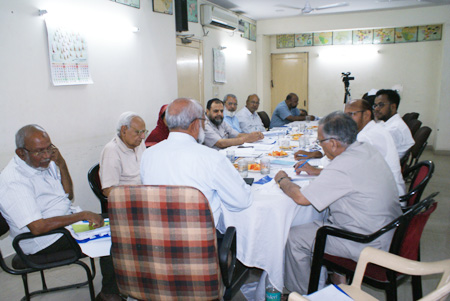 With a view highlight the significant contributions made by Muslims in different fields and inspire the younger generation of that particular region, three symposiums every year will be held at regional chapters of the IOS at Aligarh, Patna, Kolkata, Chennai and Calicut as well as selected Indian cities.

Besides, a half-day symposium on "Nationalism Today – Issues and Challenges will be organised in which noted speakers such as Justice Rajinder Sachar, Mr. Harsh Mander, Dr. John Dayal, Ml. Abdul Hameed Nomani, Mr. Urmilesh, Prof. Achin Vanaik, Prof. Apoorvanand, Dr. Hilal Ahmad and Prof. Rizwan Qaiser will address the gathering. This programme will be followed by the release of IOS Publication "Weavers: Struggle for their Survival, published by the Institute of Objective Studies.