IOS Lecture on "Islam, Democracy and Islamic World"

January 31, 2015 at IOS Conference Hall, New Delhi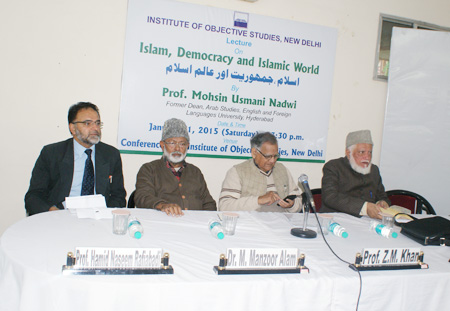 L-R: Prof. Hameed Naseem Rafiabadi, Islamic Studies, Kashmir University, Srinagar; Dr. Mohammad Manzoor Alam, Chairman, Institute of Objective Studies; Prof. ZM Khan, Secretary General, Institute of Objective Studies; Prof. Mohsin Usmani Nadvi, Former Dean of Arab Studies, English and Foreign Languages University, Hyderabad
New Delhi, Jan. 31: A lecture on "Islam, Democracy and Islamic World" was organised by the Institute of Objective Studies (IOS) here today at its Conference Hall. Delivering the lecture, former Dean of Arab Studies, English and Foreign Languages University, Hyderabad, Prof. Mohsin Usmani Nadvi, insisted that while power in Western democracies rested with the people, in Islam, Allah is the supreme ruler. But this was not a basic difference. This only meant that in a democracy there was no scope for dictatorship or monarchy. Democracy did not negate the supremacy of Allah, he noted. This was the reason why democratic system of governance received support from Islam and its followers as a whole. He said that Islam accepted the word "Caliphate", instead of democracy. He observed that the challenge of democracy before the Islamic world was a 21st century phenomenon.
However, during the early phase of Islam, democracy was not a strange system of governance, nor was it unknown to Islam, though the nomenclature differed. Explaining the basic difference between the Western and the Islamic democracy, he said that the people were the fountainhead of power in a democracy. In that system, government was elected by the people and government passed law in deference to their wishes. In an Islamic democracy, the ruler was elected by a group of responsible persons whose integrity was above board and the ruler was bound to take their advice. He said that in a Western democracy, the concept and ideas were evolved by individuals and were reflected in the government.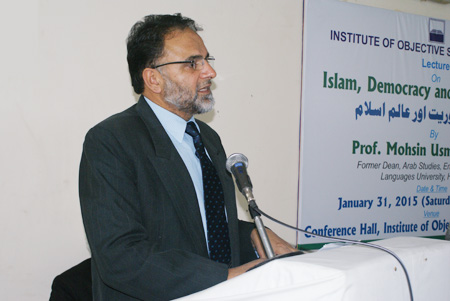 However, in the case of Islamic system of governance, this freedom was not allowed as the system was based on the belief that man was Allah's representative on earth to carry out His command. While in the Western concept of democracy, it was the people who elected government, in Islam, it was only a group of articulate, wise people and practitioners of faith who could rule. This was based on the belief that the opinion of a wise person could not be equated with that of an ignorant person. He maintained that in an Islamic democracy, non-Muslims could also enjoy rights of a citizen provided they agreed with citizenship laws and were ready to abide by them.

They could, however, not be drafted for compulsory military service, and would be charged certain amount as "jizya" in lieu of their protection and for safeguarding their rights. But if they were willing to perform military service, they would not be required to pay jizya. He said that Islam granted religious freedom to everybody according to democratic standards and commanded that all places of worship be given respect. Under Islamic system of governance, no place of worship could be destroyed as religious sentiments of followers of other religions were not permitted to be hurt, he explained.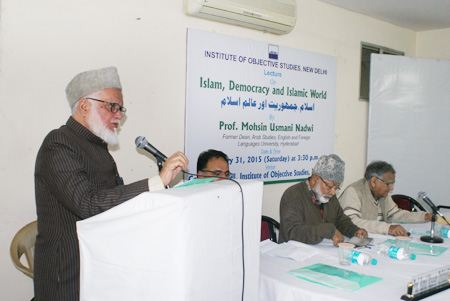 Prof. Usmani observed that Muslims ruled over the world when Islamic Fiqh was codified. But today, in several countries, Muslims shared power where there was no Islamic system of governance. Democracy in these countries had different objectives and the laws enacted there did not conform to Islam. In these countries Muslims needed authoritative interpretation of Fiqh. He suggested that Muslims should understand the niceties of modern system of democracy and take their own course of action. There were certain issues like obtaining citizenship of a non-Muslim country, bank insurance, benefiting from loan with interest from different financial institutions and banks, which needed to be addressed. He also raised the question if Muslims could enter government jobs and serve armed forces in these countries.

Earlier, the subject was introduced by Prof. of Islamic Studies, Kashmir University, Srinagar, Prof. Hameed Naseem Rafiabadi. He held that the subject had scope for further debate as by and large Islamic scholars avoided discussion on it.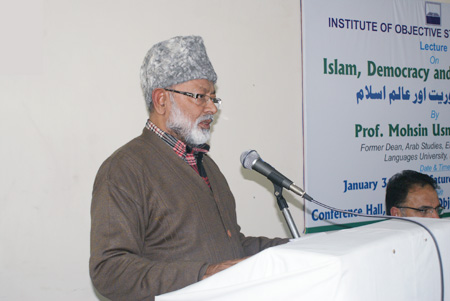 Chairman of the Institute of Objective Studies, Dr. Mohammad Manzoor Alam remarked that the verdict of the people was the source of power in a democracy while in the Islamic system of governance rule of Allah prevailed and the directives of policy came from the Quran and Hadith. Thus if the public opinion was harmful for society and mutual relationship, it could not be accepted as Islam preached the teaching of a better and harmonious life, free from evil. Stressing the need for taking into account changes that were taking place in today's world as a result of which it had become a global village, he said that the rule of Muslims or the believers vis-à-vis others would have to be defined.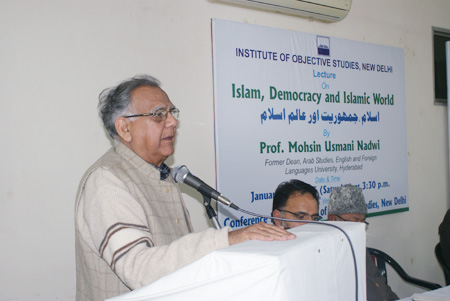 Presiding over the function, the Secretary General of the IOS, Prof. ZM Khan observed that Islam differed a great deal from democracy. Democracy was one of the ingredients of Islam and a study of other demerits of democracy should be made. Referring to the Western concept of democracy, he held the three main political thinkers had concluded that democracy was a system of governance created by man.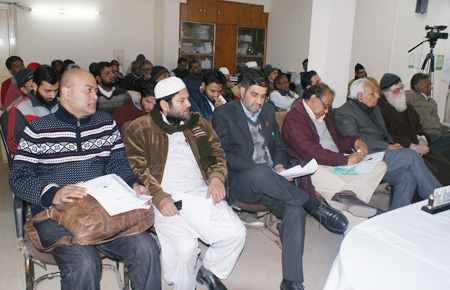 The proceedings of the function were conducted by Dr. Nakhat Husain Nadvi. Those who attended the function included Vice-Chairman of the IOS, Prof. Refaqat Ali Khan, Dr. Eqbal Husain, Dr. Manzoor Ahmad Bhatt, Mr. Mushtaq Ahmad Wani, Maulana Ameen Usmani, Maulana Safdar Ali, Zafar Sadiq, advocate, Syed Ashraf Husain Rizvi, Suhail Anjum Akhtar and AU Asif.