IOS Lecture on "Development of Islamic Economics and Finance in India"

January 9, 2016 at 162, Jogabai, Institute Building, Jamia Nagar, New Delhi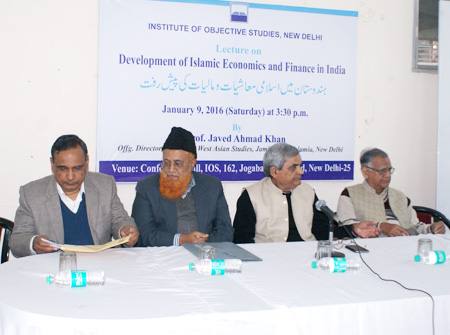 L-R: Prof. Javed Ahmad Khan, officiating director, Centre for West Asian Studies, Jamia Millia Islamia, New Delhi; Dr Waquar Anwar, Financial Advisor, Jamaat-e-Islami Hind; Prof Naushad Ali Azad, former Dean, faculty of social sciences, Jamia Millia Islamia; Prof. ZM Khan, Secretary General, IOS
The Institute of Objective Studies organised a lecture on "Development of Islamic Economics and Finance in India" on January 9, 2016 in its conference hall. Delivering the lecture on the subject, Prof. Javed Ahmad Khan, officiating director, Centre for West Asian Studies, Jamia Millia Islamia, New Delhi, held that the concept of Islamic banking emerged after the growth of petro-dollars. This was a phenomenon that emerged some 50 years ago. He said that the central concept in interest-free banking and finance was justice, which was achieved mainly through the sharing of risk. Stakeholders were supposed to share profit and losses, and charging interest was prohibited. He noted that the risk could not be transferred from person to person or country to country. He said that one area that had not been adequately addressed was the role of interest-free banking in financial inclusion. Globally, interest-free banking had witnessed a significant increase, especially in the wake of the financial crisis a few years ago. According to Lagarde (2015), total Islamic finance assets were estimated at around US$ 2 trillion, practically a ten-fold increase a decade, and outperforming the growth of conventional finance in many places, he observed.
Prof. Khan explained that thoughts on interest-free banking in India were not new. In tandem with its expansion elsewhere, interest-free banking had also expanded in the Asian continent. Notwithstanding the growing footprint of interest-free finance elsewhere, it had witnessed a lukewarm response in India. He said that it was only as late as 2008 that the Committee on Financial Sector Reforms headed by Dr Raghuram Rajan opined in favour of a closer look at the issue. The evidence suggested that Muslims were less inclined to access formal finance in general, although they might be accessing long-term formal finance. He said that this could be happening presumably because they perceived long-term financing sources as being more Shariah-compliant. He said that in interest-free banking, the bank accepting deposits of money from the public was not engaged in lending as a purely financial activity but undertook operations on the basis of profit and loss sharing (PLS) by engaging in equity financing and trade financing. It had been argued by experts on interest-free finance that the nature of Profit Sharing Investment Account (PSIA) could vary from being deposit-like products (in the conventional sense) to pure investments. Lease (ijarah) and cost-plus sale (murabahah) were simple and relatively easy to monitor conventional commercial banks in different financial jurisdiction were opening separate windows to cater to interest-free banking, he pointed out.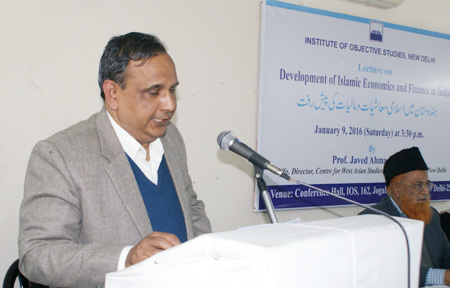 Prof. Khan remarked that an increasing number of commercial banks around the world were considering the possibility of offering interest-free financial products. In many countries, this reflected the banks' desire to offer services to a growing population interested in such products, but in several instances it was also motivated by the wish to tap the growing pool of international investors attracted to Shariah-compliant products. He said that an interest-free window was simply a window within a conventional bank through which customers could conduct business utilising only Shariah-compliant instruments. He observed that the mechanism of investment and profit sharing from the Islamic point of view was being still discussed.

In this connection, he referred to the Delhi School of Economics economist, Prof. Badal Mukherjee, whose book Distribution of Money through Zakat was an important work on the subject. He also spoke of the contribution made by the former professor, Centre for Research in Islamic Economics, King Abdulaziz University, Jeddah, Mohammad Nejatullah Siddiqui to Islamic banking theory. He said that several scholars of the West believed that lending and borrowing should be shared. This view was also shared by a scholar from Princeton University. According to a Pakistani scholar, Muslims could not express themselves as carriers of a rich legacy, including economic theory during the British Raj. He said that the concept of Islamic banking had attracted the attention of Indian academics who were working on the subject in international context. He especially referred to the work done by the Institute of Objective Studies over the last 30 years. Similarly, Jamat-i-Islami Hind had also undertaken the study of the subject, he added.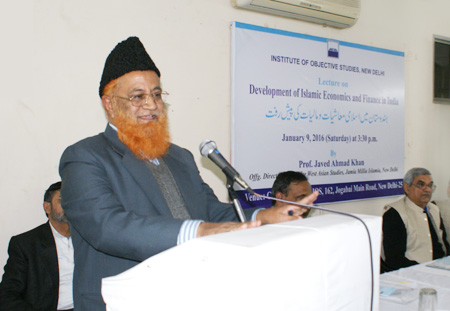 Explaining Islamic banking, Financial Advisor, Jamaat-e-Islami Hind, Dr Waquar Anwar said that it was a part of Islamic economics. He noted that the real issue was the Islamic economy, but the debate centered around Islamic banking. Stressing the need for a discussion on riba (interest), he said that the status of interest prevalent in the market must be taken into account.

Emphasising the need for highlighting the evils of interest, he said we must list the benefits of Islamic banking. One of the evils of the present economic system based on interest was that the needs of people were rising but growth was declining. That was the reason why the economy of the corporate sector was adversely affecting the country's economy, he said. The fact of the matter was that the profit accruing to the corporate sector exceeded the government revenue. He opined that the interest-free economy could still be sustained because India was a manufacture-based economy, but there were several countries which were not manufacture-based, yet they experimented with it.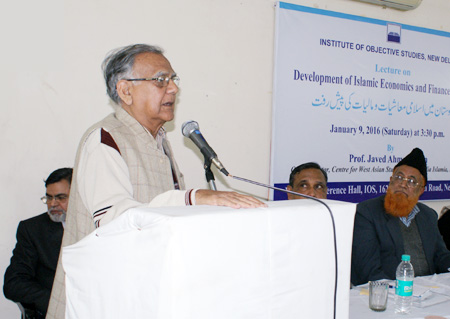 Secretary General of IOS, Prof. ZM Khan informed that the Institute had done fairly good work in the field. An international seminar was also organised by it in this connection. While laying stress on the need for looking at the issue in totality and not in parts, he said that Islam also called upon humanity to totally submit to it.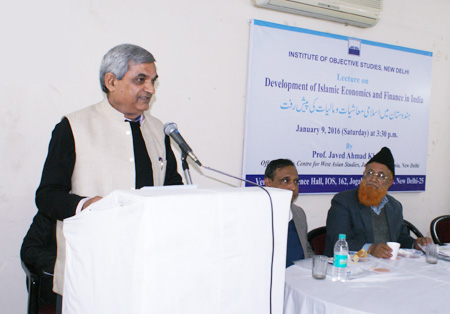 In his presidential speech, former Dean, faculty of social sciences, Jamia Millia Islamia, Prof Naushad Ali Azad said that Islam called for a banking system based on honesty and good intentions. He said that Islam was against exploitation, and the profit gained through interest was exploitative. Interest was the mainstay of the capitalist economy, while Islamic banking was based on Shariah. He said that Islamic banking must not be confined to Muslims, and should be extended to the entire society and all should benefit from it.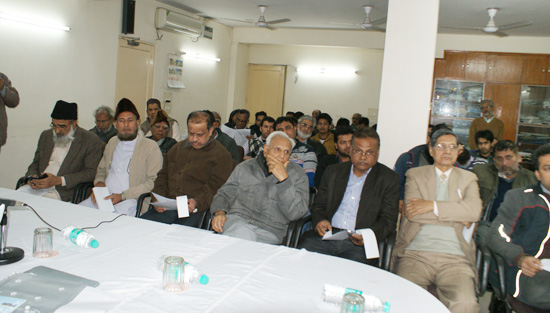 Earlier, the programme began with the recitation of a verse from the holy Quran by Hafiz Athar Husain Nadwi. The proceedings were conducted by Dr. Nakhat Husain Nadwi. Those who attended the lecture included Vice-Chairman, IOS, Prof. Refaqat Ali Khan, Assistant Secretary General, IOS, Prof. M Afzal Wani, Prof. Eqbal Husain, Abdul Qadir Khan, Mohammad Kazim Sher, Arshad Siraj Makki, Mohammad Anwarul Haque, Dr. Mohammad Anzar Alam, Unus Rana, Fasih Ahmad, Arshad Sheikh, Mushtaq Ahmad Wani, Mohammad Rehan Husain, Aqdas Sami, Zafar Sadiq, Sabir Akhtar and Iqbal Husain.