Islamic Finance Will Accelerate India's Economic Growth
A two-day international conference ends with suggestions to government to seriously consider introduction of participatory banking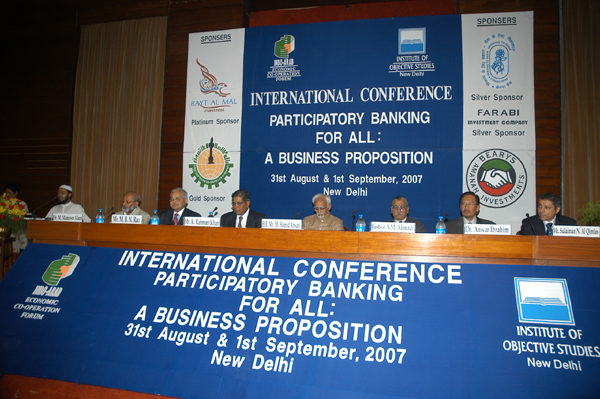 New Delhi, September 1: The Government of India is prepared to consider the introduction of participatory banking, also known as Islamic banking, with "an open heart and mind", Rajya Sabha (Upper House of Parliament) Deputy Chairman K Rahman Khan said here today.
Addressing a press conference at the end of a two-day international conference on the subject Mr Khan said Union Finance Minister P Chidambram had assured a delegation of the participants that the government was open to the idea of Islamic banking. The conference was jointly organised by Institute of Objective Studies and Indo-Arab Economic Cooperation Forum.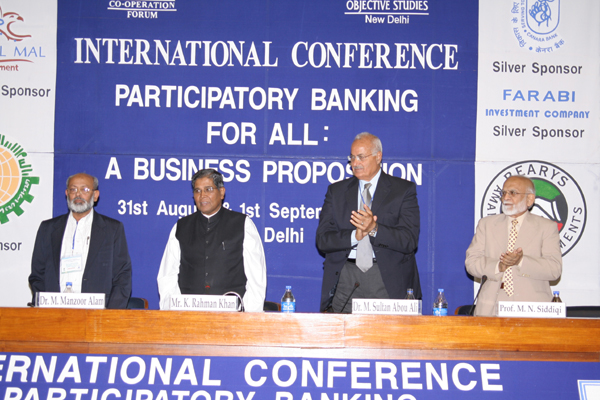 Mr Khan said that necessary institutional and regulatory framework had to be put in place to attract foreign direct investment (FDI) from the Islamic financial market. For this the government, Reserve Bank of India, Stock Exchange Board of India (SEBI) and the banking industry would have to take the initiative.
The market worth of such assets today is $700-800 billion and would soon grow to $3 trillion, he added. The conference was of the view that introduction of Islamic bonds (sukuk) and other financial products in India would lead to massive flow of funds.
Participatory banking, by reorganising Muslim moral and religious scruples against paying and taking interest as well as by respecting taboos on investment in breweries, casinos and pornography, would facilitate large-scale investments from Muslim countries. These values would also not come into conflict with the interests of other people.
Some of the importa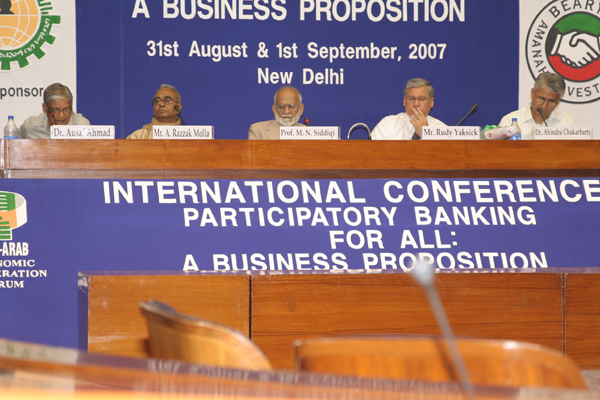 nt names in the field participated in the conference, including: Vice President of India Mohammad Hamid Ansari, former Chief Justice of India Justice AM Ahmadi, former Deputy Prime Minister of Malaysia Anwar Ibrahim, Chairman Kuwait's Bayt Al-Mal Sulaiman N Al-Qimlas, former professor of Economics at Saudi Arabia's King Abdul Aziz University Prof. MN Siddiqui and Minister-in-charge of West Bengal's Land and Land Reforms Department Abdur Razzak Molla.
Also present were: CEO of US-based Concord Capital Partners Rudy Yaksick, Director General Fortune Institute of International Business Dr Ahindra Chakarbarty, professor of economics at Egypt's Zagazig University Dr M Sultan Abou Ali, Executive Vice President of Turkey's Bank Asia Yousuf Izzetin Imre, Advisor Beary's Group (Bangalore) MH Khatkhatay, economist at Jeddah-based Islamic Development Bank Dr Mohammad Obaidullah, former professor of economics at Egypt's University of Alexandria Dr AR Yousri, Managing partner of Kuwait's Mashoura International Consulting Seraj Al-Baker, chief financial officer UTI AMC Imtiyazur Rahman, secretary Institute of Chartered Accountants of India Ashok Haldia, and chief economist at New Delhi-based National Council for Applied Economic Research Dr Abu Saleh Shariff.
The following three-point resolution was passed at the end of the conference:
· Participatory banking has emerged as an alternative banking in a number of countries. It is based on equity, justice, fairness in financial transactions, both in mobilising resources and investment of the resources. Interest-based financial transactions are not equitable, just and fair to both borrower and lender. Interest-based finance results in debt proliferation, increased speculation and instability. During last three decades conventional financial markets have introduced new products like mutual funds, venture capital, leasing, equity fund etc. which are not interest based but are in effect participatory financial instruments. The success of mutual funds, venture finance and leasing is a testament to prove that participatory banking is viable in India. With slight marginal changes these can be acceptable to a section of Indians who would not deal in interest. This conference urges the Government of India, the regulators RBI and SEBI and the Indian banking industry to introduce participatory banking in India, by taking necessary legislative and regulatory measure for its establishment.
· India has more than 150 million Muslims which is the second largest Muslim population of the world. Islamic faith directs that a Muslim should not take interest and/or pay interest. Participatory banking will fulfill the Islamic obligations and meet the aspirations of a large section of India's citizens. Hence this conference urges the Government of India, RBI, SEBI and the Indian Banking industry, to provide a viable alternative for the 150 million citizens to invest their savings in tune with their religious faith by establishing regulatory mechanism for the establishment of participatory banks and financial institutions in India.
· The Islamic Financial Market, based on participatory principles is now of the order of more than 700 to 800 billion US dollar, growing at an annual rate of 10% to 15% and poised for a robust growth in the coming years. In the next decade, it is estimated to be in the order of US Dollar 2 to 3 trillions. India needs huge and faster investment for infrastructure and power sectors to maintain the current pace of growth. India can benefit by attracting large funds from the Islamic financial market. Islamic financial market is keen to invest in India. Approval given to Islamic financial products like Sukuk (Islamic bonds) will facilitate entry into India of billion of funds seeking Islamic ventures for profitable investment. An institutional and regulatory mechanism is urgently required for establishment of such institutions which could attract funds from global Islamic financial markets. This conference urges Government of India, RBI and SEBI and Indian Banking Industry to facilitate establishment of Participatory Banking and Financial Institutions by bringing forth necessary institutional and regulatory framework to attract and transfer Foreign Direct Investment from the Islamic financial market.g
IOSCA