IOS Lecture on "New Challenges and Islamisation of Epistemology in the 21st Century"

March 7, 2015 at IOS Conference Hall, New Delhi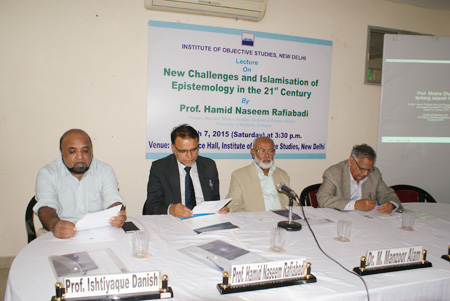 L-R: Prof. Ishtiyaque Danish, Associate Professor of Islamic Studies, Jamia Hamdard; Prof. Hamid Naseem Rafiabadi, Former Director, Shah-i-Hamdan Institute of Islamic Studies, University of Kashmir, Srinagar; Dr. Mohammad Manzoor Alam, Chairman, IOS; Prof. ZM Khan, Secretary General, IOS;
New Delhi, March 7: A lecture on "New Challenges and Islamisation of Epistemology in the 21st Century" was organised by the Institute of Objective Studies at its conference hall here today. Delivering the lecture, former Director, Shah-i-Hamdan Institute of Islamic Studies, University of Kashmir, Srinagar, Prof. Hamid Naseem Rafiabadi differentiated assumptions of God between Western and Islamic philosophers. While Western thinkers like Hobbes, Macaulay, Darwin, etc, believed that if at all God existed, He had no concern with humankind.
According to atheists, humankind was concerned with matter. He explained that according to Islamic thought, we did not know what was happening around us and the human mind was a matter which could not go beyond perception. He observed that many laws of today had existed already in the Quran. It was wrong to say that the Western paradigm was universal, he noted.

Prof. Hamid Naseem Rafiabadi delivers the lecture
Prof. Rafiabadi pointed out that Muslim scientists of today were obliged to the Muslim ummah to bring the spirit of sciences back in accordance with the spirit of Islam. He said that concrete proposals with specific plans ought to be further pursued, both academically and practically in the process of Islamisation. He observed that the Islamic philosophy and epistemology as such being taught in our universities and institutions of higher learning were devoid of Islamic content as whatever had been passed on in the name of philosophy and epistemology from the Muslim adherents of Greek philosophy like Ibn Sina and Farabi, was considered Islamic by the students.

From Ghazali to Ibn Taimiyah and Ibn Qaim, this corpus of knowledge, including epistemology had been severely criticised for inclusion in it of the pagan Hellenistic and unIslamic elements, he said. The process of Islamisation of knowledge had given impetus to the desire to purge epistemology and Islamic philosophy of all foreign and unIslamic influences. He stressed the need for taking into consideration the pristine Islamic scriptural parameters of the Quran and Sunnah and the insights of great jurists like Ibn Salah, Ahmad Ibn Hanbal and Ibn Qaim. Calling for the preservation of Islamic texts and its interpretation, he said that Dr. Abdul Hamid AbuSulayman, considered to be the pioneer of Islamisation of epistemology, did a lot of work in this direction. He had held that certain notions were unIslamic and wanted to know why tems like Tauhid and Taqwa were not used.

Prof. Rafiabadi dwelt at length on the claim of knowledge and the difference between knowledge and belief. Terming knowledge as power, he said that there were certain issues that remained unresolved from the past. Similarly, certain contemporary issues were still unresolved. Reason, religion and universe were the areas that needed a research methodology for the rationalisation of knowledge. Islamic tool should be applied while treating the subject of Islamisation of knowledge. Describing epistemology as the source of knowledge, he said that the scientists had interpreted religion in the light of science. He said that we must not go beyond the mandate given to us. We must refrain from making such practices that were not made by the Prophet (SW), caliphs and sahaba karaam, he added.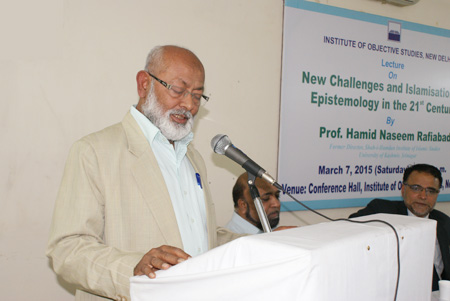 Dr. Mohammad Manzoor Alam, Chairman, IOS delivers presidential remarks
In his presidential remarks, the Chairman, IOS, Dr. Mohammad Manzoor Alam laid emphasis on going into the sources while discussing Western, eastern and Islamic methodology. Unless one got into the sources, he could not reach the real point. Knowledge was like a sea of layers that came through them. He called for evaluation of Islam as a religion whether that stood for exploitation or for the welfare of the entire humanity. He said that invention needed innovation, and this should go on. Complaining that the challenges of this century had not been discussed, he said that we did not have access to knowledge. Commenting on gender equality in Islam, he noted that exposure to knowledge was necessary.

Prof. A. Wani, Assistant Secretary General, IOS shares his views
Referring to the dominance of the West over knowledge, Dr. Alam said that 20 percent people were controlling 80 percent population of the world. He observed that the threat of enslavement of humanity was looming large as we had become a part of machine with no freedom. Defining knowledge, he said that it was two-dimensional – theoretical and empirical. He regretted that though a vast literature on the Islamisation of epistemology was available, there was a dearth of textbooks. He emphasised the need for developing literature on different aspects of the subject. He assured that the IOS was ready to support any initiative for the empirical study of Islamic knowledge.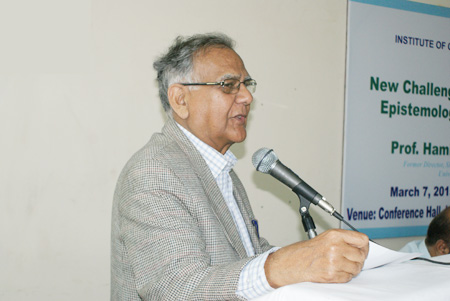 Prof. Z.M. Khan, Secretary General, IOS introduces the subject
Introducing the subject, Secretary General of the IOS Prof. ZM Khan held that the comparative study of religions was relevant in the Indian context. He said that he came to know of epistemology some 45 years ago, but this had become very common today. He was all praise for Prof. Rafiabadi for contributing to the activities of the IOS. Associate professor of Islamic Studies, Jamia Hamdard, Prof. Ishtiyaq Danish, who conducted the proceedings, held that much had been written on the subject. Earlier, the lecture began with the recitation of a Quranic verse by Hafiz Athar Husain. A short video clipping on epistemology was also exhibited on the occasion.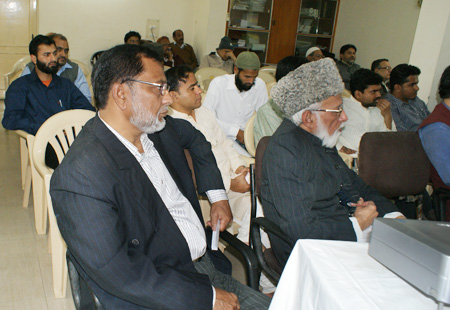 A view of audience
Those who attended the lecture included the Vice-Chairman of the IOS, Prof. Refaqat Ali Khan, Secretary General of Jamat-i-Islami Hind, Ejaz Ahmad Aslam, Assistant Secretary General of the IOS, Prof. A. Wani, Dr. Mushtaq Ahmad Tajarwi, Prof. Eqbal Hussain, Associate Prof. of Law, JMI, Munib Faiq, Raeesul Haq Ahmed, Md. Jabir and Md. Wasim, besides several students and teachers of Jawaharlal Nehru University, Delhi University and Jamia Millia Islamia.