Services of Journalist Khursheed Alam Recalled

August 7, 2017 at Institute Building, 162, Jogabai, Jamia Nagar, New Delhi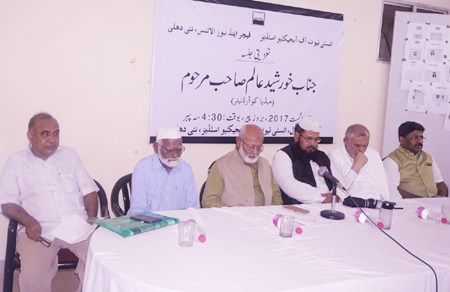 L-R: AU Asif, Editor, Chauthi Duniya; Mohd. Shahabuddin (Father of Late Khursheed Alam); Dr. M. Manzoor Alam, Chairman, IOS; Maulana Abdul Hameed Nomani, General Secretary, Muslim Majlis-i-Mushawarat; Dr. Zafrul Islam Khan, Chairman, Delhi State Minorities Commission and Editor, Milli Gazette; Kunwar Chandrashekhar, Chancellor, Shobhit University, Meerut
New Delhi, Aug. 7: Glowing tributes were paid to Urdu-Hindi journalist, columnist, and media coordinator of the Institute of Objective Studies (IOS) and Feature and News Alliance (FANA), Khursheed Alam at a condolence meeting held here today at the conference hall of the IOS. Khursheed Alam died on August 5. His services to journalism were recalled by his friends and admirers from different walks of life, including journalists and representatives of different Muslim organisations. They eulogised the qualities of Khursheed Alam and remembered their close association with him.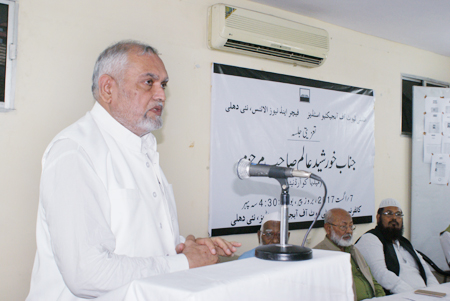 The chairman of the Delhi State Minorities Commission and the editor of the English weekly, the Milli Gazette, Dr. Zafrul Islam Khan, said that Khursheed Alam was known to him since long. He excelled in both Urdu and Hindi languages with his focus on issues relating to Muslims. He regularly contributed to Urdu and Hindi newspapers and periodicals. Khursheed Alam was forthright and his forte for objective reporting was indomitable. Dr. Khan said that he liked his letters to the editor and preserved those that were focused on important issues.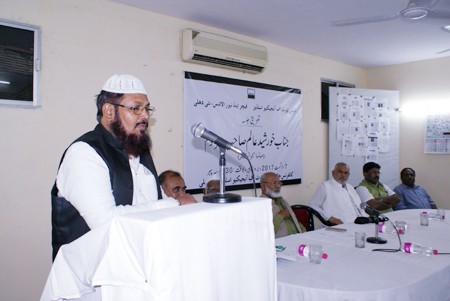 The general secretary of the Muslim Majlis-i-Mushawarat, Maulana Abdul Hameed Nomani, commented that he was very strong on the ideological and thinking side. He was unbiased and bold in writing. The chancellor of Shobhit University, Meerut, Kunwar Chandrashekhar, held that Khursheed Alam was prolific in both Urdu and Hindi, and he had encouraged him to prove his mettle by writing on topics like education and development in Hindi. He always wanted Khursheed to bring into focus the issues of the Muslim community that hardly found favour with the Hindi media. The state of education among Muslims was one area that required utmost attention, he added.
The editor of the Urdu daily Jadid Khabar, Masum Muradabadi, observed that though Khursheed Alam spent about 25 years in Delhi, he could not own a house. He was wedded to a mission which he selflessly pursued all through his life. Free-lance journalist of Urdu and English, Firoz Bakht Ahmad called him an energetic journalist who engaged himself in good deeds. His reportages were diverse and reflective of reality. Feeling shocked over Khursheed Alam's untimely death, he said that the former led a life of scarcity but never made it known to anybody. He also successfully tried his hand at the writing of pieces of amusement. Editor of the Chauthi Duniya (Urdu), AU Asif restrained himself from delving much into the life and achievements of Khursheed Alam and invited the audience to share their impressions about the departed soul. He pointed out that the strength of Khursheed Alam's circle was enough to demonstrate that they braved the heavy rains and made it to the condolence meeting. He said that meeting also assumed significance as the deceased's father Shahabuddin, his brother and sister, besides his sons and daughter were present. Prof. of Geography, JMI, Hasina Hashia, expressing grief over the death of Khursheed Alam, recalled how she came into contact with him in 1998 when Maulana Qazi Mujahidul Islam was staying in a flat at Zakir Bagh during his protracted illness. That was the time when both AU Asif and Khursheed used to visit the maulana together. Describing him as an experienced journalist, she said that he very ably covered a women's conference organised by the maulana under auspices of the Muslim Personal Law Board. Praying for the peace of mind of the members of the bereaved family, she said that she always held him in high esteem.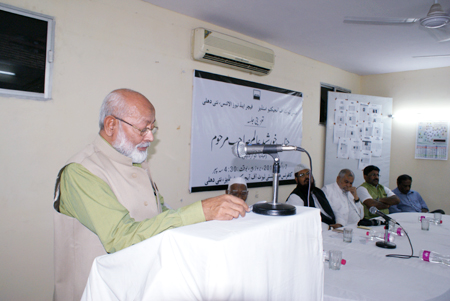 It may be noted that those who attended the meeting and described his death as a personal loss to them, included the bureau chief of Voice of America at Delhi, Suhail Anjum, senior sub-editor of daily Rashtriya Sahara (Urdu), Abdul Qadir Shams, father of the deceased, Shahabuddin, his sister, brother and son, Osama Khursheed, Manager of Radiance magazine, Kamal Ahmad, Father Solomon George and the sub-editor of the Hindi daily, the Shah Times, ST Owais. In a message sent through AU Asif, the Nazim of Jamiat Ahle Hadees, Maulana Asghar Ali Imam Mehdi Salfi and the group editor of Chauthi Duniya, Santosh Bhartia expressed deep sorrow over the death of Khursheed Alam and conveyed their condolences and deep sympathies to the bereaved family. Chairman, IOS, Dr. M. Manzoor Alam, who presided over the condolence meeting, asked all those present there to pray for the maghfirat of the deceased. He recalled that his association with Khursheed Alam was spread over 15 years. The country and the Muslim community benefited from his capabilities. He used to raise issues with utmost zest and never relented till he got satisfactory answer. Usually, he wanted to know more and more about Muslim organisations and made pointed questions to them seeking their answers. He announced that the occasional interviews taken by Khursheed Alam would be published in book form for which the services of experts would be requisitioned.
The condolence meeting was also attended by the staff of All India Milli Council, Islamic Fiqh Academy, FANA and the IOS.