Two-day national seminar
on
"Towards Equality, Justice and Fraternity in Contemporary India - Creating a Better Tomorrow through Law"

April 22-23, 2017 at Aliah University, Kolkata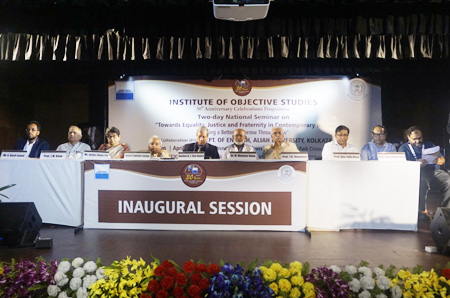 L-R: Mr. Abdul Basit Ismail, convenor of the Conference and Editor Eastern Post, Kolkata; Prof. ZM Khan, Secretary General, IOS; Justice Ruma Pal, Former judge of the Supreme Court; Justice Rajindar Sachar, former Chief Justice of Delhi High Court; Justice Kalyan Jyoti Sengupta, Lok Ayukta, Sikkim and former Chief Justice of Hyderabad High Court; Dr. Mohammad Manzoor Alam, Chairman, IOS; Prof. TK Oommen, Emeritus, Centre for the Study of Social Systems, Jawaharlal Nehru University, New Delhi; Dr. Abu Talib Khan, Vice-Chancellor of Aliah University, Kolkata; Prof. Amzed Hussein, HOD of English, Aliah University, Kolkata; Prof. Afzal Wani, Assistant Secretary General of the IOS
A two-day national seminar on "Towards Equality, Justice and Fraternity in Contemporary India - Creating a Better Tomorrow through Law" was organised by the Institute of Objective Studies in association with the Deptt. of English, Aliah University, concluded on April 22-23, 2017 in Kolkata. The seminar witnessed an impressive presence of the academia, jurists, judges, human rights activists, social scientists and the members of civil society. They unitedly made a call for a united fight against communalism and the forces of fascism that were out to destroy India's age-old traditions of mutual love, brotherhood and the entire social fabric that was woven over hundreds of years of trust and respect for each other's religious persuasions.

Justice Rajindar Sachar, former Chief Justice of Delhi High Court
In his inaugural speech, former Chief Justice of Delhi High Court and the Chairperson of the Prime Minister's High-level Committee on the status of the Muslim Community in India, Justice Rajindar Sachar, described the Preamble to the Constitution as its key secularism as an affirmation that the State would accord equal importance to all religions. Articles 25 and 28 were clear in this connection. Referring to the claim that the Hindu religion stood for the dictum "the entire world is a family (Vasudhaiva Kutumbakam)", he said that the Prophet of Islam (PBUH), himself had stated that under Islam no white-skinned person will get preference over a black-skinned one, and vice-versa. Meaning thereby, there would be no distinction between black and white persons. He named three emperors–Ashoka, Akbar and the great Muslim conqueror, Salahuddin Ayyubi – to explain his point that all of them battled for equality. Launching a blistering attack on gharwapsi campaign he said that it was the anti-thesis of the concept of plurality enshrined in the Constitution. Muslims and Christians did not come from outside, and were an inalienable part of India. He accused an important ex-functionary of the RSS-sponsored Vivekanand International Foundation of stating that India would become a true sovereign state only after emergence of the country as a Hindu Rashtra. This statement ran counter to the UN Declaration of Human Rights in 1992 and the mandate of UN Human Rights Commission in 2010 that the governments should end discrimination against the minorities and ensure their social and economic development. It also mandated that programmes for minorities should be started so as to help target groups. He asked social activists and champions of human rights to ensure that the diversity in living was not disturbed. He noted that the economic disparity of Muslims vis-à-vis others was growing due to their neglect by government. There was an open discrimination against Muslims as the grant for building houses for them was used only to demolish and construct shopping complexes in their place. Making a plea for affirmative action in their case, he said that government was deliberately targeting the community against the spirit of the Constitution.
He asserted that Muslims needed constitutional protection and all those who were speaking against secularism were actually working against the Constitution. With regard to the communal agenda being set by several BJP-ruled states, he said that the Haryana government had recently made the teaching of Bhagwat Gita in schools compulsory. Similarly, Ram's rule was being likened to Heaven which was free from fear. There was also reference to the aircraft that were faster in speed than today's Boeings. Commenting on the issue of triple talaq, he asked those who raised it as to why King Dashrath, the father of Ram, had three wives. Quoting from available data, he said that the Muslim population would remain stagnant at 20 percent in the next few years. Compared to the last 20 years, the current birth rate in the Muslim community was much lower. Accusing the BJP government at the Centre of sitting over the proposal to appoint an Equal Opportunity Commission, he demanded that it be constituted to safeguard the interests of the minorities. He appealed to the opposition ruled states of West Bengal, Karnataka and Punjab to press for the setting up of the Commission. He said that India belonged equally to Hindus, Muslims, Christians and others, and those who doubted their loyalty to the nation were traitors. Referring to Yogi Aditya Nath's rise in UP, he said that he came up all of a sudden.
He questioned Yogi's continuance as a Member of Parliament even after being sworn in as the Chief Minister of UP and said that he must quit the parliamentary seat to uphold the high traditions of constitutional propriety.

Prof. TK Oommen, Emeritus, Centre for the Study of Social Systems, Jawaharlal Nehru University, New Delhi
Prof. Emeritus, Centre for the Study of Social Systems, Jawaharlal Nehru University, New Delhi, Prof. TK Oommen in his keynote address, pointed out that fraternity could not be actualised by law. It was a matter between citizenship and nationalism. He said that cultural hegemonisation was a precondition for state citizenship. Social equality required federal orientation so that economic equality could be achieved. He held that India was not even a nation state. India was a multi-racial, multi-cultural and multi-religious nation and the concept of one nation, one people and one nation was not possible to put into practice here. He advocated that the state must not intervene in the cultural practices of diverse communities that lived in India. He observed that the constitutional provisions alone would never bring fraternity among citizens unless they learned to respect cultural diversity of the people. He said that the government had no right to intrude into personal affairs of people and cultural practices of faith communities. Nation and state were separate entities. Terminal loyalty as a Muslim or a Christian was not possible in India as one did not have a right as a follower of a religion. The problem would start when one demanded a right as a Muslim or as a Christian, as a man of identity. He said that if the nation and state were put together, they would pull in two directions. He insisted that there was cultural illiteracy in India as one did know nothing about other communities. Referring to Dr. S Radha Krishnan's assertions that Hinduism was a way of life, he questioned why Hinduism alone was a way of life. Why other religions were not a way of life? he asked.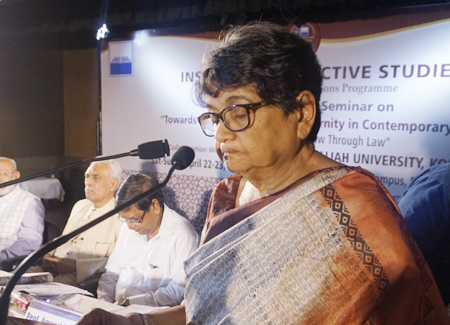 Justice Ruma Pal, Former judge of the Supreme Court
Former judge of the Supreme Court, Justice Ruma Pal, suggested that changes must come from within the community. She said that Constitutional provisions would always defend women's rights as and when they were violated. No law could be contrary to the Constitution and it was the duty of the judiciary to ensure that the laws passed did not transgress the Constitution. She said that there was a legal presumption that knowledge of law and ignorance of law was no defence. She observed that the Constitution provided for justice, equality and fraternity in its Preamble which meant that the three formed not only the basis but were the goals and also the very intrinsic substance running in and through every provision of the Constitution. The Constitution provided for the physical, political, legal, social and economic structure of this country. It also provided for fundamental rights and freedoms to citizens to fulfill these Constitutional objections. Referring to the Muslim Personal Law, she said that after the Constitution, the only statute enacted was the Muslim Women (Protection of Rights on Divorce) Act 1989 which appeared to be disadvantageous to Muslim women till its provisions were interpreted by the Supreme Court in Danial Lalifi case. The differences between the three systems of Personal Laws namely, Parsee, Muslim and Christian. There was a tendency in some who might be called as Unitarians to view these differences as being problematic because according to them "a Common Civil Code would help the cause of national integration by removing disparate loyalties to laws which had conflicting ideologies". The no-changers persisted with the opinion that personal laws should not, and indeed, could not be touched by any statute and that the status quo should continue. According to the third group, which she confessed to belong to, was of pluralists who argued that the issue should not be seen as inter religious difference but as inter-religious differences or unconstitutional differences within the religious system. The fact of the matter was that except for Muslim Personal Law every other system had codified all Personal Laws. She suggested that Muslim Personal Law must be codified so that not only would the members of the community be aware of their rights and obligations clearly and with certainty, but they would also not be faced with contradictory opinions based on different interpretations of the sacred texts.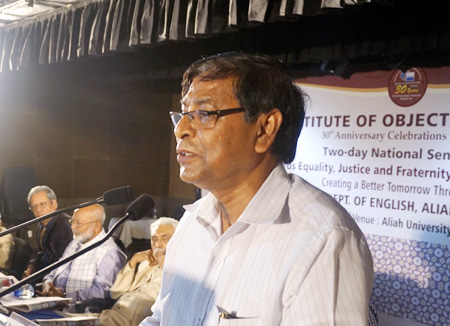 Dr. Abu Talib Khan, Vice-Chancellor of Aliah University, Kolkata
Speaking as guest of honour, the Vice-Chancellor of Aliah University, Dr. Abu Talib Khan held that unless Indians were properly educated, they could not live together cordially. He explained the difference between religious and professional studies. He laid emphasis on the education of both boys and girls for a better tomorrow.

Dr. Mohammad Manzoor Alam, Chairman, IOS
Chairman of IOS, Dr. Mohammad Manzoor Alam said that this was the second national seminar conducted as part of the 30th anniversary celebrations programme of the IOS. He informed that the next such programme would be held in New Delhi in November next. Holding that no proper study was possible without the study of social sciences, he said that serious issues were raised at the seminar. The IOS engagement with the issues that confronted the society would continue to be discussed and debated, examining the discrimination against various sections. He said that he realised it when he returned to India from Saudi Arabia some 33 years ago. Efforts should be made to examine how law could provide relief from discrimination. Referring to the storm being raised over triple talaq, he remarked that a survey commissioned by the IOS in Aligarh and Delhi revealed that divorce among Muslims was only a small percentage of total number of the larger society's divorces.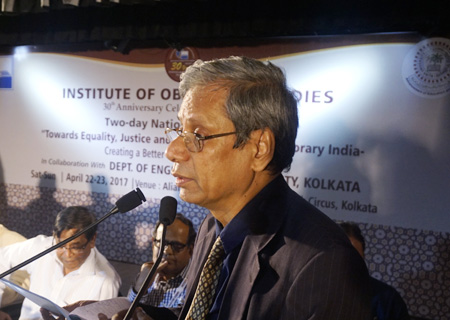 Justice Kalyan Jyoti Sengupta, Lok Ayukta, Sikkim and former Chief Justice of Hyderabad High Court
In his presidential address, Lok Ayukta, Sikkim and former Chief Justice of Hyderabad High Court, Justice Kalyan Jyoti Sengupta, contended that though secularism was in-built in the Constitution, it was made explicit by the 42nd Amendment. He firmly asserted that the basic structure of the Constitution could not be changed unless it was thrown away. Quoting a Supreme Court ruling, he said that secularism was the basic structure of the Constitution. Right to Equality under Article 14 was a Fundamental Right, but in case there was a conflict between secularism and the Fundamental Rights, the former would prevail over the latter, he opined. He said that irrespective of our caste, creed or religion Indians live as an Indian community. This spirit of oneness must be inculcated by everyone. He also referred to the Fundamental Duties that were added in the 42nd Amendment to the Constitution. These were justifiable by the Court. He asked the people to work at the grassroots level and understand the common issues. He also advised Muslims to get the marriages registered under the Special Marriages Act after Nikah as it would then protect women much more.

Prof. ZM Khan, Secretary General, IOS
In his introductory remarks, the Secretary General, IOS, Prof. ZM Khan observed that the IOS had completed 31 years of its existence. The institution was engaged in exploring the fields of research. Selected themes were conceptualised followed by the action by way of field studies. Themes were also sponsored and proposals invited to award projects with financial support. He said that the Institute had so far published more than 400 titles and in the translation programme a number of books had come out. Besides, seminars on various topical issues were regularly organised.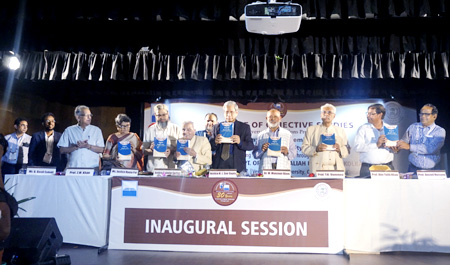 A view of book release
On this occasion the book Exclusion of Muslims in India: Legitimacy of the Constitutional Study by Dr Arshi Khan was pre-launch released.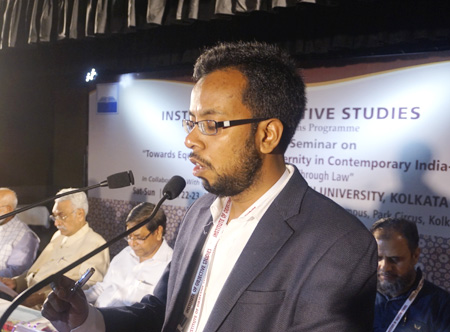 Mr. Abdul Basit Ismail, convenor of the Conference and Editor Eastern Post, Kolkata
Mr. Abdul Basit Ismail, convenor of the Conference and Editor Eastern Post, Kolkata welcomed the guests, HOD of English, Aliah University, Prof. Amzed Hussein proposed a vote of thanks. The proceedings were conducted by the Assistant Secretary General of the IOS, Prof. Afzal Wani. Earlier, the seminar began with the recitation of a verse from the Quran by Mohammad Shahjahan, vice-principle, Jibreel International School, Kolkata.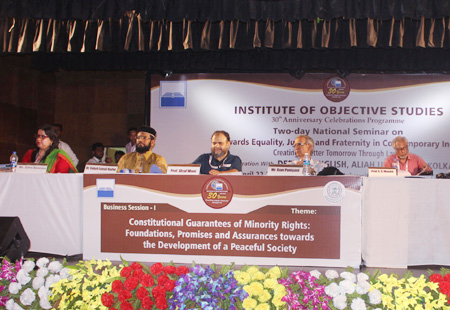 Business Session-I
The Inaugural session was followed by two business sessions. The first business session was devoted to "Constitutional Guarantees to Minority Rights: Foundations, Promises and Assurances towards the Development of a Peaceful Society" was chaired by Prof. Afzal Wani, Professor of Law GGSIP University Delhi. While human rights Activist and writer, Ram Puniyani spoke on "Towards Justice Using Law for a Better Future, Prof. SR Mondal, professor of anthropology and sociology, University of North Bengal, Darjeeling focused on "Knowledge Era, Risk Society and a Better Tomorrow: Global Challenges and Local Responses." Ms. Sohni Banerjee, asstt. prof. deptt. of Law IISWBM, Kolkata and a guest lecturer, Calcutta University, Kolkata gave a talk on "Constructive Role of the Muslim Personal Law Board Towards redressal of Socio-Economic Problems of the Muslim Women Community. Dr. Sabah Ismail Nadwi, chief administrator, Jibreel International School, read his paper on "Secular Hindustan, Aqalliyaton ke Huqooq Aur Aaieen-e-Hind."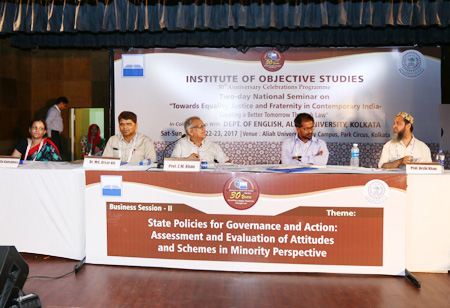 Business Session-II
The second business session on "State Policies for Governance and Action: Assessment and Evaluation of Attitudes and Schemes in Minorities' Perspective was presided over by Prof. ZM Khan. The speakers at the session included Prof. Arshi Khan, prof. of pol. sc., AMU, Aligarh and Dr. Md. Afsar Ali, asstt. prof. at AJC Bose College, Kolkata, who presented their papers on "Failure of the State in Addressing Issues of Inequality and Human Dignity". Dr. Sushmita Gonsalves, asstt. prof., deptt. of pol. sc., Scottish Church College, Kolkata touched upon the topic "From Rohit Vemula to Mohammed Akhlaq: A Saga of Vulnerability and Insecurity". The last speaker of the session was Mohammad Zahir Abbas Khan who spoke on "Socio-Economic Conditions of Muslims in West Bengal".

Second Day of the Seminar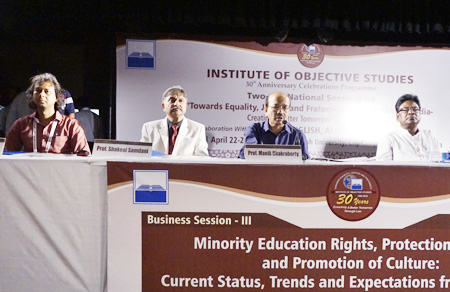 Business Session-III
The third business session was held on the second day of the seminar. The theme was "Minority Education Rights, Protection of Faith and Promotion of Culture: Current Status, Trends and Expectations from the State". The session was chaired by the director, Amity Law School, Amity University, Kolkata. Prof. Manik Chakraborty. Prof. Shakeel Samdani, prof., deptt. of law, AMU, centered his discussion on "Protection of Personal Laws and Uniform Civil Code: A Study in Constitutional Perspective". He said the issue of triple talaq was being raised to divert the attention of the people from the real issues. For Muslims, the Personal Law meant marriage, dowry, divorce, inheritance, waqf, etc. Tracing the history of Personal Laws, he stated that it was Mohammad bin Qasim who first issued the decree that dress code, culture, and customs would continue to be observed without state interference. Since it was a personal freedom, the community was allowed to observe it as part of its Personal Law. Similarly, in 1772, English rulers decreed that Shariah laws would continue to prevail in the case of Muslims and the Vedic texts in the case of Hindus. But after Independence, a new clause was added to Article 44 that referred to enforcement of the Uniform Civil Code. The said Article stipulated that the state would endeavour to enforce a Common Civil Code. He explained that the term "endeavour" had connoted so many things. He maintained that in the Constituent Assembly Debates it was made clear that lawful endeavour would be made to bring the communities on board. But today, it was being sought to be enforced without taking the communities into confidence. He said that the Muslim Shariah Law Application Act 1937 had neither been amended nor altered and continued to apply even today. He noted that the Muslim Personal Law was in existence for the last 1300 years. In India, it remained unchanged during the Mughal period and the British Raj. Similarly, Muslim Marriage Act had not been changed till date. He sought to know if the Uniform Civil Code was enforced, which Personal Law would prevail over it.
Advocate, Supreme Court of India, Arun Manjhi noted that in this hour of crisis when Indian democracy was facing danger, the highest court of the land was the only hope that could provide succour to the minorities. His speech was centred on "Minority Educational and Cultural Rights Guaranteed by the Indian Constitution and Opinion and Mandate of the Supreme Court". Dr. Omar Ghazali, assoc. prof., Hughli Mohsin College, Kolkata presented his paper on "Aqalliat-e-Hind ke Masaail Aur Unka Saddebab".

Business Session-IV
The fourth Business Session on "Administration of Criminal Justice: Issues Concerning Entrapping of Members of Minorities and Underprivileged Groups" was chaired by Prof. Afzal Wani. Speaking at the session, Prof. of Law, JMI, New Delhi, Prof. Eqbal Hussain held that the statutory law could not be contrary to Constitutional provisions. The Indian Penal Code, which was enacted by the British in 1860, conferred powers on the police to play an important role in administration and criminal justice as it registered FIRs to investigate the matter. Minorities were trapped and put in jail without trial for longer periods. Figures showed that the number of Muslims under trial was higher than any other community, he said.
Dr. Tanweer Fazal, assoc. prof., Centre for the Study of Social Systems, School of Social Sciences, JMI read his paper on "Religion, Law and Justice: Gharwapsi in the Indian Courts". He said that in an atmosphere where pan-Hindu identity was emerging fast, secularism was the best guarantee for Muslims in India. Islam and Christianity were egalitarian religions and thus did not practise caste system as against Hinduism which had taken the varna system from the Shastras. Conversion from Hinduism eclipsed caste and this was called the Doctrine of Eclipse, he added. Assoc. prof., Centre for Jawaharlal Nehru Studies, JMI, Dr. Manisha Sethi presented her paper on "Criminalising a Community: Anti Terror Legislation at Work". In her paper, she explained how the persecution of Muslims through security and intelligence agencies continued unabated, though there was not enough evidence against them. She said that a huge number of such cases were built up not on evidence of violence against the person but the seizure of the so-called prohibited literature. Dr. Alefiya Tundawala, asstt. prof., deptt. of pol. sc. Savitri Girls College and guest faculty, Calcutta University, Kolkata, spoke on "Representation of the Secular-Communal Binary in West Begal's Muslim Print Media". She said that Muslims were now at the threshold of an identity crisis.

Business Session-V
The fifth business session was devoted to the "Vulnerability and Insecurity Faced by Minorities: State Responsibility for Prevention of Communal Violence and Promotion of Strategies for Harmony". Prof. Eqbal Hussain presided over the session. Speaking at the session on "State, Religion, Targeted Violence and Justice", eminent journalist and human rights activist, Dr. John Dayal referred to the violence against Christians in Kandhamal and continued oppression of Dalits in various parts of the country. He emphatically said that assaults on the Constitution could not be allowed and called for preparations for fighting the long-term battle. He said that we must track down each case carefully and look into the manner in which the cases had been filed and followed up by officials. He said that he himself was engaged with the people of Kandhamal who faced the worst type of violence against them in independent India's history.
Human Rights Activist, VB Rawat focused on "Issues of Protection of the Idea of India as enshrined in the Constitution in these times of Majoritarianism". He said that South Asia had majoritarian tendencies where the minorities were despised and it was high time we talked of minority rights in South Asia. He maintained that one minority in India was a majority in Pakistan, Bangladesh and vice-versa. In all countries of South Asia, the condition of minorities was serious and hence we needed serious pondering over it. He noted that the anti-cow slaughter movement in India was looking like blasphemy law of Pakistan, mainly targeting the marginalised sections and the minorities. We must speak against this high handedness. While defending Constitutional values and rights, Indians must also have enough space for introspection of India's failures, he insisted. While Dr. Mohd. Shamim Akhtar Qasmi, asstt. prof., deptt. of Islamic theology, Aliah University spoke on "Aqalliyat ko Adam-e-Tahaffuz Aur Khatraat ka Saamna", Dr. Sarfaraz Alam Khan, asstt. prof., NUJS, Kolkata, focused on "Communal Violence, Policing and Double Victimisation: Need to Provide Reparation to the Victims."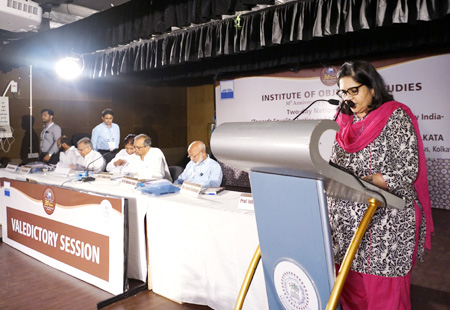 Teesta Setalvad, eminent civil rights activist and journalist
Speaking during the session, eminent civil rights activist and journalist, Teesta Setalvad called for a broader unity based on conviction to defend democracy and secularism in India and expressed solidarity with like-minded segments fighting for the rights of the people. She also focused on Dalit and Adivasi struggle and applauded Jignesh Mewani of Gujarat for working towards the unity of all marginalised communities. She cautioned the Muslim community against reacting to every small issue and getting emotionally surcharged over trifles like a Uniform Civil Code. Criticising the Prime Minister for taking Ambani and Adani along during his foreign travels, she said that he took time off to pay a visit to a mosque in United Arab Emirates but did not comply with the Supreme Court's order to repair 200 mosques and dargahs in Gujarat damaged in the communal riots in the state in 2002. Warning that Muslims, Christians and communists were the main targets of the RSS, she said that if preparations were not made in right earnest, nobody could stop the BJP from coming to power in 2019 elections and from enforcing religious nationalism. She said that the media required to change its discourse. There was need to change the media and its discourse. Lamenting the stoic silence of the elite over the happenings in the country, she said that the elite had abdicated its responsibility. The responsibility the elite took upon itself during the freedom struggle was missing, she concluded. While the valedictory session was presided over by Dr. Mohammad Manzoor Alam, Chairman, IOS.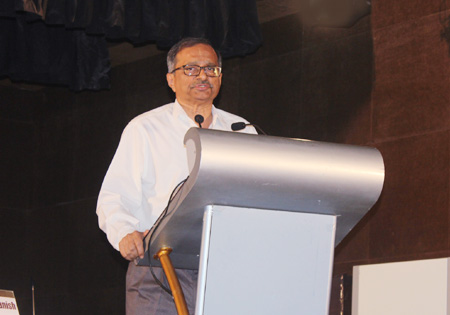 Prof. P. Ishwara Bhat, Vice-Chancellor of the West Bengal NUJS, Kolkata
In his valedictory address, the Vice-Chancellor of the West Bengal NUJS, Kolkata, Prof. P. Ishwara Bhat observed that equality was connected to justice and access to good life. The Constitution was an instrument of social transformation. He appreciated that fraternity in Islam was one of the cardinal principles and it pointed to humanism in religion. He said that it was the responsibility of the state as also non-state actors like individuals to protect life, liberty and fraternity. Favouring family laws based on equality and fraternity, he said that it was the responsibility of conscientious people of the community to come forward. He expressed concern that of nearly 300 languages in India, more and more tribal languages were disappearing.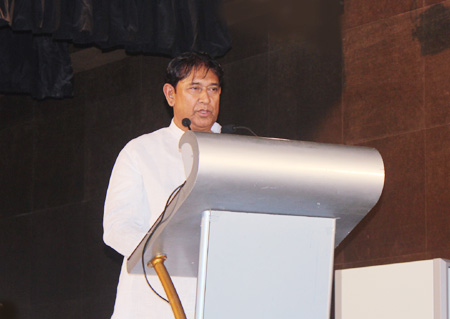 Mr. Aminuddin Siddiqui, Kolkata
Aminuddin Siddiqui, a business person of Kolkata, asked the members of the community not to nurture fear.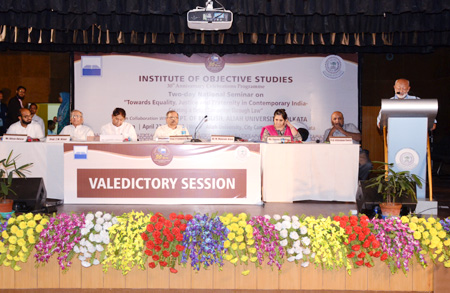 Valedictory Session
In his presidential remarks, Dr. Mohammad Manzoor Alam informed that as many as 20 papers were presented at the seminar spread over seven sessions. The participants included ten professors, four judges of the Supreme Court and High Courts, two vice-chancellors, ten assistant professors and a few research scholars. He announced that a special programme devoted to the history of Islam would be held in the near future. Besides, a programme on the resolution of issues through Islamic tenets would be organised. He also said that the concluding session under the 30th Anniversary Celebrations Programme would be held in November next. Accepting the suggestion of Prof. Shakeel Samdani, he announced that literature on law would be developed for the benefit of the common people. He said that a race devoid of intellectuals could not move forward. Keeping this in view, efforts would be made to prepare such people as could work at the grassroots level. He asked the speakers to submit the papers they read at the seminar at the earliest, so that these could be printed in book form and released at a function. Referring to Dr. John Dayal's suggestion that Nehru's letters to the then chief minister of Madhya Pradesh, Ravishankar Shukla should be publicised, he said the letters would be translated into regional languages. He also announced that the Kolkata chapter of the IOS would be converted into a regional chapter. He asked the functionaries of the Kolkata chapter to focus their attention on studying the problems of the marginalised sections and minorities in Tripura and other adjoining states of the North East.

Exhibition
An exhibition on IOS journey through last 30 years was also organised during the seminar. The exhibition contained display of audio-visuals, publications, hoardings and banners, calendars, clippings of news and articles and films and photo galleries of important events of the IOS during last 30 years.
On this occasion, a 12-point Resolution was read out by Prof. ZM Khan and adopted by a voice vote. Assistant convenor of the conference, Afnan Akhzar proposed a vote of thanks. The Resolution was preceded by the following collective remark:
"It is a matter of satisfaction and appreciation of efforts of the Institute of Objective Studies (IOS), New Delhi and Aliah University, Kolkata in organising a successful seminar on "Towards Equality, Justice and Fraternity in Contemporary India – Creating a Better Tomorrow through Law" on April 22 and 23 2017 in Kolkata.
The participation of delegates and general audience has been markedly impressive and constructive. All of us appreciate these efforts and contributions of all concerned. Finally the seminar proposes to adopt the following resolution:
Resolution


1. The state and democratic institutions in India should work towards the attainment of the goal of equality, justice and fraternity for a better tomorrow, giving equal space to all citizens of the country as is guaranteed by the Constitution of India dispelling any efforts to marginalise any section of the society, especially minorities.

2. Positive efforts should be made to strengthen the state mechanism for assuring development of a peaceful society without the fear of belonging to a vulnerable or under-privileged section of the society.

3. Minorities should be assured their right to establish and administer educational institutions of their choice without any interference through strained interpretations of laws and policies.

4. Criminal justice systems of the country should be geared up to render justice to all people without discrimination of any kind to avoid manipulations of processes and procedures against members of any specific community.

5. It is stressed that democracy is much more than holding elections. Elections may be undermined by a powerful totalitarian state system as well. Vigil and fight for democratic values are primary duties of every citizen, this seminar stresses doing one's best for restoration of primary democratic values.

6. Scholars and activists are urged to carry out researches and launch schemes and programmes which make people aware of their rights and also make judicial remedies available to all, especially to the poorest of the poor.

7. Kolkata chapter of the IOS is expected to take the call and it must strive to connect with local citizens and may submit proposals for furtherance of the ideas of programme.

8. The IOS team is appreciative of the active role of young scholars in organising this seminar. Nevertheless, it is urged that young minds should be provided all help in such endeavours.

9. There may be special programmes of IOS and other organisations to create awareness for exchange of men and material among different regional chapters and centres relating to practical status in concerned areas.

10. There may be some special programmes and steps to foster and promote research in areas of comparative religions. Kolkata chapter of IOS should also be encouraged to publish a regular newsletter on a quarterly basis.

11. The IOS invites proposals for research and publications on themes relevant to marginalised sections of West Bengal. The chapter may be consulted on such matters.

12. Preparation of suitable material in line with Indian ethos and constitutional values should be given priority and a campaign should be launched to do the needful in preparation and propagation of such materials.
Approach Note | Speech of Chairman | News Carried by Two Circles.Net