Higher Education and Muslims: Challenges and Opportunities

August 19, 2018 at IOS Kolkata Chapter

IOS Kolkata chapter organises a thought-provoking lecture by Dr. Aslam Parvaiz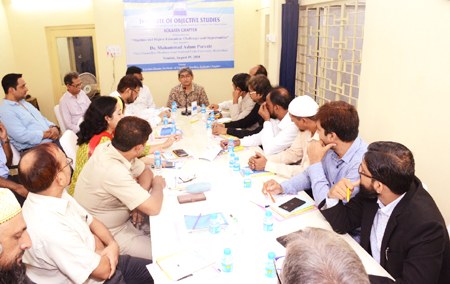 The morning of August 19, 2018 saw the gates of a renovated IOS Kolkata chapter opened to a select group of intellectuals for a discussion on "Higher Education and Muslims: Challenges and Opportunities" by Dr. Mohammad Aslam Parvaiz, Vice-chancellor, Maulana Azad National Urdu University, Hyderabad. Despite a heavy shower in the morning, the lecture room almost ran short of chairs to accommodate the visitors.
The guest list included the likes of Dr Afsar Ali, principal, Shaheed Nurul Islam College, Prof. Dr. Shabina N Omar, head, deptt. of English, Milli al Ameen College for Girls, Dr Shamim Ahmed Qasmi, head, deptt. of theology, Aliah University, Dr Alefiya Tundawala, asstt. professor, deptt. of political science, Savitri Girls College, Dr. Md. Umar Ghazali, assoc. professor, Hoogly Mohsin College, Jawed Abbas Siddiqui, research scholar, Institute of Objective Studies Kolkata chapter, Dr Khaled Hussain, headmaster, Monu Memorial Institution, Anwar Ali, headmaster ML Jubilee Institution, Md. Shahjahan, vice-principal, Jibreel International School, Shamim Rahmani, co-ordinator Rahmani 30, Kolkata, Afnan Akhzar, news editor, The Eastern Post, and many others.

The session started with a short recitation from the holy Quran by Md. Shahjahan, vice-principal, Jibreel International School, and an introduction of the guests before asking Dr. Aslam Parvaiz to take over the session by Abdul Basit Ismail. At the beginning Dr. Parvaiz was given a hearty welcome.
A memento was presented to Dr Parvaiz by Afnan Akhzar. In an hour-long discourse on the topic, Dr. Parvaiz focussed on and emphasised the role of teachers in infusing students with a killer instinct to face competition. Speaking on the sub-standard delivery of lessons in Urdu-medium schools and government-aided schools, Dr. Parvaiz said that there was not much that one could do to bring about a massive change as the teachers were recruited by government.
He insisted that managing committees taking care of schools must create provisions for additional coaching to provide much-required impetus to students that would make them fit for higher studies. He also emphasised the need for counselling both for teachers to help them update themselves and equip them with better strategies for 21st century classrooms and students to help them know their orientation and assist them in choosing a career trajectory for themselves.
His discussion was filled with references to the teachings of the Quran regarding education. The discourse was informative and provoked to a series of questions from the guests in the question-answer session.

The guests appreciated a fresh beginning to IOS Kolkata chapter and expressed joy at being in the office after a long time, especially Dr Alefiya Tundawala and Prof. Shabina N Omar. The session concluded with a vote of thanks by Abdul Basit Ismail and an assurance by IOS functionaries that in the light of the opinion of the guests, a series of such discussions would be organised in the future.