IOS Lecture on the book Islam and Knowledge: Al Faruqi's concept of Religion in Islamic Thought

February 8, 2019 at Institute Building, 162, Jogabai, Jamia Nagar, New Delhi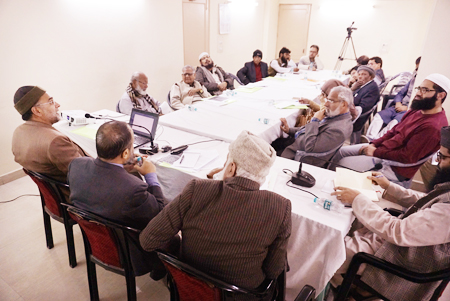 The Institute of Objective Studies organised a lecture based on the review of the book Islam and Knowledge: Al-Faruqi's Concept of Religion in Islamic Thought edited by Dr. Imtiyaz Yusuf, in its conference room on February 8, 2019. Prof. Hamid Naseem Rafiabadi, Head of the Department of Religious Studies, ex-Dean, School of Social Sciences, Central University of Kashmir, former director of Shah-i-Hamdan Institute of Islamic Studies, University of Kashmir, who delivered the lecture, said that the Islamic scholar, Dr. Ismail Raji al-Faruqi's work Islam and Knowledge was one of the finest books written on the subject. The book dealt with various aspects of Tawhid (oneness of Allah or monotheism), Islamic beliefs, etc. in great detail. He said that al-Faruqi's concept of religion in Islamic thought was today part of the curriculum of Islamic Studies in different universities of the world. One of the main features of his interpretation of Islam was its presentation within contemporary parameters. He stood out as an Islamic scholar who never compromised on his premises. Prof. Rafiabadi observed that though he lived in the United States, he did not allow the US culture to influence him. Instead, he presented the Islamic perspective on life and Islamic culture to Americans. In his book, Ismail Raji argued how a new-born child had Islamic traits. He differed with Imam Ghazali on several issues and held an independent point of view.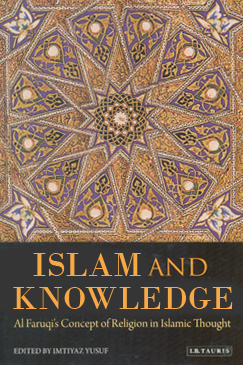 The volume written by Dr. Imtiyaz Yusuf, programme director, deptt. of religion, Graduate School of Philosophy and Religion, Assumption University, Bangkok, is based on articles, memoirs and an evaluation of monumental works of Ismail Raji al-Faruqi. This volume contains contributions from John L. Esposito, Khurshid Ahmad, Seyyed Hossein Nasr, Anwar Ibrahim, John Raines, Richard C. Martin, Gerard S Sloyan, Muddathir Abd al-Rahim, James Zogby, Imtiyaz Yusuf, Anis Ahmad, Yushan Sodiq, Abul Fadl Mohsin Ebrahim, Charles Fletcher, Md. Salleh Yaapar, Aminah Beverly McCloud, Ibrahim U Zein, Gisela Webb, Kamar Qinah Kamaruzaman and Vivenne SM Angels. Almost all important scholars the world over who had any kind of acquaintance with Ismail Raji al-Faruqi, have expressed their views in this volume.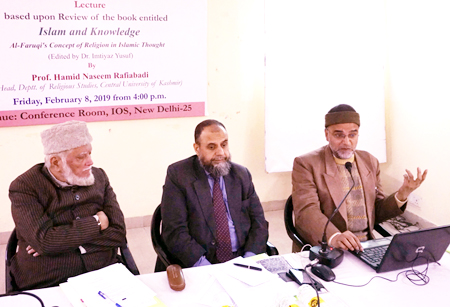 Prof Rafiabadi held that according to John Voll, Georgetown University's professor of history, who delivered the Annual Ismail Raji al-Faruqi lecture at IIIT on August 26 to an audience of over 80 scholars, activists and community leaders, Ismail Faruqi was a good case of the modern intellectual who was a believer and provided a good example for thinking about what it meant to be a believing intellectual in the modern era. He said, "These essays of this edited volume, divided into two parts, explore various dimensions and facets of the personality and academic career of Prof. Ismail Raji al-Faruqi. In a nutshell, the contents of this volume highlight the intellectual legacy of Prof. Faruqi, who was, and still remains, a brilliant intellectual figure of Islamic Studies and Islamic intellectual awakening in modern times. The book sheds light on his reformative and scholastic efforts succinctly which resound and reverberate even today, and will continue to do so in the future as well. The work is indeed a real tribute to this great legendary and prominent figure."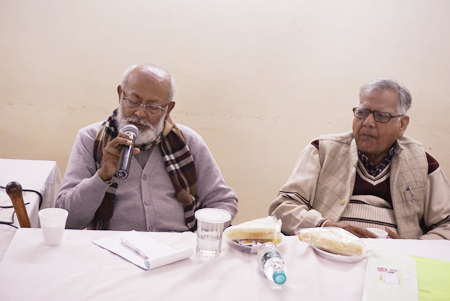 Chairman, IOS, Dr. M Manzoor Alam, announced that two more lectures on the subject would be organised in the near future. He said that the book under review was one of the several fine books written on Tawheed in the past few years.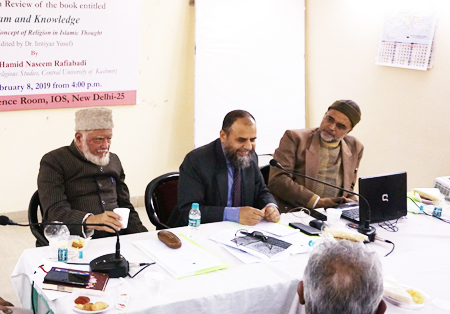 Presiding over the function, the vice-chairman, IOS, Prof. Afzal Wani, described Dr Ismail Raji al-Faruqi as an eminent scholar, intellectual, writer and philosopher. His thoughts were based on his understanding of Islam with special reference to modern times. He said that Raji's approach to Islam was very relevant to the present times. Ex-dean, Arabic at English and Foreign Languages University, Hyderabad, Prof. Mohsin Usmani also expressed his views on the occasion.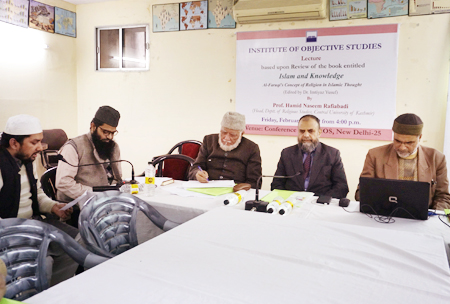 Earlier, the function began with the recitation of a Quranic verse by Hafiz Athar Husain Nadvi. Malualana Shah Ajmal Farooq Nadvi, in-charge of Urdu unit, IOS, conducted the proceedings. Those who attended included secretary general IOS, Prof. ZM Khan, asstt. secretary general IOS, Prof. Haseena Hashia, secretary general, All India Majlis-e-Mushawarat, Maulana Abdul Hameed Noumani, coordinating editor of monthly Miili Ittehad, Safi Akhtar, journalist Shams Tabrez Qasmi, Jawed Masud Qasmi, university teachers, research scholars and prominent citizens.