Milli Council Deliberates on Insecurity Among Muslims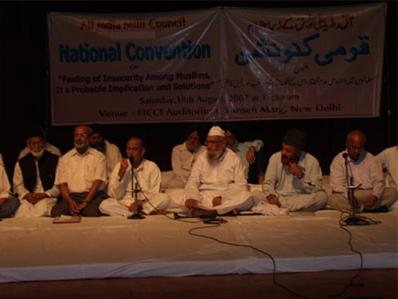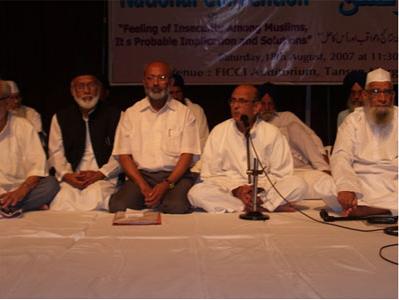 New Delhi, August 18: Former Prime Minister Vishwanath Pratap Singh said here today that government should move quickly to act on the recommendations of the Sachar Committee report and the subsequent Rangnath Mishra Commission report to remove the economic backwardness of Muslims. Mr Singh was speaking at the national convention of All India Milli Council organised to discuss the "Feeling of Insecurity Among Muslims: Its Probable Implications and Solutions." He also demanded prosecution of Mumbai riots organisers as indicated in the Srikrishna report.
The Council President Maulana Abdullah Mughaisi observed that the Muslim situation was dire, yet there was no reason for losing faith in a better future. He quoted from a speech by Maulana Abul Kalam Azad delivered soon after Partition at a moment when fear-stricken Muslims were leaving the country for Pakistan in droves. Maulana Azad had reassured them of a better tomorrow within India itself despite the transitory phase of internecine bloodshed.
Maulana Mughaisi also quoted from another text of the same period, in which Maulana Syed Husain Ahmad Madani had remarked that the decision of many Muslims to stay back in India was taken deliberately and not out of any sense of helplessness or under duress. He too had observed that the turmoil was momentary and Indian Muslims should not be swayed by it.
Former member of Parliament and head of Muslim Majlis-e-Mushawarat Syed Shahabuddin conceded that there were enough reasons for Muslims to be disappointed. The Sachar Committee had brought out all the facts, but the Union government had yet to take any substantial step regarding it. A subsequent commission under Justice Rangnath Mishra was a follow-up on the Sachar Committee report. However, the government had yet to put it before Parliament for a debate. All efforts by Muslim MPs to persuade the government to have it discussed in Parliament had failed. "They don't say 'no'. They just sit tight on it and let the parliamentary session lapse without any concrete action," he rued.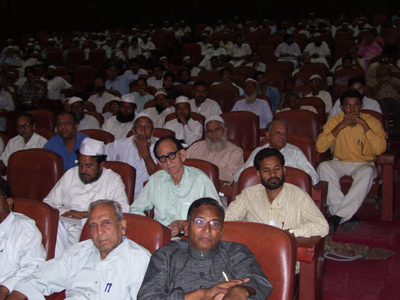 He said a Muslim was less likely to get a bank loan than any other citizen. A Muslim was almost sure to be refused the permission to lodge a First Information Report (FIR) at a local police station. If he or she insists on lodging an FIR the station officer would point blank tell him/her to go to Pakistan instead. "I wonder what to do about all this," Syed Shahabuddin said.
Speakers did frequently mention the blatant dichotomy in the Mumbai riots and Mumbai blasts cases. The blasts came soon after the riots, most likely as a part of the sequence of the same events (Mumbai riots and Babri Masjid demolition) preceded and followed by a wave of massive anti-Muslim riots all over north India. No action was taken against the riot organisers and participants, but the blast accused were punished.
Elaborating on the theme Council Secretary General Dr Mohammad Manzoor Alam stressed the need for building a national consensus on issues like rule of law and equality before law, food security, security of life, limb and property.
He said riots must be prevented, suppressed and rioters brought to book whoever they were. He also pleaded for adequate compensation to victims, taking the compensation to the 1984 anti-Sikh riot victims as a bench mark.
Nai Duniya editor Shahid Siddiqui observed that there was a need to organise all suppressed classes from all communities on a joint platform to make the movement for justice more effective. Manushi editor Madhu Kishwar was of the opinion that everybody was insecure in India except "goondas", policewallahs and politico. Common people, including women, Dalits, tribals and even relatively well off citizens were not safe from rapists, murderers, goondas, extortionist policemen and their mentors, the corrupt political class.
Speaker after speaker stressed the need for establishing the rule of law, equal protection before the law and equal justice. Later a fourteen-point resolution demanded prosecution of criminals in Babri Masjid demolition and organisers of anti-Muslim riots preceding and succeeding the demolition, including Mumbai riots, compensation to all victims at par with 1984 riot victims and enactment of an anti-genocide law.
Dr Alam read to the audience a letter from UPA chairperson Mrs Sonia Gandhi reaffirming the need for building a consensus on the vital issues.
Representatives from all over India attended the proceedings. A wide range of Muslim opinion was represented by ulema, intellectuals, journalists, and other professionals. Leaders from different Hindu, Muslim, Sikh and Christian organisations and non-Muslim journalists and intellectuals presented their views.
Among the notables from Muslim organisations were Syed Shahabuddin from the All India Muslim Majlis-s-Mushawarat (who is also a former MP), Maulana Abdul Hamid Nomani of the Jamiat Ulama-e-Hind, Nusratullah Afandi of Jamaat-e-Islami Hind and Navaid Hamid of MOEMIN.
Among the notables from non-Muslim sections were Madhu Kishwar, editor of Manushi , former DU professor of Enghlish. Prempati, veteran journalist Digant Oza, another veteran journalist and Christian community leader John Dayal and several Sikh leaders.
The convention unanimously passed a 15-point resolution, the salient points of which have been discussed above.