IOS and Deptt. of Political Science, Jamia Millia Islamia jointly organise "Stabilising Population Growth Rates: Discussion on Census 2011"

September 14, 2015 at Department of Political Science, Jamia Millia Islamia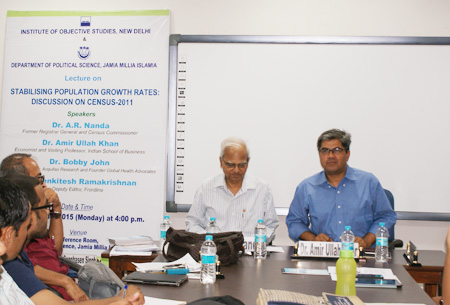 The Institute of Objective Studies organised a discussion on "Stabilising Population Growth Rates: Discussion on Census 2011" in collaboration with the Department of Political Science, JMI at the conference room of the Department here on September 14, 2015. Former Registrar-General and Census Commissioner of India, Dr. AR Nanda, the main speaker, said that census was essentially based on demographic data and its scientific analysis could be done from different angles. Holding that the annual growth rate was the best measure to determine the rate of fertility, he said that it was still at 2.3 percent and India had to strive for achieving 2.1 percent rate of fertility. He noted that the sex ratio had also improved to 943 per thousand from 930 per thousand. He pointed out that there were a lot of conceptual myths regarding population. But population could not be stabilised. There were no quick fixes to limit the family, but huge distribution of wealth and income definitely played a role in high, medium and low growth rate. While arguing against Malthusian thinking on population, he said that policy imponderables demanded that the younger generation which was our largest asset must be put to better use.
Dr. Nanda pleaded for a sound population policy by adding that a process of transition must be set in motion by our academics. He believed that a cooperative choice must be made by implementing people-centric measures, like universal and primary health care, gender equality, social development, etc. Cautioning against fixing targets, he maintained that the quality of life was more important. He said that population could be stabilised to achieve zero growth rate by channelising resources for youth and the working population. India had left China behind in producing youth power and the next thirty years were very crucial for ensuring full participation of the people in national reconstruction and putting imaginative plans into action. He remarked that China too had the same asset of younger generation, but she had now missed the bus. He also called for measures to help old people.
The Managing Director of Acquitas Research and Founder Global Health Advocates, Dr. Bobby John, shared his experience as a grassroots activist of mother and child care. As a surgeon, he had to grapple with complicated situations while ensuring safety in arranged deliveries. While admitting that a large number of girls still lacked access to education, he expressed satisfaction that enrolments of girls in schools had risen during the last 10 years. As a surgeon, he felt that the notion of demographic dividend was significant. The society had failed to provide nutritional support to women and enhance cognitive ability among them, still it expected demographic dividend. While making the pitch for corresponding opportunities to women, he urged rational people to make a choice as there was only a small window of opportunity left to set things right.
Senior Associate Editor of the fortnightly the Frontline, Venkitesh Ramkrishnan, blamed political intervention in population-related issues. He regretted that none of the newspapers looked at Census 2011 figures in a broader perspective. This gave a handle to the quarrelsome organisations of the RSS to corner Muslims. In this connection, he made special mention of the militant women's wing of the RSS, the Durgavahini which created a sensation on Census 2011 in parts of Bihar. Similarly, in Haryana there was a near-riot situation over alleged growth of Muslims population. It was, in fact, a political plot to stoke communal fire against Muslims to polarise Hindu vote in coming Bihar elections. Referring to Census 2011 figures, he said that it provided nuanced data which required other figures to be incorporated before drawing conclusions. He noted that the Census report showed a general trend of decline in population, with Muslim population registering deepest decadal decline. He said that while analysing the data populous states like Bihar and UP had not figured as states registering substantial decline in the rate of population growth. Also the sex ratio among Muslims which was always better than others, had further improved. Calling for improvement in infrastructure, he said that more media intervention was needed to communicate facts. Social organisations, youngsters, voluntary organisations and social activists could play an important role in putting across balanced views in such circumstances. Laying stress on the right type of service to the people, he said that access to the facilities at the ground level must be ensured.
Economist and visiting Professor, Indian School of Business, Dr. Amir Ullah Khan, who initiated the discussion, held that the bogey of population growth was being raised to sidestep real issues. He likened the issue to the Syrian migrants' exodus to Germany. He said that a section of influential people in India were obsessed with the "rising" population of Muslims. They failed to notice their declining population in UP, Kerala, Andhra Pradesh, Karnataka, etc. They only quoted Assam as a test case to support their claim that Muslim population was increasing. This was part of a sustained campaign against Muslims to push them into a corner. He also referred to the rumour being spread by the votaries of Hindutva that forcible conversion of Hindus to Islam was being planned. Thus the latest Census report had generated much political heat. He favoured opening of more and more schools in predominantly Muslim areas so as to ensure maximum enrolment of Muslim children. He insisted that the population of India was stable for decades in earlier centuries due to horrible medical and health services. He held that the economic growth was shooting up leading to declining population. He concluded by stating that in the next 25-30 years India's population would reach the staggering figure of 1.5 billion leaving China behind.

Earlier, the function began with the recitation of a Quranic verse by Hafiz Athar Husain. While the head of the Department of Political Science, JMI Prof. M. Badrul Alam welcomed the guests, Prof. of Geography, JMI, Prof. Hasina Hashia presented a brief account of the IOS. She said that the Institute had completed 29 years of its existence. During the period, the IOS organised about 1100 conference, symposia, seminars, lectures, workshops, etc. and had the distinction of publishing 350 books on issues related to the minorities, particularly Muslims, and other marginalised sections. Besides, several projects were undertaken in various parts of the country. Currently, IOS was bringing out several journals on subjects ranging from sociology, law, human rights to Islamic studies and the studies of comparative religion.
The lecture attracted a good number of scholars, university teachers and students. Notable among them were Prof. Mohammad Mosharraf Alam, Zubair Ali Khan, Varinder Singh, Dr Aftab Alam, Mudassir Azmi, Ikrar Khan, Zulkhar Nain, Prof. Muneer Alam, Abhay Kumar, Prof. Javed Ahmad Khan, Masroor Lodi, Reezu Kanshik, Jahan Zaib Khan, Sree Kumar, Mohammad Anees, Shuaib Ahmad, Mohd. Noorshafi AK, Imran Ahmad and Mohammad Nadeem.