IOS organises Lecture on "Life and Literary Contribution of Mir Hasan Dehlvi"

March 26, 2016 at 162, Jogabai, Institute Building, Jamia Nagar, New Delhi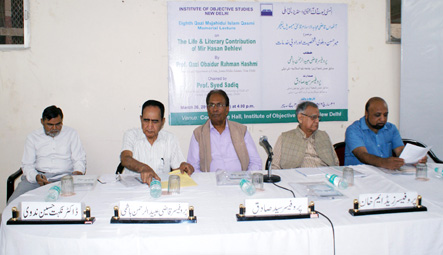 L-R: Dr. Nakhat Husain, IOS; Prof. Qazi Obaidur Rahman Hashmi, former head, department of Urdu, Jamia Millia Islamia, New Delhi; Prof. Syed Sadique; Prof. ZM Khan, Secretary General, IOS; Prof. Ishtiyaque Danish, Finance Secretary, IOS
The Institute of Objective Studies organised the Eighth Qazi Mujahidul Islam Memorial Lecture on "The Life and Literary Contribution of Mir Hasan Dehlvi" on March 26, 2016 at the conference hall of the Institute. Delivering the lecture, Prof. Qazi Obaidur Rahman Hashmi, former head, department of Urdu, Jamia Millia Islamia, New Delhi, said that Mir Hasan left Delhi grudgingly along with his father, Mir Zahak and other members of the family in the wake of Ahmed Shah Abdali's attack on Delhi in 1758. After staying briefly at Deg near Delhi, he reached Lucknow after suffering hardships in the arduous journey. Lucknow could not attract him for long and he moved to Faizabad where he felt at home. The period from 1728 to 1786 could be described as Mir Hasan's life-time which was very turbulent for the Moghul period. He explained that Mir Hasan's literary journey assumed importance from the historical point of view as several Urdu poets, including Mir Taqi Mir, Mirza Rafi Sauda, etc., were his contemporaries. This was the time when Mirza Sauda's Urdu poetry was at its height when the duo, Mir Hasan and his father Mir Ghulam Husain Zahak were staying at Faizabad. Though Mir Hasan was much younger than Mirza Sauda, he had started writing Urdu poems at an early age in Delhi. According to the Kulliyaat-i- Mir Hasan (collected works of Mir Hasan), he tried every form of poetry - ghazal, qasidah, rubai, marsia, mathnawi, etc. Mir Hasan attained fame for his Mathnawi Sahrulbayan which was the finest example of his mastery ever language and diction.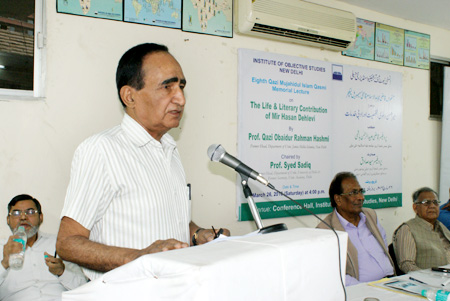 Commenting on the forms of Mir Hasan's poetry. Prof. Hashmi said that the ghazals which were in plenty formed the best part of his classical language, expression, poetic excellence and cultural values. Referring to Mir Hasan's Kulliyaat, he said that it contained as many as 510 ghazals representing India's cultural life. This was the reason why ghazals were so dear to Mir Hasan. From the study of his ghazals, it would not be difficult to conclude that after composing so many ghazals, he could not establish a distinct style of his own. He unsuccessfully tried to adopt the style of several Urdu poets of Delhi, including Khawaja Mir Dard, Mir Taqi Mir and Mirza Sauda. In line with his times, he tried writing qasidah and composed seven qasidahs, three of which were written in praise of Nawab Asifuddaula. One qasidah each was written in praise of Jawahar Ali Khan and Afrin Ali Khan. Similarly, one qasidah was dedicated to Salar Jung. A manqabat (eulogy) was written in praise of Hazrat Ali (RA). He observed that some of the manuscripts of Mir Hasan contained certain verses that were elegies in character. He was basically a mathnawi (narrative poetry) poet, but he also wrote marsia (elegy) as part of his faith.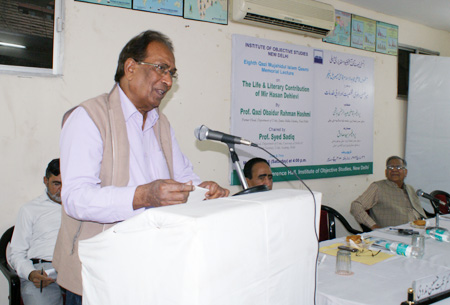 Presenting a critique of Mir Hasan's works like Mathnawi Sahrulbayan, Shaadi Asifuddaula, Ramuzul Arifin and Gulzar-e-Inam, Prof. Hashmi held that the popularity of Sahrulbayan could be gauged from the fact that it was translated into English by a British scholar. Later, it was translated into several other European languages. He commented that Ramuzul Arifin had a clear glimpse of the celebrated mathnawi of Maulana Jalaluddin Rumi. In Shaadi Asifuddaula, Mir Hasan chose the cultural scene of Faizabad as its theme, depicting beatification of the town, marriage processions, royal attendants, fireworks, etc. However, Mathnawi Gulzar-i-Iram had a distinct characteristic as this was an account of the years he spent in Delhi followed by his migration to Lucknow and then stay in Faizabad. His portrayal of his own life through various angles wove it into a language par excellence. This work had been widely acclaimed as a masterpiece, he added.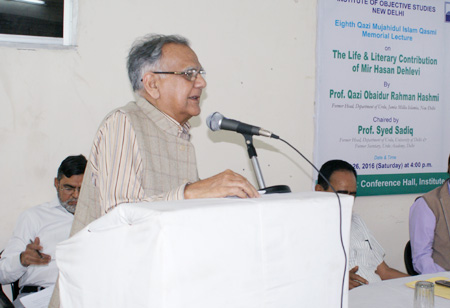 The Secretary General, IOS, Prof. ZM Khan, said that the topic for the lecture was consciously selected as literature was not for the sake of literature but for the sake of life which found expression in literature. It was literature that characterised life in different ways. He noted that Qazi Mujahidul Islam Qasmi also held the same opinion. He said that Mir Hasan's life was unstable as he shunted between Delhi and Lucknow and between Lucknow and Faizabad. He beautifully expressed his feelings in the verses that touched upon all aspects of life, he noted. Former head of the Deptt. of Urdu, Delhi University, Prof. Syed Sadiq Ali, who presided over the lecture, described the mathnawi of Mir Hasan as the greatest literary work of 18th Century. Mir Hasan had no parallel in the picturisation of symbols. He was a poet of sensuality as well as love. He opined that 17 couplets of Mir Hasan's mathnawi were embued with Tasawwuf (sufism). These couplets portrayed sentimentality and the basic human traits. He wrote at a time when Persian was dominant and he was credited with the promotion of Urdu through his poetry. Though his mathnawi could not be compared with the Persian mathnawi of Maulana Rum, it had carved out a place for itself in Urdu literature, Prof. Ali said.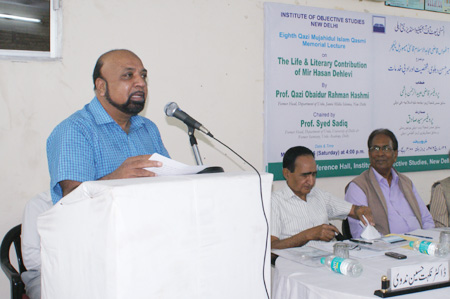 Earlier, finance secretary, IOS, Prof. Ishtiyaque Danish welcomed the audience and briefly spoke about the life and work of Qazi Mujahidul Islam Qasmi. He also presented an account of the activities of the IOS. The lecture began with the recitation of a Quranic verse by Hafiz Athar Husain Nadwi. Dr. Nakhat Husain Nadwi conducted the proceedings. Those who attended the lecture included Prof. M. Afzal Wani, Prof. Hasina Hashiya, senior journalist Suhail Anjum, Tanseef Alam, Md. Adnan Shaheen, Dr. Muzaffar Husain Ghazali, Md. Jalaluddin, Tajammul Husain, Asfar Husain, Safdar Ali, Manzoor Usman, Dr. Hyder Imam, Asrar Jamai, Dr. Khalid Mubashir, Dr. Anwarul Haq, Firoz Bakht Ahmed and several students of the Jamia Millia Islamia.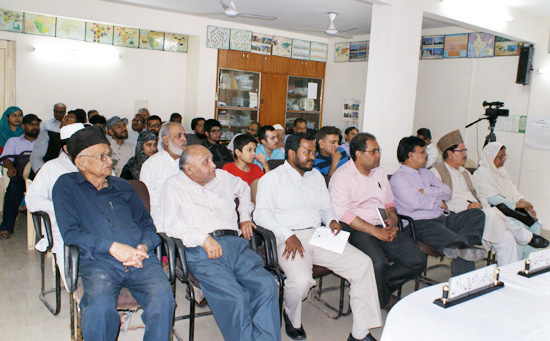 A view of audience