IOS One-day Seminar on "Research Methodology in Islamic Perspective"

April 20, 2019 at Institute Building, 162, Jogabai, Jamia Nagar, New Delhi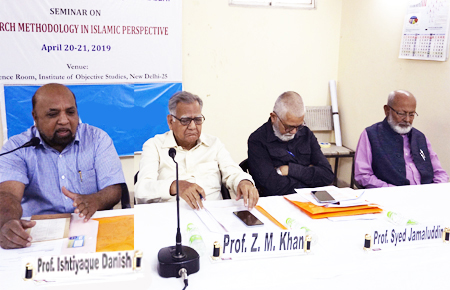 A one-day seminar on "Research Methodology in Islamic Perspective" was organised by the Institute of Objective Studies at its conference hall on April 20, 2019. Prof. Ishteyaque Danish, convener of the programme and finance secretary, IOS, in his introduction of the theme, said that capitalism was an exploitative ideology. He stated that method and knowledge were value-based and they should be connected to our social life. The capitalist world would use human rights to assail communism adding that capitalism was responsible for making Pakistan a consumer society. Perhaps this was due to farming being confined to Punjab and Baluchistan registering a boom in service sector. This explained why economic libralisation in Pakistan came before India.
Countries like Pakistan, Sudan and other African nations emerged as consumer societies. This also gave rise to spurt in economic crimes. India became perhaps the only country where people took huge loans and fled. He observed that this was the time around which human rights dominated the scene and an intellectual debate on it began: Capitalist system was practised under the Roman empire and it reached other countries of Europe later. It was based on exploitation as against the Islamic concept of Akhirah (Day of Judgment) and Naboowat (prophethood) which distinguished between good and bad.

This was aimed at perfecting man as a human being. According to him, the chain of prophethood ended with the Prophet of Islam (PBUH) and the fountain of hidaya (divine guidance) would continue as long as the mundane world existed to guide humanity for good deeds. This was called the Islamic perspective to conduct research. It aimed at clarifying the concept of epistemological integration and its relationship to the unity of knowledge, Tawhid and Islamic worldview as the governing frame of reference.

It also aimed at tracing the development of method and methodology in both Islamic and Western academic tradition, he said.

Prof. Danish held that Muslim writers had employed what could be described as chronological methodology. They studied Islam by narrating its major events in a chronological manner. They started from pre-Islamic Arabia, described the major events of the Prophetic era and then gave an account of the expansion of Islam during different periods and dynasties.

On the other hand, the Orientalists, by and large, adopted a methodology which might be described as regional Islam as it emerged in various regions. In other words, they studied the subject as "Islam in the Middle East", "Islam in South Asia and South-east Asia", "Islam in Central Asia", "Islam in Africa" and "Islam in the West", etc.

Referring to secularism, he insisted that it was value-based. So was Islam as values, human or otherwise were the core of Islam thought. Regarding knowledge, he said it was not value-neutral. Explaining the concept of Tawhid (Oneness of God), he noted that it is raison d' etre in Islam, because Allah is the Creator of everything. Tawhid is everything in Islam as Allah has presence everywhere with His Sifaat (characteristics). He created the world with a purpose. He clearly demarcated the good and evil. It was the Prophet (PBUH), who conveyed the Message of Allah to keep away from taking and giving interest. Taking and giving interest was prohibited in Islam and it was the reason why the Prophet of Islam (PBUH) was opposed and a reign of terror was let loose on His companions (RA), he observed.

Prof. Danish held that the methods used to conduct research in Islamic perspective are called Islamic research methodology. This is of two kinds. One is based on library research and the second is filed research. As a first step, data collection is done. Then research tool and design for the research are decided, but only after deciding the method. He admitted that sometimes mistakes did occur in research methodology. He said that the research methodology should be objective, issues should be relentlessly analysed. Methodology could be employed in Islamic perspective, he added.


In his inaugural speech, convener, committee on research methodology in Islamic perspective, Prof. Syed Jamaluddin, held that the research methodology in general terms was known as the philosophy of research. In social sciences, information had to be analysed and identified, and conceptual tools had to be followed by researchers. He said that the research was of two types - quantitative and qualitative. Research methodology might be divided in three ways 1) A body of rules and postulates that were employed by researchers in a discipline of study, 2) A particular procedure or set of procedures, and 3) The analysis of the principles of procedures of inquiry that were followed by researches in a discipline of study. Methodology referred to the behaviour of scientists and scholars when examining phenomena relevant to their specific disciplines.

Referring to approaches to methodology in social sciences, he said that these fell into three categories: positivist, interpretative and critical social science. Commenting on the study of history, he said that it meant research. While studying history, three things should form its core. These were accuracy, relevance and significance. EH Carr in his book What is History discussed the problems that historians faced while treating the subject. He observed that a historian had to decide the causes of happenings. Besides, a historian was interested in human intention. Another historian said, "All history is the history of human thought". While making a mention of the German philosopher Friedrich Hegel in connection with the theory of history, he noted that unlike natural sciences, history had to be rational and scientific. In history, we could not say two and two make four. But, a historian could achieve objectivity by remaining neutral, he concluded.


In his presidential speech, the Secretary General, IOS, Prof ZM Khan informed that the IOS had already published a book on the subject. He said that the domination of the West reduced other methods into oblivion even as Islam dominated the scene in the 7th century. A plethora of literature showed Muslims contributed to it more than Western scholars. Domination of Western civilisation had impacted our life and it looked like a luxury in survival mode. He opined that if human beings, material and time were combined, they would became fundamentals to objectivity.

Research must not lose sight of human welfare. In the same vein, he said that positive attitude should become basic to research. It must be linked to human welfare and well-being. It should be conditioned by the same paradigms. He said the universe was created by the Almighty not for fun, but with a purpose without making a division between old and modern. Holding that the obligation was also basic to research methodology, he stressed that research should be in line with the principle of humanity. He reiterated IOS commitment to be in the forefront of the field of research.

Earlier, the inaugural session began with the recitation of a verse from the holy Qur'an.


Business Session-I
The inaugural was followed by the first business session with Prof. Ishteyaque Danish in the chair. Prof. Mohsin Usmani, former dean, English and Foreign Languages University, Hyderabad, who initiated the discussion on "Research methodology adopted by early Muslim jurists" held that Dr. Mohd. Hamidullah and Dr. Fuat Sezgin were the two prominent scholars of the Muslim world who adopted the right research methodology and worked on the Quran and Hadith.

Commenting on the contribution of Turkey to Islamic studies, he said that Dr. Hamidullah used to describe Turkey as the capital of manuscripts. Dr. Fuat Sezgin too was a Turk and learnt Arabic, and studied original Islamic texts. He said that it was the Muslims whose works were used by Europeans, and demolished the theory that knowledge went to Europe via Greece. Speaking on Tareekh al Turas al Arabi (Dr. Fuat Sezgin), Prof. Mohammad Faheem Akhtar Nadwi, head, deptt. of Islamic Studies, MANUU, discussed the Islamic framework and principles of research and said that writings and pursuit of knowledge began soon after the advent of Islam. In certain cases the Prophet (PBUH) himself instructed that every word spoken by him be written. He said that the caliphs (RA) formally started the writing work. Later on a decision was taken to write on the Qur'an and Hadith.

The writing of fiqh came thereafter. There were as many as 60 tabayeen who worked in the field of fiqh. They produced several books on fiqh. Referring to Imam Shafai, who wrote Al Risala in his own handwriting, he said that it contained principles of Islamic jurisprudence. He maintained that Makkah and Madina emerged as two centres where the sahaba used to collect and arrive at the commonality between ahadith. Kufa in Iraq, where Imam Abu Hanifa lived, emerged as another centre of fiqh and contributed more than Makkah did. He observed that Imam Shah Waliullah was the last eminent faqih in the tradition. About 200 principles were formulated as core of the Shariah. These had been listed as Maqasad-i-Shariah. According to Imam Abu Hanifa, there were five principles of the Shariah: 1. the Quran, 2. the Hadith, 3. Ijma and 4. Qayas, he added.

Prof. Taqi Amini's monumental book Ahkaam-i-Shariah was also referred to at the seminar with the chairman, IOS, Dr. M. Manzoor Alam, asking Prof. Mohsin Usmani to obtain permission from Aligarh Muslim University, where the manuscript of the book was lying, for its reproduction by the Institute. He also asked Prof. Syed Jamaluddin to identify such books on Islam as were fabricated by the West, so that the content therein could be put in a proper perspective and brought out in brief in Hindi, English and other Indian languages.


Business Session-II & III
Business Session II and III were held together with Prof M Ishtiaq, former vice chancellor Magadh University in the chair. The session focused on "Research methodology in Islamic perspective with special reference to History, Law and Islamic Economics". Prof Syed Jamaluddin who initiated the discussion of history said that Ibn khaldun (1332-1406 A.D.) was the first historian who introduced the study of History in Islamic perspective. His book which he wrote in Arabic was translated into English and later in Urdu. Its preface ran into several pages. He was the first historian who recognized the dialectical value of history and said that it should not only record the events, but also examine social and political life of the people in natural environment. Thus it was Khaldun who made history universal. He noted that Indian historians knew about Khaldun and his doctrine of history. Tracing the history of the spread of Islam in India, he said that it entered India through traders, conquerors, sufis and Islamic scholars. Traders took Kerala, Gujarat and Ronkan route to enter India. They settled here, married locally and built mosques. Malik Ibn Dinar and 20 other followers of Prophet Muhammad (PBUH), first landed in Kodungallur in Kerala. He was said to have built the first mosque in Kerala. Besides, ten other mosques were built in that century. Because of persecution, Muslims settled in Tamil Nadu where many locals embraced Islam. In north India, he said that the conquerors adopted the policy of tolerance towards non-Muslims attracting them to the universal brotherhood of Islam. Amir Khusroon was one of the sufi saints who bridged the Hindu-Muslim divide by his Urdu and Persian poetry. Indian sufis did not convert Hindus to Islam, but became role-models of Islam. They made themselves living symbols of tolerance. According to the noted Urdu writer, Rashid Ahmad Siddiqui, Urdu gained popularity during emperor Shahjahan's time. He held that the Mughals contributed a great deal to the development of composite Indian culture. Keeping the areas of study in History in view, he suggested that a cultural atlas of Islam be prepared.


Former dean of social sciences and professor of psychology, AMU, Prof. Shamim A. Ansari, said that the study of psychology was necessary to evaluate people's behaviour. For understanding psychology in Islamic perspective, study of Quran and Hadith was necessary. In Islamic perspective, all research should be of utility with an element of the clarity of language. He said that in psychology methods were decided later. Tools were equally important in psychology. Commenting on the use of persuasion technique in psychology, he observed that the development of models was no less important.


Prof Haseena Hashia, Former Professor of Geography, Jamia Millia Islamia, and asstt. secretary general, IOS, noted that the research problem should be identified first followed by selection of the method. She said that random sampling and statistical technique should be employed to deal with the subject. While addressing issues in the context of Quran and Sunnah, welfare approach should be adopted, she concluded.

The session concluded with Prof. Ishteyaque Danish proposing a vote of thanks. University teachers, research scholars, Islamic scholars and prominent citizens were present on the occasion.



View of audience