IOS Kolkata chapter hosts lecture of the Chairman

March 12, 2016 at IOS Kolkata Chapter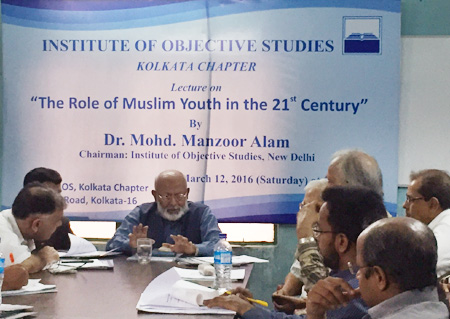 The Institute of Objective Studies (IOS) Kolkata Chapter organized a lecture on "The Role of Muslim Youth in the 21st century" by Dr. Mohammed Manzoor Alam, Chairman of the IOS on 12th March, 2016. The lecture was presented before a number of guests including representatives of youth from different fields.
The programme was opened with a welcoming speech by Mr. Abdul Basit Ismail, editor, the Eastern Post, Kolkata followed by a recitation from the Quran. In his lecture, Dr Mohammad Manzoor Alam stressed the role of the Muslim youth in the social, cultural, economic and political fields in the 21st century. He pointed out that since the very beginning of the Islamic era, the holy prophet (pbuh) had emphasised the value of youth. It was the youth who had played an important role in the spread of the message of God on earth.

Referring to the problems faced by Muslim youth in the previous decades, Dr Alam recalled that during the 80s, Muslim youth had been badly affected by uncertainty in various fields of life. This uncertainty had a great deal to do with materialism.
One major cause of this feeling of uncertainty among the youth is the lack of well planned and oranised system of education. Therefore, the youth tend to revolt against this system and crave a directionless and purposeless life, he observed.

Dr Alam said that today's youth was angry and often used his anger to revolt against the system and also against religion. Politically, this has always been used by government as an instrument.

At the end of his lecture, Dr. Manzoor Alam answered questions of the audience. In the end, he once again laid stress on the importance of education given to at least three successive generations. He also emphasised the need to create a special bond among the communities. He said that youth needed guidance and leadership. Proper parenting could provide this leadership and guidance in the initial years of upbringing, he said.
Dr. M. K. A. Siddiqui, the coordinator of IOS Kolkata chapter, also delivered a brief, inspiring lecture aimed at youth.

Abdul Basit Ismail in his concluding remarks said that the IOS Kolkata chapter had done a remarkable job in the past and hoped to do much more in future. Dr Manzoor Alam also appreciated the job Kolkata chapter had done so far and assured of his co-operation in its efforts.