IOS Lecture on "Tracing the Roots of Environmentalism Under the Indian Constitution"

February 28, 2015 at IOS Conference Hall, New Delhi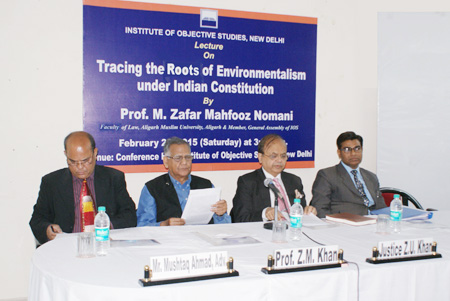 L-R: Advocate Mushtaq Ahmad; Prof. ZM Khan, Secretary General, IOS; Justice Z.U. Khan, Former Judge, Allahabad High Court; Prof. M. Zafar Mahfooz Nomani, Faculty of Law, Aligarh Muslim University, Aligarh
New Delhi, February 28: A lecture on "Tracing the Roots of Environmentalism Under Indian Constitution" was organised by the Institute of Objective Studies at its conference hall here today. Prof. M. Zafar Mahfooz Nomani, Faculty of Law, Aligarh Muslim University, Aligarh and a member of the General Assembly, IOS, who delivered the lecture, called for radical changes in environmental policy and the law. Judicial activism through the right to life as the foremost human right to live without the deleterious invasion of pollution, environmental degradation and ecological imbalances could help foster environmental justice, he said.
He noted that the problem of ecological backlash was mounting feverishly with growing affluence of sizable sections of the population and a mad race for tapping natural resources and high level of absorption of waste into the earth. This called for tracing the roots of environmentalism under the Indian Constitution by probing enviro-constitutional ethos enunciated in Article 48-A and 51-A (G). He said that it was important to not only shape environmental law, policy and justice, but also to create and foster an equitable and sustainable socio-legal order. As there might be a Constitution, but no constitutionalism, so there might be environmental laws, but no environmentalism. He held that it was not surprising to see massive codification of laws on ecology and sustainable development, but no environmentalism.

Prof. M. Zafar Mahfooz Nomani, Faculty of Law, Aligarh Muslim University, Aligarh delivering the lecture
Prof. Nomani held that the enviro-legal regime was always expected to instill environmentalism, deep ecological values and ethical content. He observed that the paradigm of development synonymous with westernisation, modernisation, consumerism and free market was an imperialist ideology which dramatically permeated law, both globally and nationally. This entailed a radical change in environmental policy and law from the point of view of environmentalism. The trajectory of deep and shallow ecology versus eco-centrism and techno-centrism needed to be properly examined.

Though the Directive Principles endeavoured to protect the environment and continuously improve the ecological status, the judicial filling shaped environmental jurisprudence in achieving a just socio-legal order. The foundation for a unique enviro-constitutional jurisprudence was a novel discourse of not only right and duty, but also environmentalism. Constitutional law played a pivotal role in human urge for development with a social face. He said that this quagmire of jurisprudence apart, the presumed notion that constitutionalism and environmentalism were not ideals but realities, would need to be scaled frequently on the matrix of enviro-constitutional ethos.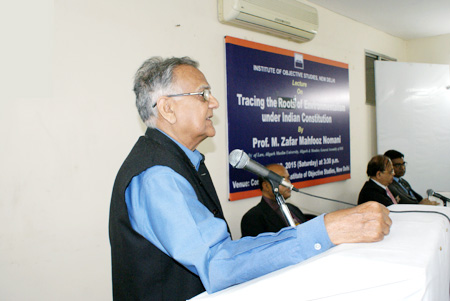 Prof. ZM Khan, Secretary General, IOS introducing the theme
Referring to the importance of ecology and environment, Dr. Nomani said that the word "earth" was used 485 times in the holy Quran. He maintained that Shariah meant source of water. Man, made of water and clay, was the first creation of Allah on earth. Air, water and land were inter-related; so were man, plant, animal and micro-organisms. Expressing concern over pollution in the high seas, he noted that oil spillage from oil tankers threatened aquatic life. Underlining the importance of ecological balance, he said that animals also had a right to be heard through legal system. Laying emphasis on inter-generational equity, he said that the Constitution called for achieving the goal of quality environment. He observed that the Environmental Protection Act addressed several concerns, including environmentalism. As custodian of natural resources, the Central government was bound to ensure that the indiscrimate exploitation of resources was stopped. Pollution, environmental degradation and ecological imbalance were posing constant danger to human life as well as flora and fauna, he added.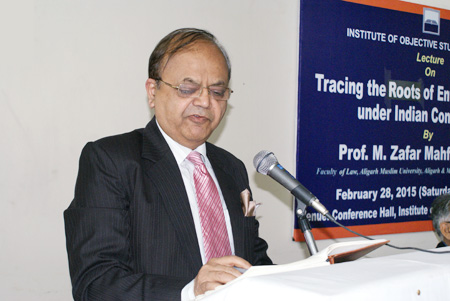 Hon'ble Justice Z.U. Khan, Former Judge, Allahabad High Court delivering presidential address
In his introductory remarks, the Secretary General of the IOS, Prof. ZM Khan said that the topic of the lecture was exciting as it concerned every human being and the Creation on earth. He observed that man had to be a trustee of the balance of the universe and ecology. Environmentalism called for a bigger area than merely a set of laws on environment and ecology. He informed that the present lecture was an outcome of the decisions taken at the Silver Jubilee celebrations of the IOS. In his presidential address, ex-judge of the Allahabad High Court, Justice ZU Khan, pointed out that environmental crisis was a matter of concern, adding that the international community woke up to problem after the Stockholm conference. He said that Indian Parliament had enacted several laws to control environmental degradation.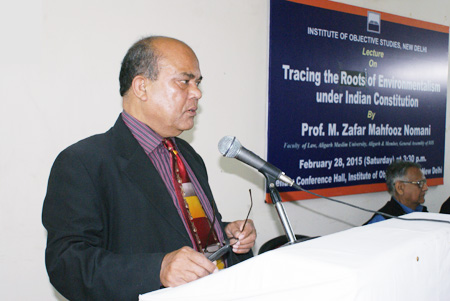 Advocate Mushtaq Ahmad conducted the programme
Forest laws, river laws and wild life protection laws had been made to save our land from negative impact of environmental degradation. The Centre had been issuing directives to state governments for taking effective steps for protecting environment and maintaining ecological balance. Courts had also stepped in to fill the gap, he said.

Earlier, a verse from holy Quran was recited by Hafiz Mohammad Athar Husain to mark the beginning of the lecture. The proceedings of the lecture were conducted by advocate Mushtaq Ahmad. Those who attended the lecture included the Vice-Chairman of the IOS, Prof. Refaqat Ali Khan, Mohd. Abdul Mannan, advocate, Mohd. Kazim Sher, advocate, Prof. Tasneem Fatima from Jamia Millia Islamia, Niyaz Ahmad, Aftab Hashim and Javed Akhtar from UNI, besides a good number of teachers, research scholars and environmentalists.