IOS Summer Teens Youth Camp 2017

May 8-12, 2017 at Government Youth Hostel, Calicut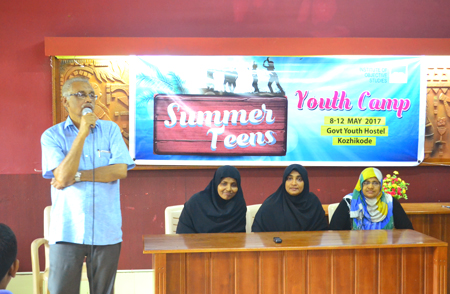 L-R: A S Zainaba,P K Ramla, Jameela Basheer, the presidium to attend Q&A session
Prof P Koya introducing women presidium
Calicut: The Institute of Objective Studies (Calicut chapter) organised a five-day "Summer Teens Youth Camp", for higher secondary and undergraduate-level students, from May 8 to 12, 2017 at Government Youth Hostel, Calicut. It attracted boys and girls from different parts of the state making it a unique experience for participants. The camp consisted of more than twenty different sessions and presentations led by prominent scholars and trainers on a variety of topics ranging from Islam to contemporary social, political, educational and environmental issues. Fifty chosen students, half of them girls, attended the camp. They did not only listen to the lectures but also showcased their skills in arts and sports. They prayed, played and ate together, and went home with the memories of five eventful and life-changing days.
Day 1: Inaugural session, May 8
The camp started with a recitation from the Quran by Sr Shadeeda, one of the camp members. Camp director Aslam Perambra (trainer and counselor, Access India) welcomed the camp members and congratulated them on participation in the first such camp organised by IOS for students. Prof. P. Koya, (governing council member of IOS and coordinator of Calicut chapter) in his opening remarks introduced the Institute to the students and said it was the only think-tank of its kind run by Indian Muslims. The institute has published nearly 400 valuable books in many languages, including Malayalam.
Highlights from the lectures and presentations




Lecture: Islam as Faith and Civilisation
Dr. Ishtiyaque Danish

It was followed by an enlightening lecture by Dr. Ishtiyaque Danish, professor of Islamic and West Asian Studies, Hamdard University and governing council member, IOS, on Islam as Faith and Civilisation. Islam is a simple religion with a simple faith based on uncompromising monotheism or tawheed, he said. Its teachings emphasise that humans are answerable for their actions according to which they will either be saved or punished eternally after death. Dr Danish said, civilisation could be described as the external reality humans create as they live on with their faith as members of a community. It is reflected as infrastructure, architecture, cities, educational systems, science and technology, among other things. Simply put, it is the outer form of beliefs. Islamic civilisation is a product of Islamic faith. However, form or outer appearance does not mean much in Islam, only the substance does. In Islamic civilisation, form does not mean much even though Islam does not negate or discourage them. Technological progress is, of course, necessary. But we see it as means for a larger purpose, not as an end in itself.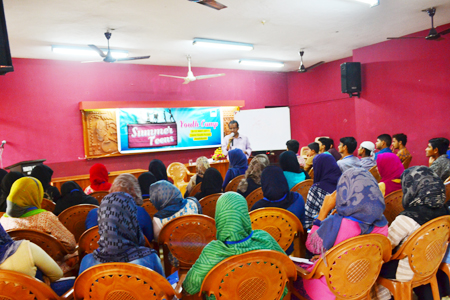 Lecture: Tawheed
A A Vahab

The second lecture was on the topic of Tawheed by A A Vahab (Secretary, IOS Calicut Chapter and scholar). Tawheed, or belief in one God, is one of the two fundamental principles of Islam, the other being risalat (prophethood) and akhirat. It is important that we acquire knowledge of the one and only true God, our Creator, Allah. Interestingly, the Arabic word "Allah" retains its meaning to the very last letter. Allah is an entity that cannot be seen or understood. It is through his properties or sifaat that we know him. One of his 99 sifaat mentioned in the Quran is that He is Rahman; that is, the most merciful. It comes from the root word "raham", meaning womb. Tawheed means knowledge about God and firm belief in Him: He alone is the source of everything and we should submit ourselves to His Will. Our worship and other practices are ways to live by tawheed.




Lecture: Islam in a Multicultural Society
Dr. Ishtiyaque Danish

In an interactive session on Islam in a Multicultural Society Dr Danish said that the term "multiculturalism" came to be of wide use after 1960s. It has to do with post-World War migration of people to Western European countries from their former colonies in Asia, Africa and Latin America. While the first generation of these migrants was largely labourers without basic rights, their children who grew up in the European culture, though of a different races, started pressing for more rights and acceptance. This created a crisis and sparked heated discussions.

However, he added that such scenarios were not new to Islam as we can see prophetic examples for dealing with such issues both in the Meccan and Medinan periods. Medina was a conglomeration of different religions, ethnicities and tribes, a good example of a secular state.

Dr. Danish untangled to students the origin and evolution of the concept of multiculturalism, its implications today in India, how Islam views it, with the support of examples from Islamic history. After the brief talk, students posed many relevant questions, including about Islamophobia, and got satisfactory answers.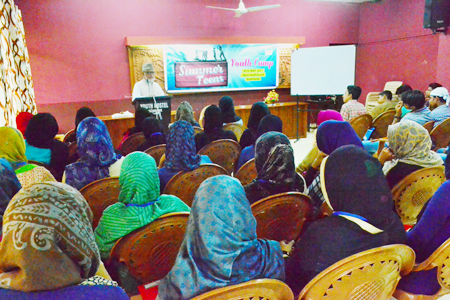 Lecture: Prophethood
Dr. Mohsin Usmani

Dr. Mohsin Usmani, former professor and dean of Department of Arabic at EFL University, Hyderabad said that the belief in prophets is fundamental to Islam, next to tawheed and akhirah. Once it becomes clear that there is a Creator, the question arises why there is a need for prophets. The answer is simple. Humans are the most unique of all creatures of God, who have been given knowledge and intellect. With these powerful faculties, God cannot leave humans on their own. They are to be guided on what to do with them, or what is right and wrong. They have to be taught for what purpose they have been created and are warned about the consequences of their actions. That is why God sent prophets. Allah says in the Quran that there is no nation in the world but Allah sent a warner. Allah would not punish any society without sending a messenger first. Prophet Muhammad (peace be upon him) is the prophet and final messenger of God. He was sent not to any particular community but to the whole world. After him there will be no other prophet. The responsibility of preaching God's message after the prophet rests upon all of us.

In his lecture on "The Quran and Science", Dr. Usmani gave fascinating instances from the Quran which challenge man to explore the creation of Allah. Throughout the universe, from our own body to the celestial bodies, all we see is the Craft and Art of God's creation, he said. That is why Islamic world produced some of the most prominent scientists the world has ever seen. There were times when seekers of knowledge from across the world flocked to Islamic cities to study different disciplines. The scientific revolution and enlightenment in Europe were the result of the knowledge they acquired from the Muslim world. This fact has been recognised by most European historians.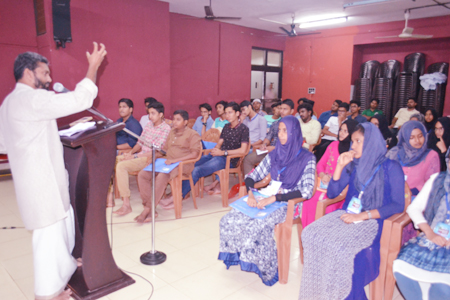 Lecture: The Hereafter
Arshad Muhammad Nadvi

The fine lecture by Arshad Muhammad Nadvi, author and public speaker, became a timely reminder for the participants about the life here and in the hereafter. There has always been a conflict of interest between good and bad in human beings, he said. Depending on which side of humans becomes victorious or loser. Islam does not negate material necessities. However, when people give greater importance to physical appetites, they become unscrupulous and bring themselves down to the level of animals. This is the test Almighty God has set for humanity, he continued. He called upon the young participants to live within parameters prescribed by Allah.

Day 2: May 9

Lecture: Islam's Contribution to Economics
Dr. Muhammad Palath

An authority on Islamic economics, Dr Muhammad Palath said the fundamental difference between Islamic economics and modern economics is that Islam views Allah to be the ultimate owner of wealth while modern economics holds humans to be the ultimate owners. In Islam, those given wealth are trustees of God and it should be spent the way He commands. Only then there will be justice and welfare. God did not distribute wealth equally among all. The poor and the disadvantaged have a right on wealth, which should flow and reach all, like a river. That is why Islam insists on zakat, sadaqa and social spending to prevent accumulation of wealth. Prohibition of interest prevents economic exploitation to a great extent. If we take a closer look at modern capitalist economy, we can see that poverty is largely a result of economic exploitation. Now, Islamic banking is gaining momentum all over the world due to the great turmoil created by interest-based system.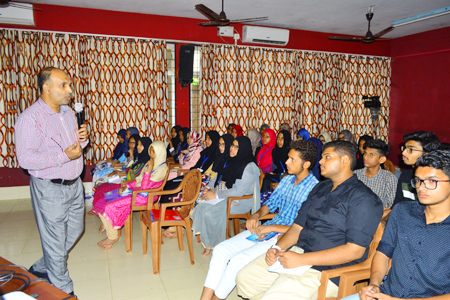 Lecture: Human Rights and Governance in Islam
Abdul Rasheed P K

Abdul Rasheed, a management expert, started his thought-provoking presentation with heartrending images from across the world of cruel violation of human rights of innocent people. According to Islamic world view, he said, human beings are brothers and sisters. This concept of universal brotherhood is unique to Islam. Humans have been sent to earth as viceregents of God to establish truth and justice. Human rights can be classified into three categories: A) basic needs, B) growth needs and C) identity needs. Food and security are basic human needs. Family, education, livelihood are necessary for growth. Culture, faith and language etc. are part of human identity. As Muslims it is important that we know what Islam says about human rights. In Islam rights are granted by God and cannot be taken away by human beings, no matter how powerful they are. Islam commands rulers to ensure security of people.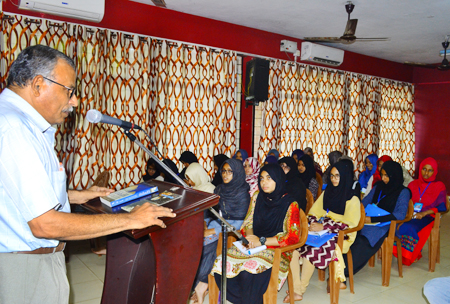 Lecture: The Quran and Sunnah
Dr. A I Rahmatullah

Dr Rahmatullah, former professor of Arabic at the University of Calicut, reminded the participants about the astounding changes in modern life. "We are living in an age in which science and technology have advanced to a level which generations who lived a few decades back could not have imagined", he said. In such an age it is natural that some of us might think that the Quran or Islam is outdated. He discussed the need for the application of universal principles and ethical values in everyday life taking the prophet (PBUH) as the supreme model for a perfect human being.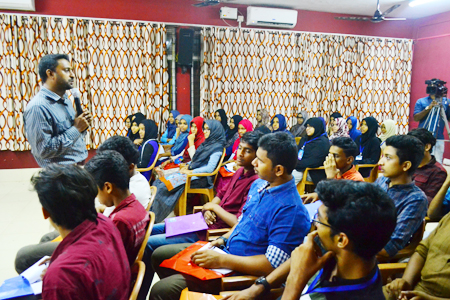 Presentation: Chemistry of Adolescence
Dr. Anas Nilambur

Dr. Anas Nilambur's session on "Chemistry of Adolescence" was both hilarious and educative. Through his energising presentation he explained how adolescence is the most powerful period of time and how to make the best use of it. It was followed by performance of folk music by student artists from Lakshadweep islands. It became an experience of a distinct culture for the students.

Day 3: May 10

Presentation: Be Positive
Aslam Perambra

Camp director and trainer Aslam Perambra gave an inspirational lecture on behavior modification. He demonstrated with examples how positively modifying our behavior can have great impact on our social life.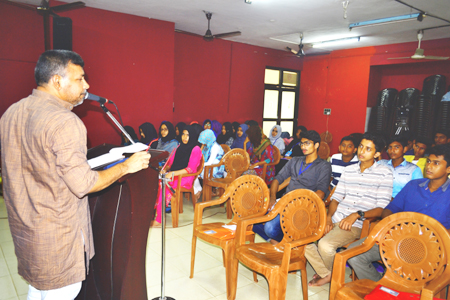 Lecture: Leadership in Islam
Dr. A I Vilayathullah

Dr. A I Vilayatullah spoke about Islamic leadership and what makes an Islamic leadership different from other kinds of leadership. Leadership traits can be seen in many other species besides humans, like ants and honey bees, he said. Humans are peculiar in this regard. The Quran says the first man and woman were sent to earth as ambassador of God. Muslims' duty is to lead this world the way God wants them to. Human beings have been given the potential both to make the world better or worse, unlike any other animal. It is up to them what to do with this potential. It is through organised and coordinated efforts that people established empires, built civilisations and overcame devastations. It would not have been possible without people to lead the effort, he continued.

Lecture: Islam and Muslims in India: A Historical Retrospective
Dr. Musthafa Kamal Pasha

Dr. Kamal Pasha gave a fascinating account of the revolutionary changes brought about by Muslims in India, in fields ranging from the political, social, cultural and architectural to technological.

When Muhammed Bin Qasim conquered the western part of the subcontinent in 1206 he was only 17. It was the beginning of the golden days in Indian history until the British colonisers ended Mughal rule in 1857. During this period they built most beautiful structures in history some of which stand even today. They built most of them in major cities in India. Madras is so called because it was Madrassa Pattanam once. They freed millions of poor people from the shackles of caste oppression. They gave education to untouchables who had been forbidden from rading Vedas. Muslim wakf was a remarkable factor in this educational process.

Afternoon: All camp participants visited the famous craft village in Vadakara, a nearby town, and the historic Kappad beach, where Vasco da Gama, the first European to visit India, set foot in 1498 CE.

Day 4: May 11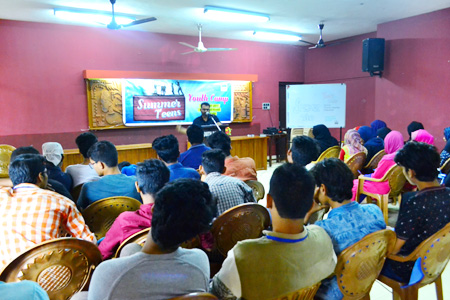 Lecture: Islam in the Contemporary World
Rafeeq Kuttikkattoor

Advocate Rafeeq Kuttikkattoor's lecture was on contemporary socio-political realities in the Muslim world. He first introduced the chaotic situation in the Gulf, but added they did not represent the Muslim world. There are many other Muslim nations far removed from the chaos and violence in the Middle East. They have their own great traditions and history; some of them are richer than many Arab countries in both natural and human resources. Indian Muslims are at a vantage point in contemporary history as they are on an equal footing with other Muslim communities. They are among few Muslim communities anywhere in the world that enjoy freedom and democracy.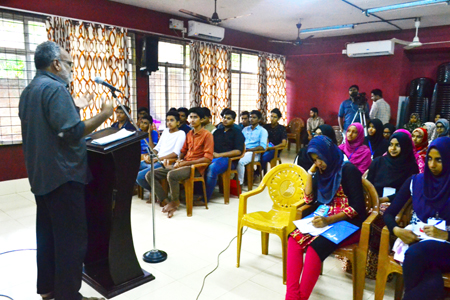 Lecture: Secularism, Communism and Capitalism: A Critical Survey
PAM Haris

Journalist PAM Haris spoke about three major ideologies that shaped the modern world and how they are antithetical to the world view of Islam. He explained the way capitalism was working today and the role it was playing in our day-to-day lives, destroying the world economically, culturally and environmentally.

Presentation: How to read
Abdul Azeez

Trainer and psychologist Abdul Azeez Master in his brief, but refreshing, presentation on reading put forth a simple and scientific formula to approach texts which can significantly change our attitude towards life.

Lecture: Islam and Environment
K A Muhammad Shameer

KA Muhammad Shameer's lecture on environmental issues and their Islamic aspect highlighted the paramount importance of ecology for all living organisms and the environmental crisis that is looming large.

Question and Answer Session

An interactive session with women scholars was a completely new experience to the participants. There were no restrictions on the questions the students could ask. Obviously, a wide variety of questions was posed to the leaders by girls and boys. It was a path-breaking session in the camp in which everyone shared their views and anxieties about gender discrimination within Muslim community and society at large.

Day 5: May 12

Presentation: The Social Media: Challenges and Opportunities
CK Rashid

Camp assistant director and Access India national coordinator CK Rashid's session on the pros and cons of social media made the students aware of multiple problems and dangers of social media. It also gave insights into how to use them positively for personal and social purposes.

Valedictory Session

In the valedictory session students who performed well throughout the camp were given mementos. All participants received their certificates with their names printed on them. Many of them said that the camp was a life-changing experience. They thanked the IOS and the mentors for making the camp motivational and inspiring. It made them feel that they wanted to contribute to their community and the humanity and helped boost their self-esteem.



Group photo