IOS Aligarh Chapter organises symposium on Scientific Approach of Sir Syed Ahmad Khan

October 18, 2018 at IOS Aligarh Chapter, Aligarh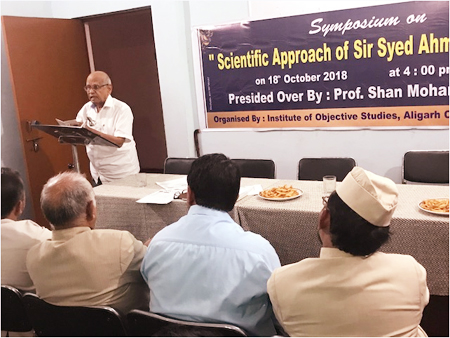 To pay tribute to Sir Syed Ahmad Khan, the Institute of Objective Studies, Aligarh Chapter, organised a symposium on "Scientific Approach of Sir Syed Ahmad Khan" on October 18, 2018 at Aligarh. The symposium was presided over by Prof. Shan Mohammad, former chairman, department of political science, AMU, Aligarh.
Among others, who dwelt upon Scientific Approach of Sir Syed Ahmad Khan, the following teachers and a number of students presented their views on the subject: Prof. Mohd Muqim, Prof. Towqeer Alam, Dr. Shariq Aqeel, Prof. Abu Sufyan Islahi, Prof. A. K. Qasmi, Prof. S. M. Waseem, Prof. Shaan Mohammad.
Prof. Mohammad Muqim, coordinator of the Chapter, while welcoming the speakers and the audience highlighted Sir Syed's scientific approach to help solve problems and to arrive at right conclusions. "It is valuable for researchers and also for those who believe in the Cartesian cause and effect theory", he explained.
Prof. Towqueer Alam, dean, faculty of theology, AMU, said referring to Sir Syed's exegesis of the holy Quran, that it reflects his scientific approach. He worked to awaken the Muslim youth to meet the challenges of the contemporary world and equip themselves with knowledge and skills to meet the challenges coming from the West. For this one may refer to his Asba'bey Bhaghawat-e-Hind.

Dr. Shariq Aqeel said that Sir Syed saw illiteracy among Muslims as the main cause of their backwardness and opined that problems faced by Muslims could be solved by educating them. For this, scientific approach was needed to analyse the causes of their backwardness. He said that education would help equip them to solve their problems.

Prof. Abu Sufyan Islahi of the department of Arabic, said that Sir Syed's approach was scientific. It is due to this that he arrived at correct conclusions to help solve problems.

Prof. Abul Kalam Qasmi said that Sir Syed awakened Muslims, particularly the educated ones, to rise and come forward to bring change and help meet the upcoming challenges. For this, he assigned the key role to education, for it helps change the mode of thinking and equips one to act with determination and courage.
Prof. Shah M. Waseem, former Dean, faculty of commerce, said that looking to the written work on Sir Syed, his thought and work, one finds how each one writes on each aspect of Sir Syed's work and thought. He referred to Sir Syed's saying which refers to both Hindus and Muslims as his eyes and added that speaking at Amritsar in 1871, he declared, "I have said that Hindus and Muslims are like my two eyes, but you will say that to one I refer as my right eye and the other as my left eye. Alas, if I could have one eye and refer both Hindus and Muslims as my one eye". Sir Syed was a great man and a profound thinker. Hence, it would be worthwhile to present Sir Syed's works and thought to the contemporary readers and scholars in a comprehensive form.

Mr. M. Serajuddin Khan noted the proceedings and salient points of each paper presented by the participants.

The concluding remarks were given by Prof. Shan Mohammad. He referred to the scientific approach of Sir Syed and to his founding of MAO College, which grew into the Aligarh Muslim University.

Prof. Mohammad Muqim proposed a vote of thanks for the speakers and the audience for their active participation and for gracing the occasion.