Tenth Qazi Mujahidul Islam Memorial Lecture on "The Bright Imprint of Urdu Seerah Writing"

March 30, 2019 at Institute Building, 162, Jogabai, Jamia Nagar, New Delhi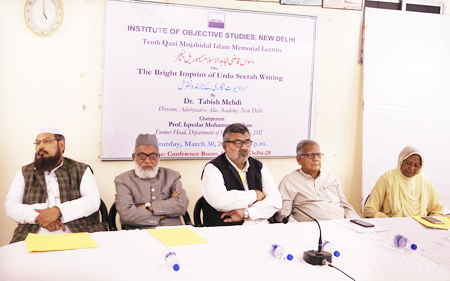 The Institute of Objective Studies organised a lecture on "The Bright Imprint of Urdu Seerah Writing" at its conference hall on March 30, 2019. The lecture was delivered by the Chairman, Adabiyaat-e-Alia Academy, New Delhi, Dr. Tabish Mehdi, who held that there were only two ways by which the message of Allah reached human beings. These were Allah's Commandments to man and Seerahs (lives) of His messengers on earth. Both of them had always been incumbent on the faithful and overlooking them might deprive one of the correct understandings of Islam. Such a person would drive himself away from the Commandments of Allah. This was the reason why, he said right-thinking and conscious people considered both of them beacons for the entire humanity. They put it before themselves and used them as a tool to achieve both the life here and the life after.
Referring to Seerah writing, Dr. Tabish Mehdi noted that it was not just profiling the life of a great man that could be written for the sake of one's own interest. Seerah writing is as pious and deep as an ocean. In order to ensure its depth extra-ordinary mental and thinking purity was required. This also calls for sublimity of knowledge, study and profound interest.

He maintained that the Seerah of Prophet Muhammad (PBUH) was the name of a fragrant and vibrant culture, foresight as well as farsight, the story of a glittering civilisation, shining future of a community and of taking forward the Message of Allah in an interesting manner. It was a story that took in its stride each and every community, religion, school of thought, colour, origin, area, etc. with peace and tranquility. This offered something to everybody who could gain according to his capability. Dr. Mehdi referred to the high quality of Seerah written by noted Islamic scholars like Allama Shibli Nomani, Allama Syed Suleiman Nadvi, Qazi Mohammad Sulaiman, Salman Mansoorpuri, Maulana Abdurrauf Danapuri, Maulana Mohammad Idris Kandhalvi, Maulana Mahirul Qadri, Dr. Mohammad Hamidullah, Maulana Syed Abul Hasan Ali Hasani Nadvi, Maulana Naeem Siddiqui, Maulana Mohammad Rabey Hasan Nadvi and Maulana Safiur Rahman Mubarakpuri. He dwelt at length on Seerah writing in Urdu.


Earlier, the ex-professor of Geography, Jamia Millia Islamia and assistant secretary general, IOS, Prof. Haseena Hashia, threw light on the life and work of Qazi Mujahidul Islam Qasmi. She said that Qazi Mujahidul Islam Qasmi had a deep knowledge of Islamic and contemporary thought. He embodied rare confluence of old and the new generation of Islamic scholars. She observed that Qazi Mujahidul Islam specialised in the Islamic fiqh (Islamic jurisprudence).

Qazi Mujahidul Islam focused on the resolution of issues of Islamic jurisprudence in today's context. It was high time the various aspects of his life were explored. Prof. Hashia explained that after his death in 2002, the IOS instituted a memorial lecture in his name in order to remember him every year by organising lectures on topical issues so that a fruitful debate could take place. She said that so far, as many as 9 lectures were organised during the period 2002-2018.


Speaking on the occasion, the general secretary of All India Majlis-e-Mushawarat, Maulana Abdul Hameed Noumani, observed that the aspects touched upon by Dr. Mehdi deserved attention. He said that a number of other books on Seerah had been written and it would be in the fitness of things to take stock of and benefit from them.


Secretary General, IOS, Prof. ZM Khan, praised Dr. Mehdi for delivering a meaningful lecture on Seerah writing. He termed the Seerah of the Prophet (PBUH) as a guide to the entire humanity till the Day of Judgement. "We must look at the functioning of the government in Madina if we really wish the well-being of humanity at large. Instead of raising slogans in support of somebody, one should follow him in true spirit. The lecture was organised in continuation of IOS endeavour befitting tribute to the Islamic scholars who left an indelible imprint on the study of Islam and its culture. He expressed the confidence that the audience benefited from the lecture.


In his presidential remarks, ex-HoD, deptt. of Islamic Studies, Jamia Millia Islamia, Prof. Iqtedar Mohammad Khan, while praising Dr Tabish for presenting his lucid lecture in a very short time, said that the Seerah writing started early in the history of Islam. A great deal of work was done in poetry, prose and in the form of translation. He regretted that in India the study of Seerah centered either on the life and deeds of the Prophet (PBUH), but the most prominent aspect of the Seerah is etiquette and character, he said.

The lecture began with the recitation of a verse from the Holy Quran by Mohammad Athar Husain Nadvi. Dr Nakhat Hussain Nadvi, In-charge of Arabic section, IOS, who conducted the proceedings, also introduced the subject of the lecture. A fairly good number of Islamic scholars, university teachers and students, attended the lecture. Some of them included: Shahabuddin Ansari, Syed Zafar Ali, Dr Mohammad Akram, Dr Mohammad Khalid, Bismil Arfi etc.