IOS Lecture on "Urban Governance and Challenges of Decentralisation and Citizen Participation"

February 21, 2015 at IOS Conference Hall, New Delhi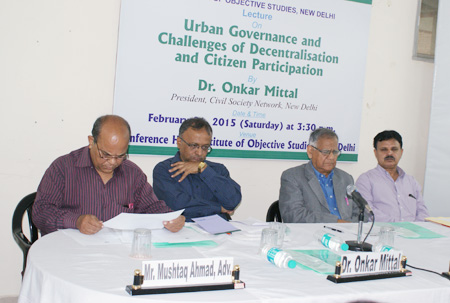 L-R: Mushtaq Ahmad, Senior Advocate; Dr. Onkar Mittal, President, Civil Society Network, New Delhi; Dr. Tarique Ashraf, Civil Society Network, Prof. ZM Khan, Secretary General, IOS
New Delhi, February 21: The Institute of Objective Studies organised a lecture on "Urban Governance and Challenges of Decentralisation and Citizen Participation" here today at the Conference Hall of the Institute. Delivering the lecture, Dr. Onkar Mittal, President, Civil Society Network, New Delhi, observed that the term "good governance" was being commonly used in politics these days. But it was imperative to know what it stood for and the challenges it had thrown up before governments.
He held that urban governance should be transparent, responsive and geared to the actual needs of the poor and the marginalised. The concept of urban local government had been linked to improvement in management systems for delivery of public services like water and sanitation, primary education, hygiene, preventive and basic health. Referring to the First War of Independence in 1857, he said that Queen Victoria too had hinted at giving good governance, but India preferred self governance. He argued that the World Bank focused on six points of good governance as they were directly connected to governmental action and held that such countries as were acting on these points would be treated as countries of good governance. According to him these points were: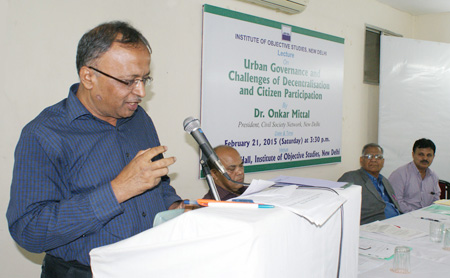 Dr. Onkar Mittal, President, Civil Society Network, New Delhi delivering the lecture
Holding of elections as scheduled in order to seek popular mandate,
Political stability–a stable government that could ensure violence free-environment,
Civic amenities, like power, water supply, education, etc.,
Appointment of a regulatory authority to keep a tag on the organisations supplying power and similar other basic amenities,
Action against corruption, and
Parity in the payment of wages to labourers, farm workers, etc. Those in power must not be allowed to resort to extravagance.
Dr. Mittal maintained that for the urban poor who formed the majority population of Delhi and who lived in different kinds of slum settlements, the challenge of social development of children, youth and women and the guarantee of peace and security of life and liberty had even a higher priority over the provision of these essential public services. A new framework for local urban governance and citizens' participation in the slum areas of Delhi should provide for effective action on the ground, he said. He noted that as Delhi did not enjoy full statehood, issues like delivery of civic amentities and corruption came into the open. Commenting on the status of Delhi, he said that the issue of full statehood had been in discussion for the last 10-15 years. Tracing Delhi's past, he explained that it was a complete state in 1857.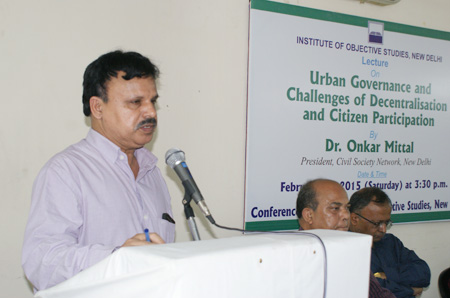 Dr. Tarique Ashraf, Civil Society Network, sharing his views
But after the uprising, the status of Delhi as a state was diluted by amalgamating some of its parts with Punjab. The national government appointed the Sarkaria Commission in 1991 to examine the question of statehood for Delhi. The commission in its report did not favour full statehood for Delhi, but recommended the status of a state under the control of the Central government. In the light of Sarkaria Commission recommendations, Delhi was granted the status of an associate state by bringing an amendment to the Constitution in 1993. He said that this was the genesis of a plethora of problems that multiplied over the years. Today, Delhi government had no control over DDA (Delhi Development Authority), land, police, etc. He held that even the municipal corporation was not under its control. It reported to the Union Ministry of Urban Development.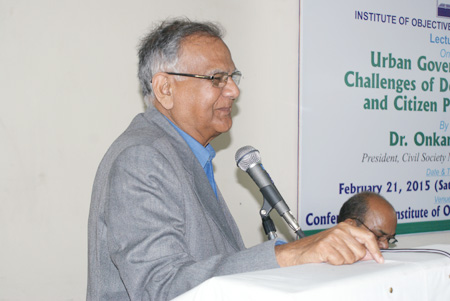 Prof. ZM Khan, Secretary General, IOS presiding over the programme
Dr. Mittal pointed out that the population of Delhi that stood at 1-2 lakh at the time of Independence, had gone up to 1.70 crore today. Municipal wards were created according to the requirements of those times. In order to cater to the civic needs of the current population, 272 wards should be created over the expanse of all the 70 assembly segments, he suggested, adding that each administrative office should become the nodal point for the maximum devolution of funds, functions and functionaries. He observed that under the existing system of governance, orders came from above, but there was no mechanism to send complaints up for redressal. People's involvement in governance was possible only when their complaints reached the appropriate level.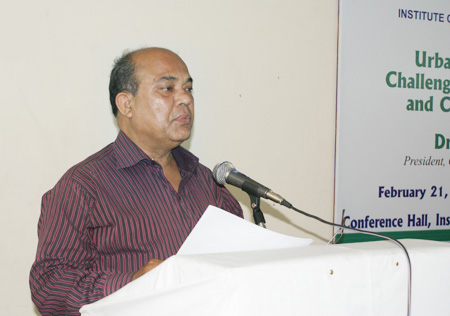 Senior advocate Mushtaq Ahmad conductes the proceedings
Dispelling the misconception that Delhi government depended a great deal on the Centre for funds and could not move ahead without it, he said that the State's annual budget estimates accounted for about Rs. 36,000 crore. Funds for the budget were generated by the state government from its own resources. He lamented that none of the parties contending for power in Delhi had made an attempt to identify and analyse the key challenges at the macro (city), meso (district and municipal zone) and micro (assembly segment, municipal ward, mohalla and locality) levels. This was important to grasp the constraints in public service delivery, social and economic development and the provision of security.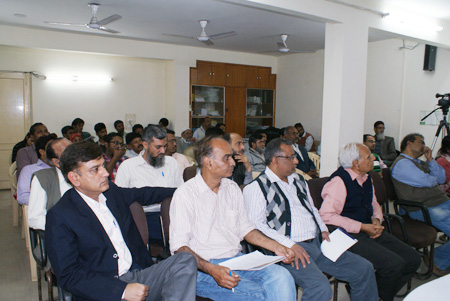 A views audience
Dr. Mittal suggested that municipal governance should be reviewed and re-conceptualised to address the twin challenges of urban development and urban settlement planning based on principles of equity and inclusion. He said that Smart Settlement for Sustainable Development (SSSD) needed to be conceptualised with the redefining of the availability of used as well as unused public spaces in the city. Urban governance in the 21st century required a joined-up working with horizontal and vertical integration, he concluded.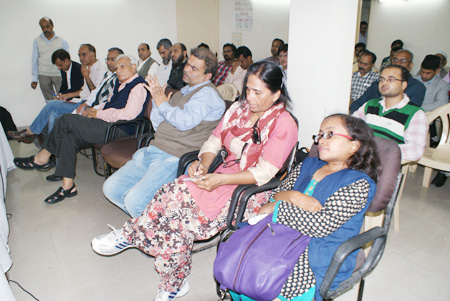 A views audience
Secretary General of the IOS, Prof. ZM Khan in his presidential remarks underlined the importance of urban governance, decentralisation of civic administration and citizens' participation in it. Senior advocate Mushtaq Ahmad conducted the proceedings. Those who attended the lecture included Vice-Chairman of the IOS, Prof. Refaqat Ali Khan, Surender Panwar, Farman Riyaz, Khalid Nadeem Khan, Imran Ghani, Zuber Khan, Habib Akhtar, Sultan Sirajuddin, Mohd. Arif Ahmad, Aziz-ur-Rehman, SM Siddiqui, Tajdar Siddiqui, Zeeshan Khan, Rakhi Gupta and Saman Naaz.