IOS Aligarh Chapter organises symposium on Women's empowerment

March 8, 2016 at IOS Aligarh Chapter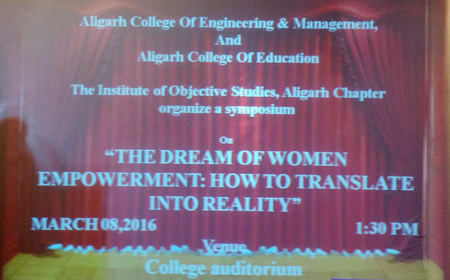 On the occasion of International Women's Day, 2016 (March 8) the Aligarh College of Engineering & Management, Aligarh College of Education in collaboration with IOS, Aligarh Chapter organised a symposium on "The Dream of Women's Empowerment: How to Translate it into Reality". After welcoming the audience and the guests M. Serajuddin Khan, assistant coordinator, Institute of Objective Studies, Aligarh chapter, briefly introduced the topic of the day and invited Dr. Rubina Shahnaz, a faculty member of ACE, who after giving a brief history, purpose and importance of the day said that there was an urgent need for changing the mindset of men and women for redressal of problems faced by the fair sex around the globe.
The second speaker Ms. Sadaf Fatima, a faculty member of School of Management Studies, ACEM, gave a synoptic picture of governmental schemes and legal provisions for the uplift of half of the population of the country. She also suggested measures for the solution of women's problems.
Prof. Mohd Muqim, coordinator of IOS Aligarh chapter and director of the two colleges ACE and ACEM, was the third speaker who spoke at length about the degradation of Indian culture and deplorable condition in our society where women's conditions had deteriorated in the 21st century. In all aspects of life there is progress, but as far as women in general and Indian women in particular are concerned, they face problems of safety, dowry, unemployment, illiteracy and atrocities. He emphasised need for women's education, which paves way for all kinds of enrichments.

Dr. Naghma Azhar, a faculty member in Department of Commerce, AMU, Aligarh presented her paper entitled "Women's Empowerment under the Constitution of India". She gave a detailed account of laws meant for the protection of women and in their interests.
Ms. Tayabba Khan, a student of BBA at the School of Management Studies, ACEM presented an overview of condition of women in the past and also gave an outline of the problems of the Indian today.

A short story was played which conveyed the message of saving the girl child and avoid foeticide as this is a serious crime and a shameful act.

M. Serajuddin Khan, read a nazm entitled khudkushi which reminded everyone of the suicide of three sisters of Kanpur and focused on the evil of dowry demand prevalent in society and its effects in order to exhort male students, teachers and the audience in general to sensitise them against the menace of dowry.

The programme came to an end after Prof. Muqim proposed a vote of thanks to the speakers and the audience.