Two-Day International Conference
on
"Challanges before Youth in the Contamporary World"
December 10-11, 2011
Chennai, Tamil Nadu

Organised by
Institute of Objective Studies
&
The New College, Chennai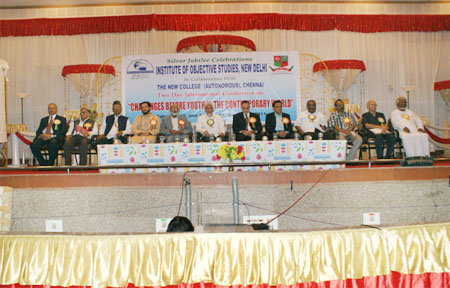 L-R: Dr. Altaff principal New College, Prof. Z.M. Khan Secretary General IOS, Capt. N.A. Ameer Ali Chairman Reception Committee, Abdul Qadir A.R. Buhari Pro Chancellor BS Abdur Rahman University, Dr. M. Manzoor Alam Chairman IOS, A. Md. Ashraf Secretary MEASI & New College, Dr. Ibrahim Bin Hamad Al-Quayid World Assembly of Muslim Youth Riyadh KSA, Dr. Dato' Mohammad Iqbal Malaysia, Mecca Rafeeque Ahmed chairman FICCI Southern region, Dr. Christo Das Gandhi Addl. Chief Secretary Govt. of Tamilnadu, Mr. V.R. Lakshminarayanan IPS (Retd.) and Dr. Kaviko Abdur Rahman
IOS Conference on "Challenges before Youth in Contemporary World" at Chennai

By A U Asif

Youth are backbone of a society. That's why every organization, whether it's social or political, wills to have its own youth wing. However, there are a very few ones who takes care of the difficulties and challenges they face. From this point of view, the two-day international conference on "Challenges before Youth in the Contemporary World", organized on December 10-11, 2011 by Institute of Objective Studies (IOS) in collaboration with Chennai-based Muslim Educational Association of Southern India (MEASI) as part of a year-long silver jubilee celebrations was important and extraordinary.

It was participated by a number of experts, scholars, other dignitaries and delegates from inside and outside the country. Besides inaugural and valedictory sessions, there were held five business sessions. The most remarkable point in these sessions was that the empowerment of youth got focus besides bringing back the moral values amongst them. The women empowerment was also discussed in detail.

Delivering his address at the inaugural function, Dr Ibrahim Bin Hammad Al Quayid of Riyadh-based World Assembly of Muslim Youth (WAMY) said the youth today in general faced three kinds of challenges. According to him, they were of political, economic and socio-cultural nature.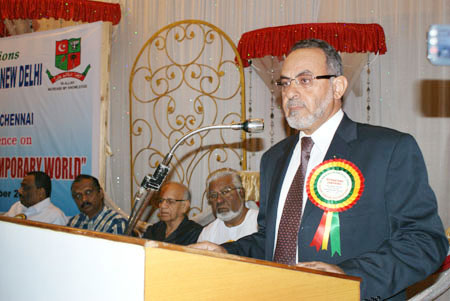 Speaker: Dr. Ibrahim Bin Hamad Al-Quayid, World Assembly of Muslim Youth, Riyadh, KSA
"An ideal society can emerge only when these three challenges are tackled tactfully taking them into confidence," the renowned scholar opined.

Dato Mohammed Iqbal, a well known scholar and United Nations representative from Malaysia, said Islam didn't differentiate between persons other than piety.



Speaker: Dr. Dato' Mohammad Iqbal, Malaysia
Padamshree Mecca Rafique Ahmed, Chairman, Chambers of Commerce, Karnataka and a business tycoon said the youth today were running after money and going materialistic. "That's why they are full of tension, stress and strain," he said.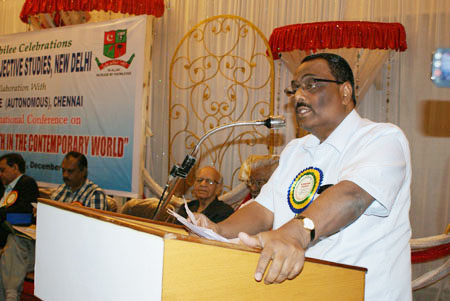 Speaker: Mecca Rafeeque Ahmed chairman FICCI Southern region
According to him, capitalism and Socialism were only 200-300 year-old whereas the history of Islam and Muslims was of more than a thousand years. Therefore, only Islam could come as a natural remedy to the youth, he declared.

In the words of V R Lakshminarayanan, IPS (Retd), the main issue was how to provide education to the entire Muslim community.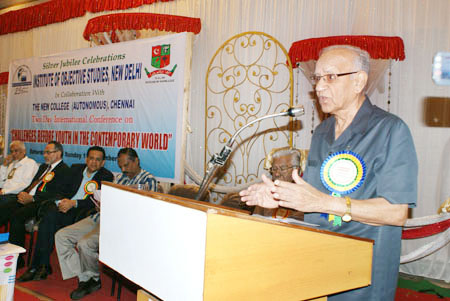 Speaker: Mr. V.R. Lakshminarayanan IPS (Retd.)
Author of his master-piece "Role of Muslim Youth in the Reconstruction of Contemporary World" published 28 years ago, IOS Chairman and star attraction of the conference Dr M Manzoor Alam said he had discussed the issues 28 years ago in his book but they still remained relevant because situation changed with the passage of time but not the root cause.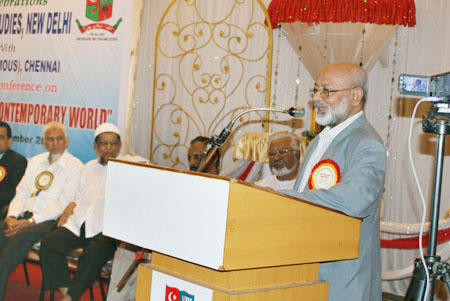 Speaker: Dr. M. Manzoor Alam Chairman IOS
Dr Kaviko Abdur Rahman, son of business tycoon and educationist B S Abdur Rahman, discussed the difficulties faced by the Muslim youth in general and suggested its solution. He said whatsoever was being done at the government level, and how much it was effective, was known to the government, but the Muslim community should itself pay attention towards it.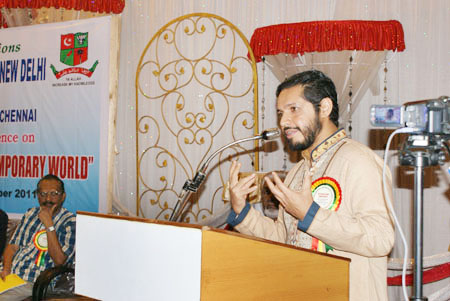 Speaker: Abdul Qadir A.R. Buhari Pro Chancellor BS Abdur Rahman University
In this connection, he dwelt in detail the efforts made by B S Abdur Rahman University and 14 other educational institutions in Tamil Nadu. He said his ageing father B S Abdur Rahman was now not in good state of health but had got concern about the youth even today. That's why he had asked me to convey his good wishes and dua to them, Dr Kaviko Abdur Rahman said.

Muslim Educational Association of South India and New College Secretary A Muhammad Ashraf, in his presidential address, said the enthusiasm of the youth had increased a lot in the age of information technology but left behind the moral values in the race of development from the point of view of technical expertise due to which moral generation and crisis in mind developed.



Speaker: A. Md. Ashraf Secretary MEASI & New College
On this occasion, important dignitaries were given awards and citation. The inaugural function ended with a vote of thanks by Shafi Ahmed Ko. Earlier, the reception committee chairman Captain N A Ameer Ali delivered his inaugural address and IOS Secretary General Dr Z M Khan introduced the IOS.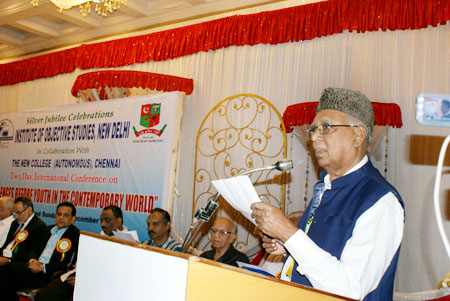 Speaker: Captain N A Ameer Ali
Similarly, the valedictory function on December 11 was too attractive. Dr M Manzoor Alam, in his presidential address, said the IOS had decided to hold 14 international conferences in different cities under different topic covering the central theme "Towards Knowledge, Development and Peace: Outlining Road Map for Future" out of which the international conference on the "Challenges before Youth in Contemporary World" at Chennai was the eighth in number. He said IOS got opportunities to understand different problems faced by nation in general and Muslim community in particular through these conferences.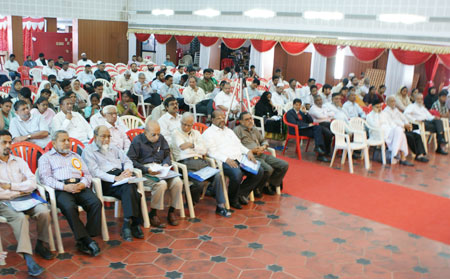 A view of audience
He said the youth had played their role in construction and destruction both in every age, and this was happening in this era too. "It is the responsibility of those keeping an eye on the situation and issues to pay attention towards them help in resolving the problems and challenges faced by them," he advised.

Madras High Court judge G M Akbar Ali averred before a person passed through ageing, he should give importance to it and use it properly. He said he was not acquainted very well earlier with IOS but its multifarious activities had influenced very much. He hoped it would continue to guide the community and nation in coming year.



Speaker: Justice G M Akbar Ali, Madras High Court
On this occasion, Ibrahim Al Quaid of WAMY said his world body of youth looked with much hope and honour towards the activities of IOS. Summing up his view, he said today it was a fact whatsoever dream Dr Manzoor Alam had seen 26 years ago, had come to be true in the shape of this 25-year old think tank.

Tamil Nadu Assembly Member and President of Tamil Muslim Munnetra Kazhagham Dr M H Jawahirullah opined this think tank had earned a reputation not only nation wide but world wide too.



Speaker: Dr M H Jawahirullah, Tamil Nadu Assembly Member and President of Tamil Muslim Munnetra Kazhagham
On this occasion, former Madras High Court judge Abdul Bari, T Rafique Ahmed and New College Principal Dr K Altaf also expressed their views. The two-day conference ended with the adoption of a resolution presented by S M Abdur Raheem Patel.

The conference adopted the following resolutions in its concluding session.

RESOLUTIONS


It is resolved that serious efforts be taken to set up a specialized 'IOS Global Council for Youth Development' in Chennai.


It is resolved that Chennai Chapter shall draw a plan to approach regional institutions and policy planners to muster support for augmenting interaction with marginalised groups to study their issues and problems within their specific context. Collaboration with other societies to carry out these activities should be a priority.


It is resolved that Chennai Chapter should also establish viable linkages with other regional chapters of IOS and try to create coordination with each other.


It was resolved that effort should be made to involve the political, social and cultural segments of Tamil Nadu for creating awareness about the plight of Muslim youth and other marginalised sections of society.


It is resolved to request the government to make quality education at higher levels affordable to weaker and marginalised sections of societies as it has become expensive and beyond their reach.


It is resolved that special efforts be made to initiate programmes of soft and life skills development among youth at all desirable levels. A close contact with state government in these areas will be aimed at.


It is resolved that efforts be made to include ethical and moral value systems in the school and college curricula.


It is resolved to request the Tamil Nadu government to protect and promote all minority languages in the state.


It is resolved that IOS sets up a separate fund to support Muslim youth who appears for IAS, IPS and other central and state services.


It is resolved to make a survey of the Muslim youth and their family members who had undergone physical and mental agony during their incarceration in prisons for several years. Efforts should be made to take suitable measures for their rehabilitation.


This conference appeals to the Muslim community to pay maximum attention in bringing up and character building of their children in Islamic perspective and also guide them in the selection of their career.