Three-day International Conference
on
"Minority Rights and Identities: Challenges and Prospects in an Unfolding Global Scenario"

April 13-15, 2012
Mavalankar Hall/ Constitution Club, New Delhi

Organised by
Institute of Objective Studies

IOS Silver Jubilee Celebrations End with 14th International Conference
on "Minority Rights and Identities: Challenges and Prospects in an Unfolding Global Scenario" in Delhi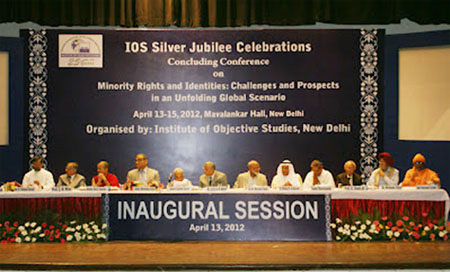 L-R: Rev. Dr. Dominique Emmanuel, Spokesperson, Delhi Catholic Archdiocese; Prof. Z. M. Khan, Secretary General, IOS; Geshe Dorji Damdul, Director, Tibet House, Cultural Center of H.H. the Dalai Lama, New Delhi; Justice Markandey Katju, Chairman, Press Council of India; Justice Rajinder Sachar, Former Chief Justice, Delhi High Court; Mr. Justice A. M. Ahmadi, Former Chief Justice, Supreme Court of India; Dr. M. Manzoor Alam, Chairman, IOS; Dr. Mutleq R. Al-Qarawi, Asst. Undersecretary for Technical Coordination, Foreign Relations and Hajj, Ministry of Awqaf & Islamic Affairs, Kuwait; Swami Dharmananda, Director, Adhyatma Sadhana Kendra, New Delhi; Prof. B. Sheik Ali, Former Vice-Chancellor, Universities of Mangalore and Goa; Prof. S.K. Thorat, Chairman, ICSSR, New Delhi; Swami Omkarananda Saraswati, Omkar Dham, New Delhi at the inaugural session of the 14th and last conference at Mavalankar Hall, New Delhi on April 13
The year-long Institute of Objective Studies (IOS) silver jubilee celebrations comprising 14 conferences in different states that began with a three-day international conference on "Towards Knowledge, Development and Peace---Outlining Roadmaps for the Future" held on April 15-17, 2011 at the India Islamic Cultural Centre, New Delhi, was concluded again with a three-day international conference on "Minority Rights and Identities: Challenges and Prospects in an Unfolding Global Scenario" held on April 13-15, 2012 at Mavalankar Hall/ Constitution Club, New Delhi.

It may be mentioned here that the concluding conference is the last conference in the year long 14-conference series held as part of the celebrations on completion of 25 years of its existence by the Institute of Objective Studies. A series of programs in collaboration with institutions, departments, faculties and universities from April 2011 to April 2012 at Delhi as well as other major cities of the country were organized.

The silver jubilee celebrations of the IOS was inaugurated by Union Minister of Law and Justice, Dr M Veerappa Moily, with an international conference on 'Towards Knowledge, Development and Peace – Outlining Roadmaps for the Future' on April 15-17, 2011 at New Delhi followed by twelve other conferences on 'Prospects for Islamic Venture Capital Fund in India'; Interest-free Institutional Mechanism (Banking, Finance and Insurance) for Promoting Investment'; 'Indo-ASEAN Trade and Investment'; 'Global Trends in Education: Review and Options'; 'Power of Media in a Globalizing World'; 'Good Governance in a Globalizing World'; 'Challenges before Youth in Contemporary World'; 'Islamic Culture and Art'; 'Empowering Women: Paradigm, Sources and Methodologies'; 'Judiciary, Ethics and Delivery System'; 'Peace and Progress: Role of Religions' and 'Worldview of Development: Challenges and Alternative Paradigm' held at New Delhi, Srinagar, New Delhi, Patna, Bangalore, Kolkata, Chennai, Hyderabad, Calicut, Cuttack, Aligarh and Pune respectively.

Following is a glimpse of the proceedings of the concluding conference of the silver jubilee celebrations.


Day-1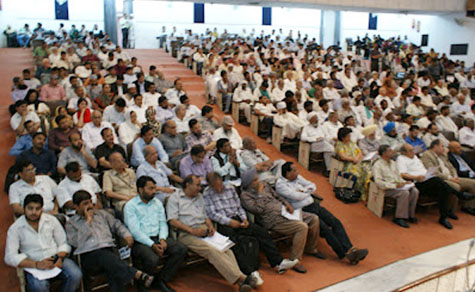 A view of the audience at Mavalankar Hall on April 13


Justice Rajinder Sachar, former Chief Justice of Delhi High Court, appealed to the Indians who have a multi-facet identity, to remain united and struggle for their rights and maintain human rights identity. The fight is for humanity wherein Muslims, Hindus and Christians should join hands together against their oppression by the government of the day.

In his inaugural address, Justice Sachar emphasized that in any country wherein the minorities have a feeling that they are being discriminated, then that nation cannot call itself to be a cultured one. The government that cannot do justice to its minority populace has no right to rule, he added. Justice A M Ahmadi, former Chief Justice, Supreme Court of India, presided over the function.

Meanwhile, Justice Markandey Katju, Chairman of Press Council of India and former judge, Supreme Court of India, who was Guest of Honour on the occasion, said Mughal Emperor Akbar is the creator of modern India who enunciated the "Sulah-e-Kul" (equal respect to all religions) policy. Emperor Akbar, whose Deen Ilahi experiment although failed, was, if seen in the light of his Sulah-e-Kul theory, ahead by 200 years of his time and practiced Secularism by having non-Muslims like Birbal, Maan Singh and others in his court on high positions, he pointed out.

He averred that Pandit Jawaharlal Nehru, the first Prime Minster of India, and his colleagues extended Akbar's policy and India was declared not a Hindu state in retaliation to Pakistan being made an Islamic State but a Secular State. Pandit Nehru must have withstood utmost pressure and tension at that time and resisted not to yield to fascist forces to declare India a Hindu State, he opined.

Justice Katju reiterated that India is a country of immigrants where diversities of castes, cultures, languages etc. exists and are at its best. He pointed out that the scourge of communal violence was not there in India before the 1857 Mutiny when Hindus and Muslims joined hands to overthrow the yoke of British rule from the country. After crushing the revolt the British rulers adopted the divide and rule policy and introduced the virus of communalism in the country, he pointed out.

Justice A M Ahmadi in his presidential address said that education is the only recourse for empowerment of minorities and Muslims hoping empowerment without education is wholly displaced. He lamented that there is bias of police forces against Muslims. He said there is need to awaken secular forces.

Justice Ahmadi said that we live in a pluralistic society and he does not like the word tolerance as it is not a good word. When someone says to him that he is tolerating him then he thinks that something was wrong with himself. He said the word accommodate was better and be used in place of tolerance, he added.

Dr Mohammad Manzoor Alam, Chairman of IOS, while presenting the IOS journey through years said: "We should have a common human rights regime for the entire SAARC-area minorities. We have come to realize over the years that the SAARC is not mere a political and business bloc, but a civilization terrain that has a single cultural and political ecology". He said that there is so much violence and persecution which has created a generalized fear. The minorities are ruled by that overwhelming sense of fear that it has become part of their experience. The state has not only failed to protect the weak but is party to their experience.

He lamented that anti-Muslim organizations bent upon harming Muslims on one pretext or the other seem to be working in tandem with the country's intelligence and security agencies. In that context Muslims are placed as the hostile "Other", he remarked.

Dr. Mutleq R Al-Qarawi, Assistant Under-Secretary for Technical Coordination, Foreign Relations and Hajj, Ministry of Awqaf and Islamic Affairs, Kuwait, who was also one of guest of honour present on the dais, while speaking on the occasion emphasised on the rights and identities of Muslims said: "If we do right then we will get our rights. So, we have to follow the Holy Qur'an and the sayings of the prophet Muhammad (PBUH)". This is for all humanity, he added.

Others who spoke on the occasion included Prof B Sheik Ali, former Vice-Chancellor, Universities of Mangalore and Goa; Rev Dr Dominique Emmanuel, Spokesperson, Delhi Catholic Archdiocese; Swami Dharmananda; Director, Adhyatma Sadhana Kendra, New Delhi; Swami Omkarananda Saraswati, Omkar Dham, New Delhi. Geshe Dorji Damdul, Director, Tibet House, Cultural Center of Dalai Lama, New Delhi; and Dr Mohinder Singh, Member, National Commission for Minority Educational Institutions were also present on the dais.

A short film on the IOS and the proposed IOS University at Palwal in Haryana was released and screened on the occasion. A souvenir was also released on the occasion. Dr. Ahmad Ashfaque Karim of Katihar, a social scientist, was felicitated with IOS award on the occasion.

Earlier, Prof Z M Khan, secretary general of IOS, delivered welcome address and presented IOS profile. At the outset Maulana Abdullah Tarique recited verses from the Holy Quran. Prof Ishtiyaque Danish, Assistant Secretary General of IOS, proposed a vote of thanks. Agha Sultan, educationist and former member of SAC, Bangalore University, VTU & AICTE (SWRC), conducted the program with aplomb.


Day-2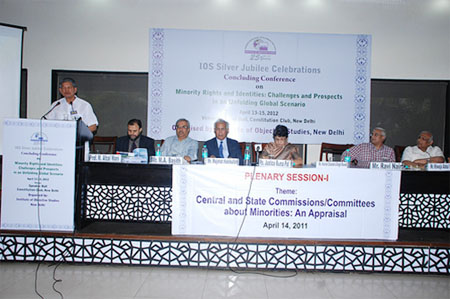 Union Minister of State for Agriculture, Food Processing Industries, Parliamentary Affairs Harish Chandra Singh Rawat addressing while sharing dais with Wajahat Habibullah and Justice Ruma Paul on April 14 at Constitution Club


"To see India become a World Super Power it is incumbent on one and all to focus on minorities in general and on Muslims in particular to bring them in the mainstream to enjoy the benefits of development as they have been left behind wading in illiteracy and poverty. For India to achieve this goal all the bogies of a train have to be strong and sturdy to reach the destination safely and smoothly. If this is not done then the journey would breakdown midway and ultimate goal can never be reached."

The above views were expressed by Union Minister of State for Agriculture, Food Processing Industries, Parliamentary Affairs Harish Chandra Singh Rawat while speaking in the plenary session on the second day of the 3-day International Conference on April 14. The theme was "Central and State Commissions/Committees about Minorities: An Appraisal".

Rawat congratulated Justice Rajendra Sachar for his Sachar Committee Report which extensively stated the pathetic condition of Muslims in the country who have been reduced to worse than Dalits in last more than six decades. He said implementation has now started on the committee's report.

He wondered as to why the problems of Muslims are taken as a minority issue and not as a national issue when in day to day life it is seen the community is lagging far behind and is unable to enjoy the fruits of development. In this contest he hailed IOS think tank for its research and analysis and its yeoman service towards society in focusing issues and bringing it to the attention who matter in the corridors of power.

Rawat concurred with Wajahat Habibullah, Chairman, National Commission of Minorities, who had earlier addressing the session had said that the police force which does not know Urdu generally by just laying hands on some booklets and books in Urdu without reading it declares it as "Jehadi literature". He stressed that those Muslim youths who have been arrested on terror charges and are languishing in jails without trial for years should be tried in special trial courts on day to day basis so that the accused woes are addressed expeditiously and justice is granted to them. He said he had full faith in the judiciary wherein judges do not come by way contesting elections but are selected on the basis of their capabilities as such the judiciary would take necessary steps to ameliorate the sufferings of these under-trials.

Presiding over the session, Justice Ruma Paul, former Judge, Supreme Court of India, hoped that Institutional Prejudice found in police force and other departments against Muslims would end. She said that in the past efforts were made to change the perception of the police force towards minorities and especially towards Muslims but no concrete results could be achieved.

Ms Ruma Paul stressed that it is necessary to maintain a distance between the police force and politicians as the latter is prone to misuse the former for its vested interests. Until and unless some practical effective steps are taken in this regard the country cannot progress to achieve desired goal. She demanded the Muslim youth who are being targeted in the name of terror should be given relief at the earliest. To put an end and break on unlawful arrests and harassment of these youths special steps must be taken forthwith, she added.

Earlier, Wajahat Habibullah, Chairman, National Commission for Minorities (NCM) speaking on the occasion lamented that in cases of terrorism charge-sheets are not prepared properly by police against Muslim youth who have been arrested under alleged terror charges. Such police officials should be criminally charged, he added. He said that in this connection NCM had constituted a committee to bring out the true picture in cases related to Makkah Masjid blast in Hyderabad. The NCM then raised that 53 youth have been illegally arrested and forced to accept their role in the blast to implicate them in the cases. In Malegaon blasts cases also such a situation has developed. Such type of approach by the law enforcing agencies gives the impression that all Muslims are terrorists, he moaned.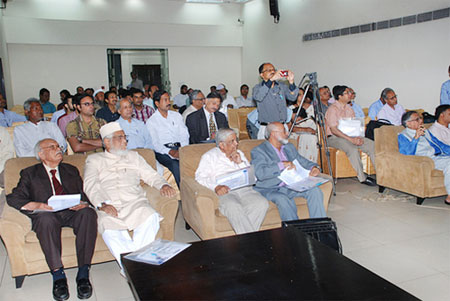 A view of the audience at Constitution Club on April 14


Ravi Nair, Executive Director, South Asia Human Rights Documentation Centre, New Delhi, said illegal arrest of Muslim youth has become the biggest problem of Muslims which has instilled an environment of fear among the minor community. He demanded that Action Taken Report (ATR) on the basis of NCM reports should be brought before the public through media and other sources of communication and publicity.

Khwaja Abdul Muntaqim, Visiting Professor, Institute of Advanced Legal Studies, Amity University, Noida, threw light on the Rangnath Mishra Commission's report and demanded implementation of its recommendations.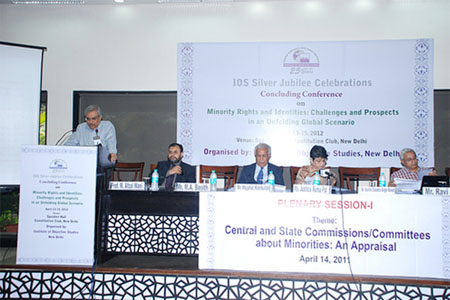 M A Basith, Senior Director, Planning Department, Govt of Karnataka, making Power Point presentation on April 14


M A Basith, Senior Director, Planning Department, Govt. of Karnataka spoke on Minorities and the Minority Commissions all over India and made a Power Point presentation on: "Past, Present and Future Role of National Minority Commission and State Minority Commissions across India". At the end of his presentation he suggested the following important points:

¯ The NCM should be vested with powers of inquiry on par with other Constitutional bodies like the National Commission for Scheduled Castes, National Commission for Scheduled Tribes, National Human Rights Commission, the National Commission for Women and the National Commission for Protection of Child Rights.

¯ The conferment of Constitutional status to the National Commission for Minorities which is pending since 2004 should be expedited by the Central Government. Similar action needs to be taken in respect of State Minorities Commissions.

¯ Alternatively, the establishment of Equal Opportunity Commission as suggested in the Sachar Committee Report will redress the grievances of all communities in a better way.

¯ The NCM can devise uniform structured formats for reporting of information by itself and all the SMCs.

¯ There should be transparency in information about coverage of minorities in all activities. The NCM may also issue guidelines for reporting (like SEBI), which should be mandatory for compliance by SMCs.

¯ The NCM and SMCs should be given appropriate role and powers to monitor & review all developmental programs and welfare schemes intended for the minorities under the PM's new 15-Point Program.

¯ The Commissions should undertake awareness campaigns to publicize the programmes of the Government by bringing out a compendium of schemes in English, local language and Urdu every year after the presentation of the budgets.

¯ State Governments should be encouraged to set up State Minorities Commissions in the States where they do not exist.

¯ The NCM and SMCs should have vibrant websites with information being updated every month. The website should have dynamic features by which people can raise their queries, for which replies could be provided in a time bound manner.

¯ The NCM should adopt Result Framework Document method for evaluation of its performance based on speed, efficiency and quality of service to the people. The same method has to be adopted by the SMCs.

The NCM Act 1992 may be amended to make it necessary for the government to appoint chairpersons and members through a Selection Committee headed by Prime Minister as in the case of the National Human Rights Commission. The appointment of chairpersons and members to SMCs could also follow a similar procedure.

¯ The NCM is currently provided inadequate funds under non-plan. These should be not only substantially increased but also a target should be set for carrying evaluation studies.

¯ NCM and SMCs have to frequently update themselves about the status of minorities in vital activities and take corrective action wherever required.

¯ The NCM and SMCs should conduct socio-economic surveys on economic development of minorities once in 5 years. This could be funded by MMA.

¯ The State Minorities Commissions face shortage of staff, posting of inefficient and unwilling persons and persons without the knowledge of matters pertaining to minorities. Mechanism for overcoming these problems needs to be evolved.

¯ An exchange of information by the SMCs with the National Commission on all such matters and issues through a structured review meeting/video conferencing every month can be of immense help in mitigating the sufferings of minorities

¯ The National Commission for Minorities receives large number of complaints on law & order, service matters, minority institutions, economic matters, cultural rights, religion based harassment, Waqf issues and compensation for the victims of the riots. Very less information is available on the recommendations made to the respective authorities for redress of the grievances and resolving of the complaints. A mechanism to analyse and publish this information every six months may have to be devised.

¯ At present the impact of their programs has minimal affect on the socio-economic development of Minorities. Higher government contribution may be provided including attracting capital from private sector.

¯ The Government has accorded in principle approval for restructuring of NMDFC. The Consultant appointed for the purpose has submitted his report which is under examination in the Ministry of Minority Affairs since few years. This report has to be debated before a decision is taken.

¯ State Minorities Development Corporations have to be established in all the States/ UTs where these do not exist;

¯ As suggested by Ranganath Mishra Report concurrent evaluation is necessary to identify the gaps and or causes for tardy implementation and corrective measures taken midstream for realization of aims and objectives of the schemes/ programs.

¯ A mechanism to earmark flow of benefits to minorities in proportion to their population as existing for SCs & STs needs to be put in place at least for large programs.

¯ An online management system is to be introduced for implementation and monitoring of all minority welfare schemes.

¯ The National Data Bank (NDB) which has been created on recommendation of Sachar Committee is inactive with very less data being exhibited on its website. The NDB should be empowered to get data relating to minority welfare in respect of government programs, banking, educational institutions etc.

¯ The Central Government should introduce a few schemes with large outlays for welfare of minorities with an equitable provision for Muslims.

Meanwhile, Dr. Manzoor Alam, chairman of IOS while intervening said that a systematic bias is found everywhere against Muslims and till this continues there is no hope that Muslims and other communities will never get justice in the country. He also raised the question that why no law is ever made to checkmate those who are responsible to implement the government schemes in letter and spirit.

At the fag end of the session, Dr Manzoor Alam and Dr Z M Khan, Chairman and Secretary General of IOS, respectively, felicitated Ms Justice Ruma Pal and Wajahat Habibullah with IOS awards. Prof M Afzal Wani, Faculty of Law, GTBIP University, Delhi conducted the session.

Meanwhile, three parallel sessions were held on the second day on the themes of "Minority Rights in Theory and Practice"; "Minority Rights in Islamic Perspective" and "Role of Ulema in Developing Unity among Muslim Ummah".

It is to point out that scholars and experts like Dr P M Adil Ahmed, Abdul Khalique Kamal, Prof Hameed Naseem Rafiabadi, Prof Rafaquat Ali Khan and Dr Jameel Ahmed presented their papers at the above mentioned first parallel session presided over by Jamia Millia Islamia Islamic Studies Chairman Dr Akhtarul Wasey while former civil servant Abdul Khalique, Supreme Court advocate Ravi Kishore, AMU academic Dr Arshi Khan, scholar A B Singh, Jamia Millia Islamia academic M H Quraishi, AMU academic Abdur Rahim Bijapur, social scientist Dr Suraiyya Tabassum, Islamic expert Dr Jameel Ahmed, AMU scholar and academic Dr Mohammed Shamim addressed the second parallel session presided over by Justice Rajinder Sachar, and Integral University Lucknow Chancellor Dr Saeedur Rahman Azmi Nadvi, All India Muslim Personal Board Vice President Dr Kalbe Sadiq, Masjid Fatehpuri Imam and Khateeb Mufti Mohammed Mukarram Ahmed, Jamaat-e-Islami Hind representative Maulana Inamullah Falahi Madani, Jamiat Ulema Hind Secretary Maulana Abdul Hameed Nomani, Markazi Jamiat Ahle Hadees Hind Secretary General Maulana Asghar Ali Imam Mahadi Salafi, All India Milli Council Vice President Dr Yasin Ali Usmani, Islahi Movement President Maulana Abdul Wahab Khilji, Islamic scholar and Mutalleat Editor Mohsin Usmani, Pune educationist Anis Chishti and Patna academic Prof Shakil Qasmi participated in the third parallel session presided over by Darul Uloom Deoband (Waqf) Rector Maulana Mohammed Salim Qasmi.

Besides, the same day three parallel sessions on three different topics were also held. The first parallel session on "Education and other Issues of Muslims in Higher Education" presided over by Prof Manzoor Ahmed, former Vice Chancellor, Ambedkar University Agra, was participated and addressed by Indian Institute of Technology (IIT) academic Prof E Hasnain, Jamia Millia Islamia academic and educationist Prof M Akhtar Siddiqui, Calicut University Vice Chancellor Dr M Abdus Salam, Maulana Mazharul Haque Arabic and Persian University Patna former Vice Chancellor Prof Qamar Ahsan, Mangalore and Goa Universities former Vice Chancellor Prof B Sheikh Ali, Jamia Millia Islamia former Vice Chancellor Prof Shahid Mehdi, Maulana Azad National Urdu University (MANUU) Hyderabad Vice Chancellor Prof Mohammed Mian, Aalia University Kolkata Vice Chancellor Prof Shamsul Alam, NCPUL New Delhi Director Dr Hamidullah Butt, MESCO Hyderabad Secretary Dr Fakhruddin Mohammed, Jamia Millia Islamia academic Dr Uzra Razzaque, MANUU academic Dr Masood Ali Khan, Chennai's scholar Prof M Razia Parween and AMU academic Prof Naseem A Zaidi while second parallel session on "Minority Rights, Civil Society and Media" presided over by former Delhi High Court former judge R S Sodhi, was actively graced and addressed by senior media celebrity Pranjoy Guha Thakurta, social activist and journalist Teesta Setalvad, Sarvodaya International Trust Delhi Chairman Dr A K Merchant, journalist Bhasha Singh, social activist Sanjay Rai, Jamia Millia Islamia academic Arvind Kaur Ansari, Pune's economist Dr Malika Mistry, Delhi University political scientist Dr Aftab Alam, AMU academics Komal J B Singh, Dr Aman Mohammed Khan and Tabassum Rasul, and third parallel session on "Muslim Minorities in the World: Challenges and Possibilities" chaired by internationally reputed scholar Prof Syed Khalid Rasheed, was participated by Mumbai legal luminary Yusuf Hatim Muchchala, Sri Lanka's Member of Parliament M B Farooq and scholar AJM Zaneer, AMU's academics Salahuddin Quraishi and Dr Abdul Majid Khan, and Jamia Millia Islamia's academics Dr Muslim Khan, Dr S A M Khan, Dr Mahtab Manzar, Ajoy Mohan and Dr Badrul Kazim.

The above mentioned parallel sessions were most extraordinary and important in the sense that they were addressed by experts and scholars of different fields and several useful and practical suggestions were discussed in detail.


Day-3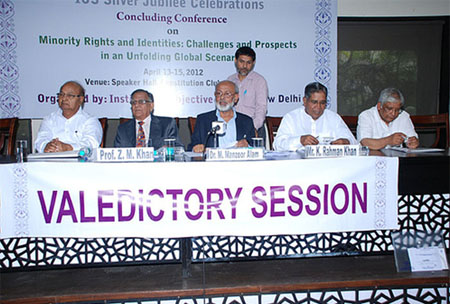 Rajya Sabha Deputy Chairman K Rahman Khan amidst other dignitaries seated on the dais of valedictory session at Constitution Club on April 15


The three-day 14th International conference concluded on May 15 with the consensus that the Indian Constitution and the laws framed in the light of this grant rights to the minorities in all respects. However, the ground reality is that in day to day life of the minorities, especially Muslim community, these rights granted by the Constitution remain a far cry and are not available to the Muslims, who feel cheated and are left high and dry. This not only leads to frustration in minorities but violation of the Constitution and the laws enacted therein also takes place.

Hence, it was felt it is utmost necessary that a law be framed that can be used against those responsible officials who in case do not comply and implement in letter and spirit the government's decisions and policies for minorities formulated in the light of Indian Constitution and the existing laws and rules. Then only the minorities and other marginalized persons will be able to enjoy the fruits of development as other citizens of India.

Meanwhile, delivering the valedictory address at the end of the three-day conference K Rahman Khan, Rajya Sabha Deputy Chairman, requested IOS to dedicate the next 25 years after the silver jubilee celebrations as to what the Muslim community has to achieve priority wise through collective wisdom. The roadmap has also to be defined as to what will be the community's role and contribution in India's development. To attain this through collective wisdom first the community will have to sort out its differences by working within.

K Rahman Khan lamented that the Muslim community has not done its job of what it should it get, what are its priorities and what is the roadmap of future. This job the government of the day cannot do for the community but it should be the collective wisdom of the community to do it. "We are ourselves divided in views be it political, religious or social leadership. We are divided due to ego problem as no one is ready to sacrifice", he moaned.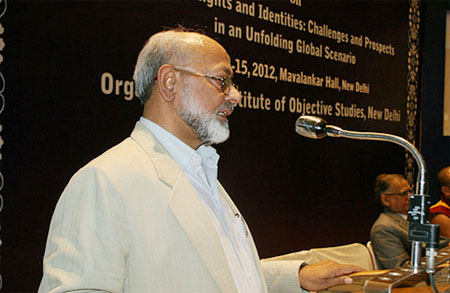 Dr Manzoor Alam, Chairman of IOS, speaking at the valedictory session


Presiding over the valedictory session, Dr Mohammad Manzoor Alam, in his concluding remarks, appealed to K Rahman Khan, Rajya Sabha Deputy Chairman and Zafaryab Jeelani, Additional Advocate General of Uttar Pradesh, to convey to the powers that be the hurt and painful feelings of the Muslim community about the illegal arrests of their innocent youth over trumped up terrorism charges and atrocities of police on them. He urged them to use their good offices to provide succour to the affected families in getting their wards released and end their woes.

Dr Alam announced the formation of "Foundation for Education" by IOS for the poor, who have been deprived of education, on the occasion with an appeal to all and sundry to make contributions of minimum Rs.5 per month so as to create funds for the noble cause.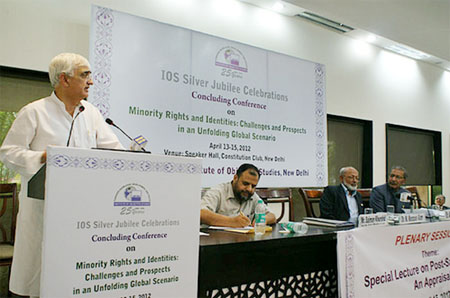 Salman Khurshid, Union Minister for Law and Minorities Affairs, addressing the IOS International Conference


Earlier, Salman Khurshid, Union Minister for Law and Minorities Affairs, speaking after the special lecture of Dr. Abusaleh Shariff, President, Centre for Research and Debates in Development Policy, New Delhi, on "Post-Sachar Report: An Appraisal" said not only the proposal of Equal Opportunities Commission but there are many other issues on which there is no consensus in the whole country or Muslim community. So, it is necessary that first there should be consensus on any issue. As far as Equal Opportunities Commission is concerned its formation is possible but the Muslim community should first collectively agree over the proposal.

Salman Khurshid said that he is in total agreement with the view of a section of the society that in a country like India there is no need at all for the Ministry of Minorities Affairs. This ministry, in fact, is Ministry of Coordination. The problems of minorities or Muslims cannot be solved alone by the Ministry of Minorities Affairs but for the departments of various ministries have to be involved, he explained.

He said that reservation of 4.5 per cent given to minorities under OBC quota does not mean that they would not get under other provisions. He pointed out that in nine and ten states of the country minorities have been given reservation under sub-category as such they have been given this 4.5 per cent reservation under this sub-category. This is half of 8.44 per cent, he added.

Dr Abusaleh Shariff, who is also chief economist, National Council of Applied Economic Research, New Delhi, while making a Power Point presentation on "Five Years After Sachar Report 2004-05 to 2009-10" said the report has 14 chapters of which many chapters have not been debated and analyzed.

Dr Shariff said there is found a wrong general perception about Sachar Committee Report that it has been prepared keeping in mind only the state of affairs of Muslims and their problems. However, the truth is that the report has been prepared while comparing position of Muslims with other religious communities and groups. So, it is better not to call the report of any particular community but term it as a "Relative Report". He candidly said that India can become an eminent nation only when every citizen of the country is given equal opportunity.

Meanwhile, Dr Arshi Khan, Associate Professor of Political Science and the Director of the Centre for the Promotion of Educational and Cultural Advancement of Muslims of India, AMU, Aligarh, spoke on redefining Minority Rights in India as the constitutional provisions like Article 29 and 30 are only meant for cultural and educational rights whereas these rights have proved to be inapplicable due to the enabling factors like political safeguards.

Dr Arshi Khan said that India is a plural society where democracy is not limited to merely elections and majority rule but the test of democracy rests with the ability of the government and the State to protect the interests of minorities. Muslims minority is a cultural and religious community and its culture is not the basis of political culture of India or the basis of the State. Merely existence of minority in numbers does not qualify a country to claim democracy but how far this largest minority feels to be the part of the State is the most important aspect.

He said that there are scores of violence, incidents, discrimination, violations of human rights and character assassination of the members of the Muslim community in the country which have not been even partially addressed by the successive governments in the last 60 years. There is a need for the recognition of the fact that Muslims have equal political rights but the enforcement agencies and political elite including many civil societies have not treated them as equal citizens. Therefore, there is a need to view such matters seriously and to take corrective measures to make India a vibrant country in the world, he emphasized.


10-Point Resolution


The following 10-point resolution was adopted by voice vote during the valedictory session:


A special committee may be constituted to draw future plan of actions based on carrying out the resolutions adopted in Silver Jubilee celebrations' conferences and achieving basic objectives of creating synergy for security and welfare of marginalised sections in general and Muslims in particular.
There should be a special drive to involve regional chapters of the IOS to study regional aspirations and adopt correct methodology for redress of grievances at regional and national level.
The IOS in consultation with all concerned should evolve a comprehensive blue-print for minority welfare in India in coming ten years with special reference to globalization process.
A committee of experts may be constituted to suggest measures for publicizing the understanding of Indian political and economic systems so that the Muslims are aware of all such processes including the electoral strategies.
The IOS should take necessary steps to evaluate various commissions/committees' report and suggest measures for their implementation.
The IOS should constitute a specialized expert committee to suggest means to draw the attention of corporate sectors to minority potential, heritage and role in development.
It is pertinent to reiterate and reinvigorate the need to have links of IOS with other institutions and organizations to push the agenda forward. The issues of research and survey should form the priority sectors of the policies and programs;
It is urgently needed to go for establishing legal aid cells to promote legal aid through spreading awareness among all sections of society and providing necessary relief to victims, if possible. The innocent Muslim youth, who are charge-sheeted must be tried on day to day basis;
The IOS should coordinate with agencies concerning Muslim's affairs in areas of Awqaf properties in India. This sector needs urgent attention;
It is felt that along with other measures, the recommendations of Sachar Committee and the Rangnath Mishra Committee's reports should be evaluated and monitored from the point of view of their implementation and impact.