New Delhi, August 10 Imarat Shariah Bihar, Jharkhand, Orissa and West Bengal was here today honoured with the second "Life-Time Achievement Award" by the Institute of Objective Studies (IOS). Ameer-e-Shariat Maulana Syed Nizamuddin, who is also shouldering the responsibility of the General Secretary of the All India Muslim Personal Law Board (AIMPLB), received the award on behalf of the 87-year old institution. The first award had been given to former Supreme Court Chief Justice A M Ahmadi.

The award ceremony, held at the India Islamic Cultural Central (IICC), was presided over by Justice A M Ahmadi himself and participated among others by Haryana Governor A R Qidwai, Union Minister for Chemicals, Fertilisers and Steel Ram Vilas Paswan, Minister of State for Home affairs Shakeel Ahmad and Minister of State for Human Resource Development Syed Ali Ashraf Fatimi, former Member of Rajya Sabha Santosh Bharatiya, Imarat Diector Maulana Anisur Rahman Qasmi, Islami Fiqah Academy (IFA) chief Maulana Khalid Saifullah Rahmani, IOS Chairman Dr Manzoor Alam and Secretary General Dr Z M Khan. The programme was conducted by Dr Ausaf Ahmad, economist and Editor of Urdu quarterly "Mutaaleat".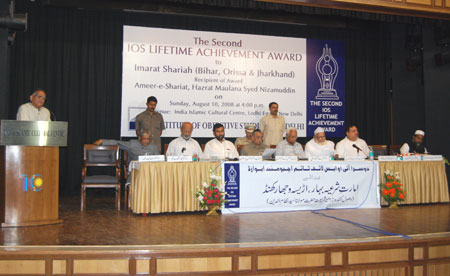 After the introductory remarks by Dr Z M Khan, also a well known political scientist, Dr Manzoor Alam, in his welcome address, threw light on the necessity of such awards and said that there were two awards given by the IOS. While one was Shah Waliullah Award whose recipients included Islamic giants like late Maulana Syed Abul Hasan Ali Nadvi, popularly known as Ali Mian and late Qazi Mujahidul Islam Qasmi, the other was IOS Life Time Achievement Award. In his citation, scholar, journalist and litterateur Dr Syed Abdul Bari, popularly known as "Shabnam Subhani", highlighted the role of the Imarat in various fields.

While appreciating the roles of both the winner of the award and the giver of the award in their respective fields, S A A Fatimi said both Imarat and IOS had rendered great services to the cause of the nation and millat (Muslim community).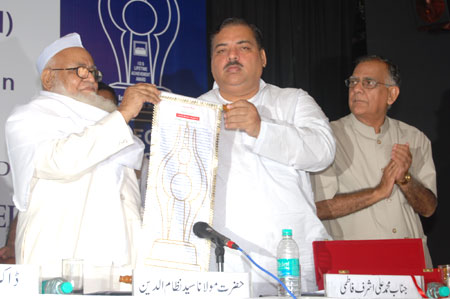 He disclosed that he took a lot of help from Imarat-e-Shariah and IOS separately while preparing the report for the sub-committee under his stewardship instituted by the HRD Ministry. He said the report of the committee, known as Fatimi Committee, had recommended to pay special attention upon adult, primary, higher and technical education in the Muslim-concentrated areas. According to him, the work on this recommendation had already begun.

He claimed that in a period of next two years there won't be left a village or panchayat without the management of teaching of the children of 6-14 years age. He said the proportion of Muslim enrolment in schools had reached 94 per cent from 91 per cent in comparison to the general enrolment of 104 per cent.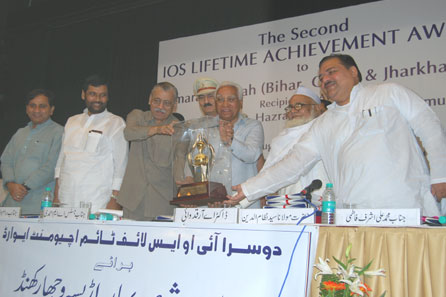 According to him, like schools, madarsas were too playing a key role in spreading education. He said there were 14,000 madarsas in Bihar, 16,000 in UP and 16,000 in West Bengal. A number of madarsas out of them were benefiting from government schemes under Sarva Siksha Abhiyan.

He also said similar situation was with higher education. According to him, Maulana Azad Urdu University was expanding. It is to point out that sixty students were recently taught management courses in Urdu at Hyderabad. For the first time the teaching in the polytechnics at three places was going to be imparted in Urdu, he informed. According to him, similarly Aligarh Muslim University (AMU) had also been told to extend its area of operation. There were proposals for opening centres at Mallapuram (Kerala), Bhopal (MP), Moradabad (UP) and Katihar (Bihar).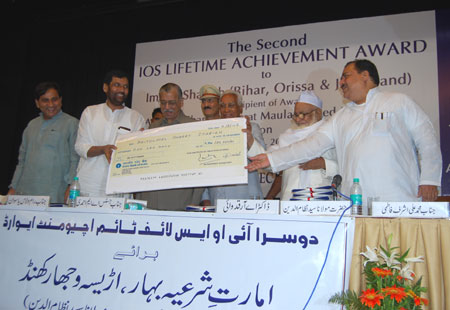 He opined there was a need to pay special attention upon basic and secondary education in Muslim-concentrated pockets. Only then Muslim students would be able to reach the medical, engineering and other professional colleges in a large number. "If there won't be solid foundations, one can't hope of strong building," he asserted.

While lauding the efforts of Imarat in Shariah, relief and education, Minister of State Shakeel Ahmed said what the government was not able to do in raising the standard of life of general people, institutions like Imarat and IOS performed. According to him, the greatest work the Imarat had done was to march ahead without any provocation and in a balanced way. And, this was what Islam also taught.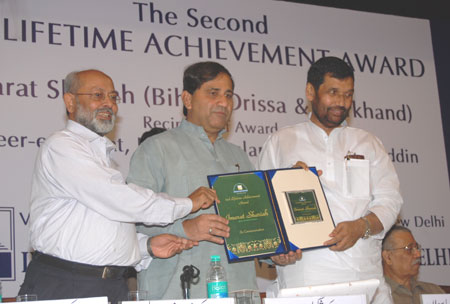 The Minister of State for Home Affairs asked the Imarat to see how the system of fatwa was regulated in a proper way and only the authorized persons issued it whenever it was necessary.

Union Minister for Chemicals, Fertilisers and Steel Ram Vilas Paswan said this country owed much to Islam. "When Islam came here, a number of people were feeling restless in the wake of the evils of caste system. They were not being allowed to enter even into temples. Islam embraced them, gave them equality, respect, dignity and honour. That's why a number of them came then under its fold", said Paswan.

Maulana Syed Nizamuddin, Ameer-e-Shariat Bihar, Jharkhand, Orissa and West Bengal, thanked the IOS for honouring Imarat Shariah in recognition of its services to the cause of mulk-o-millat. He declared the services in different fields begun 87 years ago would continue for ever.

Justice Ahmadi, in his presidential remarks, said that Imarat through its Darul Qazas had contributed a lot in easing pressure on the general courts. It is to point out that over three million cases in 21 High Courts and an astounding 26.3 million cases in subordinate courts across the country were pending by the end of the last year. And, this included a large number of cases related to family and other disputes. Institutions like Darul Qazas could help much in this area.

Dr A R Qidwai, Governor of Haryana, averred he had personally observed the services rendered by Imarat in Bihar during his two tenures as Governor of Bihar. According to him, Imarat had a got a reputation there in the field of social service.

In the words of Islamic scholar Maulana Khalid Saifullah Rahmani, it was a unique event when an institution was honouring another institution in recognition of the latter's services to the cause of the mulk-o-millat (nation and community).