More Than One Winner in Anwar Ibrahim's Freedom

Anil Netto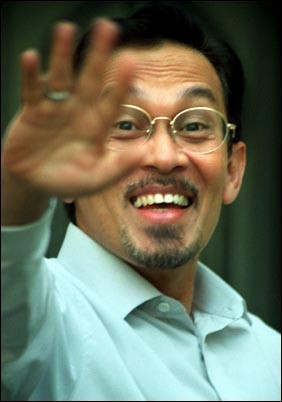 The dramatic Federal Court decision to free jailed ex-Malaysian deputy prime minister Anwar Ibrahim after six years of incarceration will have far-reaching implications for Malaysia.

There is more than one winner arising from the decision. Apart from giving Anwar a new lease of life, the court ruling will also provide a boost for the reformist credentials of Malaysia's new Prime Minister Abdullah Ahmad Badawi.

Similarly, it will improve the public's perception of the judiciary -- which has been severely criticised as lacking independence and towing the government line.

The stunning 2-1 Federal Court verdict last month overturning Anwar's sodomy conviction came exactly six years after his dramatic sacking from government by then premier Mahathir Mohammed on Sep. 2, 1998.

It was the last realistic avenue for freedom for the ailing Anwar, who would otherwise have remained in jail until 2009.

Thursday's Federal Court decision went against the flow of a stream of unfavourable judicial rulings against Anwar over the years.

His release is easily the biggest political development in Malaysia since Mahathir shocked the world by announcing his own
decision two years ago to step down.

"The judges who reviewed and released Anwar will long be remembered for their courage in righting an injustice that has
festered as a gnawing wound in the fabric of our politics," P Ramakrishnan, president of the human rights group Aliran, told
Inter Press Service.

He also paid tribute to Anwar's defence lawyers, who he said would be admired for their perseverance in persisting with the
case despite formidable odds.

Anwar's sacking and subsequent public humiliation in September 1998 sparked 'reformasi', a groundswell clamour for wide-ranging reforms, and split Malaysian society, especially the majority ethnic Malay community. It was a defining period in Malaysian political history.

When contacted, Anwar's wife Wan Azizah Wan Ismail told Inter Press Service that Anwar was in pain as a result of his spinal injuries.
"But he says he's okay because he is free. He commended the judiciary for its decision. In fact, the judge said the (Lower) Appeals Court should have acquitted him," she added.

"We are going to take him for spinal surgery to Germany at the dedicated spinal clinic (in Munich), which is what we always wanted," Wan Azizah said.

Lawyers and family members say Anwar had difficulty walking unaided due to injuries received during a horse-riding accident
and a severe beating at the hands of the country's then top police officer on the night of his arrest in 1998.

The outcry following Anwar's black eye forced the government to hasten the formation of a national human rights commission. The incident, along with other cases of police brutality, also tarnished the image of the police and prompted the new administration of Abdullah Badawi to set up a royal commission to review police operations.

"I am now unemployed," an overjoyed Raja Petra Kamaruddin, director of Free Anwar Campaign, told Inter Press Service.

"Do you know of anyone looking for a campaign manager?" he joked.

Raja Petra was instrumental in mobilising support among local and international groups through a popular Free Anwar website,
which persisted even as other anonymous reformasi and Anwar websites lost their steam.

He said the first thing Anwar needs to do is to get his health restored. "He badly needs the surgery. In the first place, we don't know if the surgery is going to be successful as the surgeon has said there is no guarantee of success." All eyes will now be on Anwar to gauge his immediate plans.

"If the surgery is successful he is likely to come back to lead the party (the opposition People's Justice Party or Keadilan)," said Raja Petra, who accurately predicted the 2-1 decision in Anwar's favour. He said Keadilan lacked leadership and someone like Anwar was needed to give it a boost.

Anwar's wife Wan Azizah Wan Ismail has been president of the party since its inception in 1999. "Anwar never left politics," Wan Azizah explained. "He was always there."

If anything, Anwar's image as someone who fought against great odds has been enhanced.

"Anwar will remain as a shining example of sheer tenacity for taking on the entire establishment to expose a web of terrible intrigue and plotting that did irreparable damage to the judiciary," pointed out Ramakrishnan.

The Federal Court's decision is also likely to boost the image of the judiciary, whose earlier conduct and decisions, especially during the Mahathir era, were severely criticised by local rights groups and international legal bodies.

"It's an amazing decision, just amazing," a Kuala Lumpur-based lawyer told Inter Press Service. "Even before this, there was talk that a revamp was underway to review the way judicial appointments are made."

Once the initial euphoria has settled, the spotlight may fall on the High Court and Appeals Court judges who had earlier pronounced Anwar guilty in proceedings that were widely seen as politically motivated.

Former premier Mahathir Mohamad's role in publicly humiliating Anwar is also likely to come under renewed scrutiny. It was Mahathir who played an instrumental role in an earlier judicial crisis in 1998, which saw the country's then top judge and five other senior judges suspended - a move that analysts say crippled judicial independence.

Many ordinary Malaysians are hoping that the decision signals a new beginning for the judiciary.

"It would appear that the political situation in the post-Mahathir era is conducive for the courts to exercise its independence," said John Kim, a visually disabled Kuala Lumpur resident who has followed the case closely. "I hope and pray that the courts will not subject themselves to future executive pressure."

Ironically, Anwar's release has provided a fillip for Mahathir's successor, Abdullah Badawi, whose reformist credentials, critics said, were until today proving to be more talk than substance. In a sense, the real test for his administration was always going to be how the Anwar case washandled.

"The decision will promote Abdullah's stature as a leader in the eyes of Malaysians particularly among the Malay community," said media analyst, Mustafa K Anuar, a lecturer in mass communications.

But Mustafa added a sober note to the occasion.
"While we celebrate the release, we should not forget that Anwar has been a victim of injustice. He has lost six years of his life, six long years of imprisonment which has aggravated his health."g
---
By arrangement with Inter Press Service