News
Muslim organisations announced the establishment of a
Committee for Census and Reservation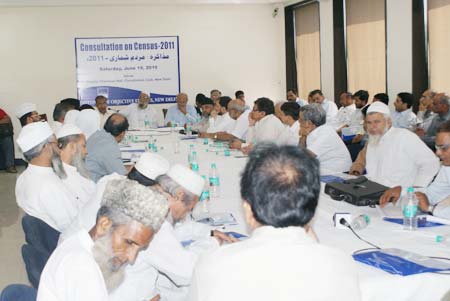 New Delhi, June 24: A number of Muslim organisations announced the establishment of a Committee for Census and Reservation here today.

The announcement came at the end of long deliberations spread over two days, the first being on June 19 at the Constitution Club and the second at the Institute of Objective Studies.

Institute Chairman Dr Mohammad Manzoor Alam said the committee would create awareness among Muslims all over India about census 2011, the houselisting for which had already begun.

Dr Alam said the participants were certain that Muslims had fallen so far behind their compatriots in education and economic wellbeing that quite a lot of them needed affirmative action to uplift them. "This was the subtle message in Sachar Committee Report and Ranganath Mishra Commission Report, too", he added.

The consultation began on June 19 at the Constitution Club here with recitation from the holy Quran. It was conducted around the theme, "How Can Caste Census Benefit Muslims in India", on which a power-point presentation was made by Dr Abusaleh Shariff of National Council of Applied Economic Research.

The thrust of Dr Shariff's presentation was that Muslims did not figure in the Scheduled Castes (SCs) list as the Constitution recognised SCs only from Hindus, Sikhs and Buddhists and from no other religion. However, Scheduled Tribes, (STs) could be from any religion, but the STs list does not have any section or group from Muslim community, although one often came across Muslims who did belong to such categories, but were not recognised as such.

He said it was very likely that Census 2011 would include caste and a question like, "what is your caste?" or "If OBC, write the name of OBC from the list supplied" could be asked.

Dr Shariff made the following three points:

• First proposed question will generate a large body of data on individual castes and the Muslim community response will be mixed.

• Second option: a few Muslim communities are included in the OBC category. A small proportion often of Muslims are listed in the OBC list.

• New demands to include many more communities from within the Muslims can be made.

Under the sub-head "What we know about Muslim OBCs", Dr Shariff pointed out that the National Sample Survey (a government agency), and respectable organisations like National Council for Applied Economic Research and National Family Health Survey did collect self-reported OBC status for all communities, including Muslims.

However, there was a high variation in reporting. As there was no uniformity in it, it did not reflect the true status. "Reporting is influenced by the politics of reservation", he remarked. For instance, there was no OBC reporting from Muslims in Bengal and Assam, while there was a high OBC reporting (99.6 per cent) from Muslims in Kerala.

The all-India average for self-reported OBC status among Muslims was 40.3 percent. In Kerala it was 99.6 percent, in Tamil Nadu 86.5 percent, in UP it was 61.9 percent and in West Bengal it was only 0.8 percent.

Dr Shariff's argument was that as a whole Muslims of India were a backward community, like Kerala Muslims. This point was brought out by the Sachar Committee and confirmed by the Ranganath Mishra Commission. West Bengal's Muslims, 99.6 percent of whom were erroneously categorised as high caste were, in fact, fit to be declared OBCs.

"In Kerala about 95 percent of all Muslims are listed in the OBC category with a reservation share of 10-12 percent, while Karnataka and Andhra Pradesh have up to 10 percent Muslims covered under OBC with a reservation quota of four percent in both these latter states," he said. Both these models were good enough for Muslims.

There is a separate quota of four percent for all Muslims in Andhra and Karnataka, he added.

There is some discrepancy between the Centre's understanding of OBCs and that of the states. Hence, a two-tiered strategy was favoured by Dr Shariff. That is:

Option 1

• Declare all Muslims as backward and OBCs at the national level

• Declare all Muslims in each of the individual states as OBCs

• Sachar Committee has prepared the foundation for this demand and the Mishra Commission has also supported this view

Option 2

• Since Muslims constitute about 14.5 % (2001 census) of the population and about 10% of the Muslims may have been covered under OBC at the national level also, a separate quota of 6% for Muslims (with means-test exclusion clause) must be demanded at the national level.

If the Karnataka model is adopted then the Muslim community need not worry much on the accuracy of reporting of caste amongst the Muslim community across India. However, the communities which are already enlisted within the OBCs should continue to get the benefits from the present OBC share. "This is a must so that the status quo is continued and the above suggested shares are over and above any OBC benefits which are already available", Dr Shariff concluded.

Dr Mohammad Manzoor Alam, Chairman of the IOS, conducted the proceedings after briefly underlining the ideas.

Abdul Khalique, General Secretary of Lok Janshakti Party, began the discourse following the presentation by Dr Shariff, pointing out that for Muslims to get into the OBC list in North India and getting the benefit of quota would be harder than it was in the southern states of Kerala, Karnataka and Andhra Pradesh.

He said the help of ulema, imams of mosques and the sajjadanashins of khanqahs should be enlisted to create awareness of the coming census and proper caste registration among Muslims.

Abdul Khalique also observed that the Sachar Committee had ignored social backwardness among Muslims (a requisite for reservation in education and jobs) and focused exclusively on economic and educational backwardness.

To that Dr Shariff (who was member secretary of Sachar Committee and main author of the celebrated Sachar Committee Report) said that educational backwardness was an indicator of social backwardness. That was the reason Sachar saw Muslims as socially backward as well, and that was the reason (educational backwardness), the socially forward Rajputs of Rajasthan had been given reservation.

Mujtaba Farooq of Jamaat-e-Islami Hind advised that Muslims should be made aware of the need for registering their caste in the Census next year. As there was less caste-consciousness among Muslims they should be "reoriented" to accept this reality.

On the other hand, Dr Qasim Rasool Ilyas of Jamaat-e-Islami Hind cautioned that the issue of caste among Muslims could be as divisive as among Hindus. He advocated a very careful approach towards this issue.

Mauji Khan of the All India Milli Council said Jats, Gujars and Meenas claimed to be backward even though they were among the prosperous groups. Backwardness, for the purposes of reservation, had nothing to do with one's being prosperous.

Maulana Abdul Wahab Khilji of All India Milli Council said that enlisting the support of imams of mosques for encouraging Muslims to participate in the coming Census would be of great help. He cited the example of Maharashtra where imams had spread the message through khutba.

Maulana Abdul Hameed Nomani of Jamiatul Ulema-i-Hind (Mahmood Madni faction) assuaged the fears of Dr Ilyas and said that Muslims should accept the reality of caste. "It is not against Islam", he said.

Backing Maulana Nomani's stand, Maulana Arshad Farooqi of Markazi Jamiatul Ulema-i-Hind pointed that caste was not un-Islamic.

Maulana Yasin Usmani Badayuni of said that Muslim should not worry too much about probable controversies arising out of caste registration. "The reports of Sachar and Ranganath Mishra have concluded that we are educationally and economically backward". That made Muslims eligible for OBC status.

Prof. Naushad Ali of Economics Department of Jamia Millia Islamia said the social and economic backwardness of Muslims would be addressed once census data was available to policy makers. Hence, furnishing correct information in the census was crucial.

Salahuddin Ansari from Hyderabad cautioned that the census procedures could be complicated and difficult. "In Hyderabad, we had to fill four different forms that had 35 columns". Prior orientation of Muslims was a must, he said.

Maulana Niyaz Farooqi of Jamiatul Ulema-i-Hind (Mahmood Madni faction) explained that in principle OBC was not about caste, but communities and groups. However, in practice, it resorted to identifying "Other Backward" groups through caste only.

Maulana Yaqub Bulandshahri of All India Deeni Board said that in the house listing round (that precedes the proper census) Muslims were not able to respond well to questions like whether they had a car, a motorcycle and/or a fridge. The maulana said Muslim respondents were afraid that the government would confiscate their valuable possessions. The additional questions are to determine the economic wellbeing of people.

In his presidential address Maulana Abdullah Mughaisi, President of All India Milli Council, advised that a large number of handbills should be printed and distributed among Muslims to explain the significance of census and caste registration.

He asked Muslims to remain united in this hour of the potentially divisive discourse of caste. g