News
Lecture on Empowerment of Muslims Through Education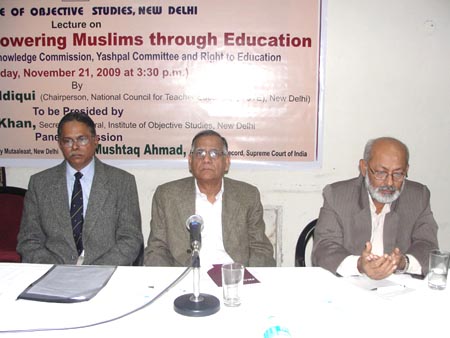 L-R: Prof. MA Akhtar Siddiqui, Chairperson NCTE, Prof ZM Khan, Secretary General IOS, Dr Mohammad Manzoor Alam, Chairman IOS
New Delhi, November 21: Renowned expert on education Prof. Mohammad Akhtar Siddiqui delivered a thought-provoking lecture here today at IOS auditorium on Empowerment of Muslims Through Education in the Light of National Knowledge Commission and Yashpal Committee reports as well as according to the provisions of the Right to Education Act.

Prof. Siddiqui, who is the Chairperson of National Council for Teacher Education (NCTE), said that these three had enough provisions for the educational uplift of minorities. However, apathy on the part of bureaucracy and the Muslim community itself often prevents the beneficiaries from getting full advantage of the provisions.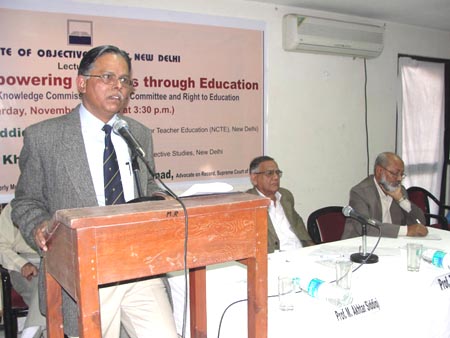 Prof. MA Akhtar Siddiqui delivering his views at IOS auditorium on November 21, 2009
However, Prof. Siddiqui hastened to add that most government officials, especially at the higher levels, were cooperative and genuinely wanted to help. He said that a lot of schemes, central and state-level, were there in operation for minorities as a whole.

He explained that for the first time government had started educational schemes exclusively for Muslims. He regretted that Muslims by and large were self-centred and indifferent to the education of the community. He said two major initiatives were taken by the government – one in 1986 and another in 1992 – for educational uplift of minorities by launching several schemes.

Many schemes did not succeed, but that should not deter us from continuing the endeavour, he added.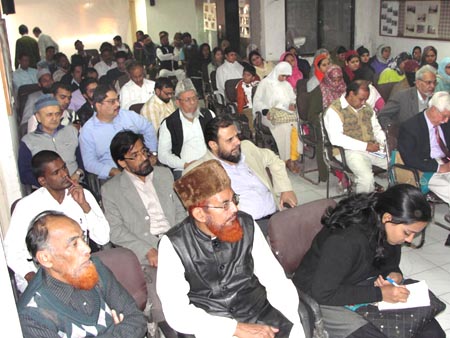 A view of the attentive audiance
IOS Chairman Dr Mohammad Manzoor Alam came in the later half of the programme to join the programme largely as a listener.

A lively panel discussion ensued after the lecture. Dr Ausaf Ahmad, editor, Mutaaliaat and Mushtaq Ahmad, advocate Supreme Court, contributed the economic and legal perspective. A question-answer session followed.

Secretary General of IOS announced that a day-long workshop would be organised soon on the subject. Dr Nikhat Hussein Nadvi compered the programme. g