News
Fifth Qazi Mujahidul Islam Memorial Lecture at IOS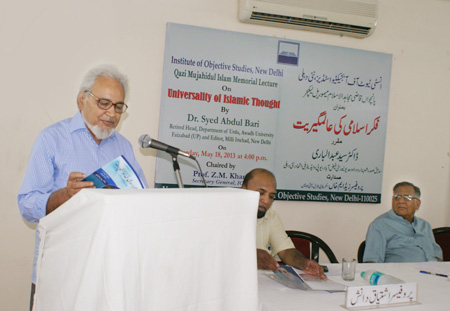 New Delhi, May 18: Islamic thought has the proven potential to unite and heal a fractious world creaking under pressures of racial and ethnic strife and ravaged by commercial greed, Prof. Syed Abdul Bari said here today.

He was delivering the Fifth Qazi Mujahidul Islam Qasmi Lecture at the Institute of Objective Studies on "Universality of Islamic Thought." Prof. Abdul Bari said that without the necessary framework of revealed knowledge, humanity cannot be held together merely on the basis of empirical knowledge.

He said that rampant utilitarianism, consumerism and globalisation had weakened the human capability for empathy and altruism. The Islamically-guided ways of reformers like Maulana Ilyas, Maulana Ashraf Ali Thanwi, Maulana Abul Ala Mawdudi and Maulana Abul Kalam Azad (all of whom guided the Subcontinent for several decades in the 20th century) were still relevant.

He said to achieve the high standards of Islamic morality one had to rise above petty personal gains and foolish prejudices. "As mischief mongers are trying to distort the real face of Islam, Muslims should strive to project the true picture in their writings and day-to-day conduct," Prof. Abdul Bari said.

He also emphasised the importance of giving a better deal to Muslim women for creating a more just society and improving the image of the faith tarnished by hostile propagandists.

IOS Secretary General Prof. Z.M. Khan, who chaired the proceedings, began his concluding remarks with an introduction of IOS and late Qazi Mujahidul Islam Qasmi. He said that a new contextual reading of Islam was essential for the faith's growth in the 21st century.

The programme began with a recital of the holy Quran by Maulana Abdullah Tarique and ended with a vote of thanks by Prof. Ishteyaque Danish, Finance Secretary of the IOS.