News
Vice President of India Releases
IOS Book on Freedom Struggle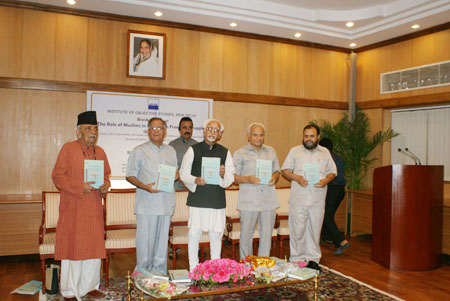 L-R: Shri Akhilesh Mittal, Historian; Prof. Z.M. Khan, Secretary General, IOS; Shri M. Hamid Ansari, Hon'ble Vice President of India; Prof. Refaqat Ali Khan, General Editor of the Volumes; Prof. M. Afzal Wani, Member, Governing Council IOS
New Delhi, May 31: The Vice President of India, Shri M. Hamid Ansari released a three-volume book from the Institute of Objective Studies (IOS) titled "The Role of Indian Muslim's in the Indian Freedom Struggle (1857-1947)" at the Vice President's House here last evening.

As the chief guest of the ceremony, he said that he had already inaugurated the first volume sometime ago at the same venue, and had expressed the desire to the IOS Chairman Dr. M. Manzoor Alam to soon inaugurate the entire set.

Dr Alam was not in the country yesterday. The Vice President said he missed him on such a momentous occasion.

He said the freedom movement was a response of Indian people to British colonial dominance. They fought as Indians, not as followers of some religion or members of some caste or ethnic group.

However, they often articulated the struggle in religious terms like Jehad for freedom, or Gandhiji's ideal of Ram Rajya.

The series editor of the book, Prof. Refaqat Ali Khan, emphasised the fact that 1857 was a people's movement in which all sections participated. "The urban India at revolt had the armed support of the peasants and tribes."

He said the Muslim struggle for independence was inclusive, a part of national struggle for freedom, in which all sections of society worked together. During the Non-Cooperation Movement, in many areas as many as two-thirds of those arrested were Muslims.

The argument that such massive participation of Muslims in Non-Cooperation Movement was due to the Khilafat Movement does not hold ground if one considers the equally large Muslim participation in the Civil Disobedience Movement.

Historian Akhilesh Mittal said the communal divide was the handiwork of the British. "In 1857 the country stood as one man. Among the warriors against the British, 31 percent were Brahims and 34 percent Rajputs." However, over the decades the British succeeded in dividing them, he concluded.

The programme was conducted by Prof. Afzal Wani.