News
Uploaded on September 28, 2015
IOS Mourns Dr Barzinji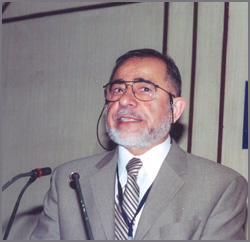 New Delhi, Sept. 28: The staff of Institute of Objective Studies, led by its Chairman Dr Mohammad Manzoor Alam, mourned the death of Islamic scholar and visionary leader of international Islamic movement, Dr Jamal Barzinji. Dr Barzinji, who died on September 26 in the United States, had been battling a rare form of cancer. He was 76.

The condolence meet, which began with a recital from the Quran by Maulana Khalid Nadvi of the IOS, was chaired by the Chairman Dr Mohammad Manzoor Alam, who had been a close associate of Dr Barzinji for decades. In his brief address he fondly reminisced about the three visits of Dr Barzinji to India for IOS-organised programme.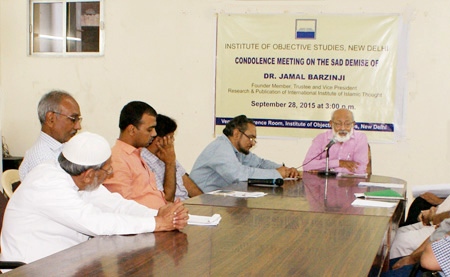 Dr Alam recalled a part of Dr Barzinji's fine address at "Intercivilisational Dialogue" organised by the IOS in Delhi in April 2005. Dr Alam quoted from Dr Barzinji's address: "Can we really utilise the faculty of faith, this tremendous resource that we have, in order to trigger in our mind and heart and soul, in our organisations in our societies, an operational aspect of this faith, to put that faith in action, to put what you claim to be so much similar among different faiths, to put into action our concept that we are all the children of God, the creation of God. We all have in our heart and soul a breath from the Divine. Can we do that, or are we going to stop listening to each other saying something really beautiful, so heartening, so comforting? We can go home and then forget about it. There is a tremendous challenge for us."

Dr Alam described some of the highlights of Dr Barzinji's 40-year leadership of the Islamic thought movement: Dr. Jamal al-Barzinji was a founding member, a Trustee and Vice President for Research & Publications of the International Institute of Islamic Thought (IIIT).

He had over four decades of progressive experience in development and leadership of diverse organisations (business, educational, think-tanks, political and charitable), such as Mar-Jac Poultry, Safa Trust, Amana Mutual Funds, SAAR Foundation, Bank Islam Malaysia, Dean of School of Islamic Revealed Knowledge and Social Sciences of International Islamic University Malaysia and North American Islamic Trust (NAIT).

He was a founding member of the Association of Muslim Social Scientists (AMSS), and the Association of Muslim Scientists & Engineers (AMSE).

Dr. Barzinji served as advisor and consultant to various educational, charitable and professional organisations. He delivered numerous lectures and wrote articles on various topics on Islamic Thought, Banking, Islamic Movements, Current Affairs, Education and Islamic Presence in the U.S. and Europe.

He held a Ph.D. and M.Sc. in Chemical Engineering, with a minor in Management from Louisiana State University, U.S.A. (1974), and a B.Sc. in Chemical Engineering & Fuel Technology from the University of Sheffield, England (1962).

Dr Alam said that he had consistently been in touch with the Late Dr Barzinji, through personal meetings, phone calls and video conferencing. He described several anecdotes about his personal capabilities, understanding of scientific and sociological issues, his keen observation and remarkable sense of humour.

Dr Alam remarked that he admired Dr Barzinji for three of his outstanding qualities, among many others: "He could deeply inspire the younger generations, could create a rapport between experts and youth, and he was certainly one of the nine people who inspired me for my life."

He ended the address with a prayer for the soul of Dr Barzinji and for sabr, peace and prosperity of his immediate family. A formal prayer was led by Maulana Nadvi for Dr Barzinji's soul and the wellbeing of his family.