News
Fascinating Lecture on Inter-faith Dialogue at IOS Convention Centre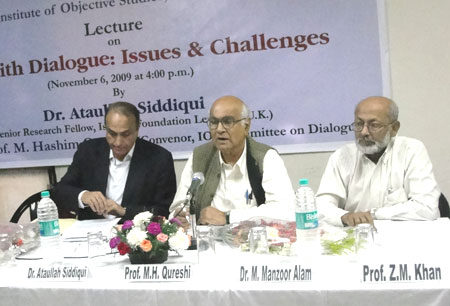 New Delhi, November 6: Europe is steeped in Christian, Judeo-Christian and secular-liberal traditions. Newer immigrants who came in to settle in these countries, bringing in their own religio-cultural traditions, would have to understand this context to have a fruitful dialogue with them.

These views were expressed by Dr Ataullah Siddiqui at the IOS Convention Centre here last evening in a lecture titled "Inter-faith Dialogue: Issues and Challenges". Dr Siddiqui is a senior research fellow at the Islamic Foundation in Leicester, assistant director of the Markfield Institute of Higher Education and a visiting fellow in the Centre for the History of Religious and Political Pluralism, University of Leicester in England.

He traced the history of inter-faith dialogue by briefly describing three stages of the inter-faith movement. The United States of America celebrated the fourth centenary of the discovery of the Americas by Columbus (1492) in 1892. The diverse religious communities that settled America also celebrated the diversity of their faith in 1893 by organising a Parliament of World Religions (which witnessed Swami Vivekananda's fascinating presentation of Hindu belief and worship). He said the Parliament of World Religions would meet again next month in Australia.

The second stage in inter-faith dialogue movement was the creation of International Council for Unitarian and other Religions in 1900. That was another significant advance in the inter-faith movement.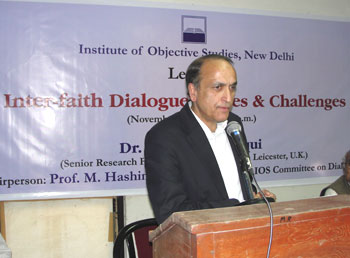 Then, at the height of the Cold War, the Japanese, "who did not want another Hiroshima", took the lead in initiating another programme for peace using the agency of religion. Thus in Kyoto (Japan) the World Council of Religions for Peace came up in 1970.

The issues, from a European perspective (where Dr Farooqui works) are related to integration and fruitful co-existence of people from other faith backgrounds in the majority's Judeo-Christian and Hellinic-secular liberal melieu.

The results of a failure in dialogue is conflict that could be as horrendous as the Nazi Holocaust involving Jews and the Serb decimation of Bosnian and Kosovar Muslims. He pointed out that the Bosnians and Kosovars were not even immigrants like most British, French or German Muslims, but indigenous people. That shows the relevance and urgency of an interfaith dialogue.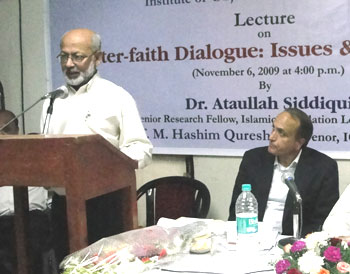 He said Islam recognises the value of aadat (cultural practices) and urf (usage) which makes dialogue with other faith communities easier. Among the challenges he counted the bad press that inter-faith dialogue had got among Muslims. The misperception among many Muslims was that inter-faith dialogue meant giving up one's faith in Islam. He clarified that there could be no inter-faith dialogue until both sides had their faith. "No inter-faith without faith", he asserted.

Another challenge, he said, was the lack of proper education among Muslims regarding other people's faith. There were few experts of other people's faiths and cultural traditions among Muslims, contrary to Christendom, which had a large number of experts on Islam, Buddhism, Jainism and other faiths, besides experts in Arabic and Turkish language and culture, among others.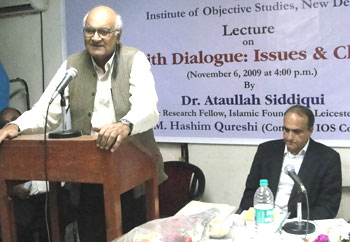 Inter-faith dialogue also involves youth, women, families and communities, he said. He described several experiences of Muslim-Christian dialogue in Europe which had helped in improving mutual relations. European Christians had been generous with their time and funds, without trying to use the opportunity for partisan ends.

The convener of the lecture programme at IOS, Prof. MH Qureishi, said India was in a greater need for such dialogue than Europe as "this country is more diverse" in religion and ethnicity.

The IOS Chairman Dr Mohammad Manzoor Alam said the institute had been organising national and international seminars and conferences over the years. The IOS had not only been holding meets on inter-faith dialogue, but intra-faith debates as well.

The IOS has organised a string of seminars this year that are an exercise in trying to understand Islam in the present context and at present level of human knowledge.

The programme was conducted by Prof Ishtiyaque Danish. At the end of it a lively question and answer session ensued. g