News
Eminent Academic and Activist
Iqbal A. Ansari Passes Away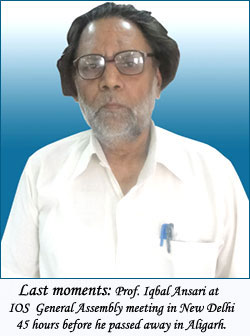 Prof. Iqbal A. Ansari, a towering figure of our times, died at Aligarh on October 13, 2009. At 6 a.m. he complained of restlessness and was rushed to hospital where he passed away soon. He was 74. Prof. Ansari is survived by his wife, two daughters, and three sons.

After an illustrious career as a teacher of English language and literature at Aligarh Muslim University spanning 33 years (1962-1995), he largely concentrated on writing and editing to emerge as a leading thinker and human rights activist.

Prof. Ansari (b. 25 Feb. 1935) after retiring from Aligarh Muslim University as Professor of English in 1995 went on to become a Visiting Professor at Jamia Hamdard (2001-2003) and Jamia Millia Islamia (2003-2004), New Delhi.

Prof. Ansari's major publications includes Political Representation of Muslims in India: 1952-2004, Manak, New Delhi 2006.

Prof. Ansari has contributed a large number of articles to books, periodicals and newspapers. He was actively associated with the human rights and peace movement in India. He was a member of the UGC Panel on Human Rights Education and was the founder Secretary-General of the Minorities Council. He prepared a Report on Communal Riots: Prevention and Control for the National Commission for Minorities in 1999.

Professor Ansari was the editor of the quarterly Human Rights Today. He was awarded Citation of Excellence in 2008 for his significant contribution in the area of promotion of human rights by the Centre of Promotion of Human Rights Teaching and Research (HURUTER)/ School of International Studies, Jawaharlal Nehru University (New Delhi), in collaboration with Society for Disability and Rehabilitation Studies (New Delhi).

He had been associated with the Institute of Objective Studies (IOS) and contributed meaningful to its work. In his death IOS has lost a senior leader and an elder. The IOS Chairman Dr. Mohammad Manzoor Alam in his own behalf as well as that of the IOS commiserated with the bereaved – his wife, three sons and two daughters. In a message he said he stood with them in the hour of their sorrow. May Allah reward his soul with all the bounties of Hereafter and give solace to his wife and children. From Allah we come and to Him we return.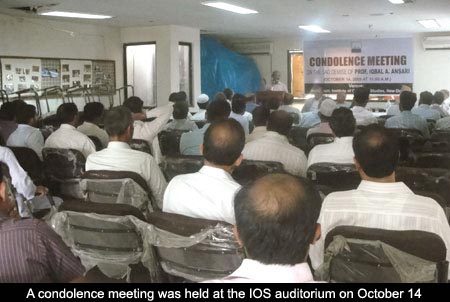 A condolence meeting was held at the IOS auditorium on October 14. Among the community leaders present on the occasion were Maulana Jalaluddin Umri (President, Jamaat-e-Islami Hind), Dr Zafrul Islam Khan (President, All India Muslim Majlis-e-Mushawarat), Syed Shahabuddin (former MP and former President, All India Muslim Majlis-e-Mushawarat) and Dr Mohammad Manzoor Alam (General Secretary, All India Milli Council and Chairman, IOS).

Speakers, including the leaders were unanimous in the conviction that the Muslim community had no other person on whom his mantle would fall. They prayed for his soul and for the solace of the bereaved family.

As IOS Chairman Dr Alam announced that the Institute would hold the seminars planned by him and publish his unpublished work. The fourth volume of his classic Readings on Minorities was due from the printers within the week.

The meeting also condoled the death of another scholar, Maulana Ikhlaque Husain Qasmi, who passed away on October 14.




Landmarks of a Great Life


1. Prof. Iqbal A. Ansari (b. 1935) took his Master's Degree in English from the Aligarh Muslim University, and Post-Graduate Diploma in English Studies from Cardiff (U.K.).

2. He served the AMU (India) from 1962 to 1995.

2.1 He had a teaching assignment for 1½ years (1979-80) at Madina Minwwara branch of King Abdul Aziz University, Saudi Arabia.

3. Because of his versatile background, training and expertise Prof. Ansari taught in the University English language and literature, applied linguistics and New English Writings at undergraduate, postgraduate and research levels.

4. He was actively associated with the ELT Programme of the Department of English, AMU, especially in Curriculum and Course Designing and Materials Production.


4.1 He was entrusted the responsibility of organising the syllabus and teaching programme for the University's B.Sc. Engineering students.

4.2 He took initiative in conducing Short Courses on Spoken and Written English for the AMU students.

4.3 He also took keen interest in reorganisation of M.A. English Literature Courses in the Indian Universities, and contributed seminar papers in this regard.

4.4 Prof. Ansari was actively associated as Resource Person and Director in organising Workshops for Teachers of English in Minority Schools in the AMU.

4.5 In the Faculty of Education, K.A. University, Medina, S.A. Prof. Ansari prepared the English language course material EN-101 for students of B.A. keeping in view the linguistic and pedagogic principles as well as Muslim cultural perspective, which was used there.
5. As Director of the AMU's Centre for Promotion of Educational and Cultural Advancement of Muslims of India, Prof. Ansari took interest in the socio-economic and cultural parameters of education. He organised a conference in this regard. He also organised a Workshop on Indian Muslims in 1991 under his Directorship.

Publication in the area of English Language and Literature.


1. Book: Uses of English, New Statesman Pub. Co., New Delhi, 1978, with a foreword by Mr. C.H. Garwood, Cardiff, U.K. (the book deals with English language and applied linguistics – especially language variation).

2. About twenty articles in books and journals.
Seminars & Conferences etc. related to language and literature
1. Fifteen National Seminars and Conferences.

2. One International Summer School on "Britain 1750-1860 – Creativity and Change" held in Edirburgh, U.K. in 1974.
Position Held:
(i) Convenor, Short Evening Courses, General Education Centre, AMU, Aligarh.

(ii) Director & Resource person for NCERT Workshop for Minority Managed School Teachers.

(iii) External expert on the Selection Committee for teachers of English of the J & K Public Service Commission.

(iv) Director, Centre for Promotion of Educational and Cultural Advancement of Muslims of India, AMU, Aligarh.

(v) External expert on Selection Committees of Bangalore University for the Department of English.
In the light of the above resume Prof. Iqbal A. Ansari may be given any assignment involving.

(a) review of existing courses in English language and literature, (b) designing of new and relevant courses in the area of English language and English Studies in general and in Islamic and Human Rights Perspective.



A Brief Account of Prof. Iqbal A. Ansari's Community-Related and Human Rights Work



1. Edited student fortnightly Tameer from AMU for two years as a spokesman of Islamic viewpoint (1957-59)

2. Joint Editor Dawat Triweekly and Daily of Jamaat-i-Islami Hind during 1959-60

3. Guest Sub-Editor of the monthly Arabia (London) for three months, May-July 1983

4. Resource Person and Director of Workshops for Muslim Educational Institutions for five years

5. Director, Centre for Promotion of Educational & Cultural Advancement of Muslims of India, AMU, Aligarh

6. Member, Institute of Objective Studies, New Delhi


6.1 Actively associated with some of its projects and committees; organised seminars on its behalf


7. Editor, Readings on Minorities (four volumes), a project of the IOS

8. Founder Secretary-General, Minorities Council of India


8.1 Organised on its behalf two seminars on the (i) Problems of Minorities in India and on (ii) Hindu-Muslim Relations in India


9. Studied communal riots in Jabalpur (1961), Ahmedabad (1969) and Aligarh (1978) & (1990) & Salempur (1993)


9.1 Organised a national seminar on "Communal Riots and the Role of Law Enforcement Agencies in India", at Mumbai in January 1994 under the auspices of Citizens for Democracy; as a follow-up engaged in Police Reform and Judicial Reform in India


10. Founder Vice-Chairman, Coordination Committee on Kashmir (Chairman: Justice [Retd.] V.M. Tarkunde)


10.1 Investigated and reported on human rights situation (5 reports) and organised a national seminar on "Kashmir: Problems & Prospects" in Delhi in 1991


11. Life Member, People's Union for Civil Liberties, New Delhi


11.1 Member, National Executive Citizens for Democracy New Delhi


11.2 Member, Amnesty International, London

1. Books :


(i) The Muslim Situation in India (IOS Seminar Papers) Ed. Iqbal A. Ansari, New Delhi, Sterling, 1989

(ii) Reservation for Muslims: Rationale and Modalities (a booklet), New Delhi, Minorities Council of India, 1994

(iii) Ahmedabad Riots – Focus on Dark Corners, (a booklet), Delhi, 1970 – an investigative report and analysis of the riot

(iv) Readings on Minorities: Perspectives and Documents 3 vols., Institute of Objective Studies, New Delhi, 1995 (Fourth volume under print).

(v) Communal Riots, the State & Law in India (unpublished)


2. Articles :
(i) "Muslim Personal Law in India" in Journal of IMMA, Jeddah, Vol. I, 2 and Vol. II, 1, 1979-80

(ii) "Discrepant Perceptions of Hindus and Muslims in India on Communally Sensitive Issues" in Journal of IMMA, London, Vol. II, No. 1 January 1990

(iii) "Aims and Objects of Article 30 of the Constitution" in Tahir Mahmood ed. Minorities and State at the Indian Law, New Delhi, IOS, 1991

(iv) "SAARC Human Rights Commission" in Radical Humanist, Vo. 54, No. 6, New Delhi, September, 1990

(v) "Electoral Reforms" in Radical Humanist, Vol. 54, No. 10, January, 1991

(vi) "Human Rights in India" in PUCL Bulletin, New Delhi, December, 1990

(vii) "Historical Backwardness and Contemporary Poverty" in Parlance, Calcutta, December, 1990

(viii) "The Education System in Islamic Seminaries" (Urdu) in Fikr-o-Nazar, AMU, Vol. 27, No. 3, Aligarh, 1990

(ix) "Sir Syed's Political Creed and Viewpoint" in Sir Syed – A Reappraisal ed. Prof. Atiq A. Siddiqi, Sir Syed Academy, AMU, 1990

(x) "Muslim Women's Rights – Strategy of Reform" in Economic and Political Weekly, Bombay, April 27, 1991, Vol. XXVI, Vol. 17

(xi) "The New Emerging Model for Nation States" in Tahir Mahmood (ed.) Pressing Issues Facing the Nation, New Delhi, IOS, 1992

(xii) "Human Rights Education in India" in Tahir Mahmood (ed.) Pressing Issues Facing The Nation, New Delhi, IOS, 1992

(xiii) "Preventive Detention – Inconsistent with the Rule of Law" in A.R. Desai (ed.) Violation of Democratic Rights in India, Popular Prakashan, Bombay

(xiv) "Indian Muslims and Kashmir", Radical Humanist, Vol. 57, No. 8, November, 1993.

(xv) "Religion and Politics in a Secular State", Radical Humanist, Vol. 58, No. 6, September, 1994

(xvi) "Indo-Pak Relations", Radical Humanist, Vol. 58, No. 7, October, 1994

(xvii) "Reforming Muslim Law", Seminar 416 (Delhi), April 1994

(xviii) "Hindu-Muslim Community Relations", Towards Secular India, Bombay, Vol. I, No. 2, 1995

(xix) "St. Stephen's College Case Judgement", Religion & Law Review, IOS, New Delhi, Vol. III, 1994

Articles in newspapers including Saudi Gazette and leading Indian English Dailies like The Times of India, The Hindustan Times and The Indian Express and those released through FANA on varied subjects like Strengthening Democracy, Modernisation and Islam, Public Violence in India, Human Rights in India, Kashmir: Dialogue for a Fourth Option, Quota Reservations, Muslim Personal Law, Minority Rights & People's Representation Act etc.

3. Seminar etc. in the area of Islam, Muslims, Human Rights, Minorities & Current Affairs:


(i) Twentyfive national seminars and conferences etc.

(ii) Two International: (i) International seminar on "Muslim Minorities in Non-Muslim States" organised by the Islamic Council of Europe sponsored by the O.I.C. Jeddah in London in 1978. (ii) World Congress on Human Rights sponsored by Human Rights Centre Geneva and organised by JNU in New Delhi, December 1990


(Note: This list does not contain most of Prof. Ansari's human rights and community-related academic work done in the present decade). g