News
Milli Council Demands Job Quota


At its 14th annual GA at Manjeri (Mallapuram, Kerala), it passes resolution asking for a Judicial Commission, 10 percent quota across the board, non-military solution to Kashmir tangle, statehood for Palestine and withdrawal of NATO forces from Afghanistan, among others.

Manjeri, December 11-12: A two-day conference of the All India Milli Council was held here in this picturesque town of Kerala where delegates from all over India deliberated over issues concerning Indian Muslims.

In his welcome address the convenor, E. Abu Bakr, said it was a day of rejoicing for Kerala's Muslims, who had the opportunity to host the 14th General Assembly meeting. He said Manjeri, which was a centre of Independence struggle during British Raj, was particularly lucky to have got this opportunity.

He expressed disappointment at the turn of events after the country got its freedom. The denial of justice to the weak was particularly galling: "As the destroyers of Babri Masjid and mass killers of Muslims are roaming free even after 18 years, attackers of Akhshardham were quickly tried and sentenced". Selective justice was no justice at all, he remarked.

The anomaly ran across all areas of life as Indian citizen. "Every bomb blast is reflexively, unthinkingly and spontaneously attributed to some Muslim group within seconds of the event, even though most of them are later traced to Hindutva groups". Again, reflexively and spontaneously hundreds of Muslim youth were thrown behind bars and tortured endlessly to extract false "confessions" out of them as the Hindutva terrorists, who were the actual culprits, were allowed to move around freely.

"The discrimination runs through the entire gamut, including jobs. In Kerala, Muslims have only 9 percent of the jobs, even though their population is between one fourth and one-third of the total; in West Bengal only 2.5 percent of us are in government jobs, although we are 33 percent of the population", he pointed out.

He said much of the current problems of Muslims were the creation of a nexus between Hindutva ideology and a powerful section of bureaucracy. The so-called "secular parties", too, were responsible for the sad state of affairs as they did not go beyond using the BJP as a scare crow to attract the Muslim vote.

He said under the Milli Council's "Remove Hatred, Save the Country" programme they would carry the message across the nation. "Muslims cannot be fooled any longer. We should struggle with courage and hope, seeking the solution to our problems within the constitutional and legal framework. We have to shed hopelessness and dream for a bright tomorrow for India and Indian Muslims", Mr Abu Bakr concluded.

In his presidential address, the head of Milli Council, Maulana Abdullah Mughaisi, said that Muslims did not have to keep quiet in every situation howsoever grim or unfair. "We have to speak up, intervene, or support other organisations that take up the issue".

The Milli Council always made it a point to draw the attention of the governments at Centre and states to serious concerns, although it never claimed or desired to address each and every concern. He commended General Secretary Dr Mohammad Manzoor Alam's initiative in this regard.

The Milli Council President said its functionaries should not merely be sitting tight in Delhi or state headquarters, but fan out across the country up to villages and hamlets.

"Nobody is perfect. We too are prone to mistakes and oversights, have our own limitations and constraints. We shall take stock, remove our weaknesses and forge ahead with new vigour and hope", Maulana Mughaisi stated.

The National Treasurer, Mr Mauji Khan, presented the balance sheet of last year and the budget proposal for the next year, which was debated and passed at a separate session.

The General Secretary, Dr Mohammad Manzoor Alam, made some observations, parts of which are contained in the document "Call For a Second Independence Movement" (See document: Call for a 'Second Independence Movement').

A lively session of observations and analysis by General Assembly members and office-bearers of state units followed the inaugural proceedings. Maulana Dr Yasin Ali Qasmi, one of the Vice-presidents of Milli Council, observed that there was "wasail ki kami aur masail ka ambaar" (shortage of resources and plentitude of problems) before the organisation. With meticulous planning and judicious allocation of resources, the organisation would pave the way for Indian Muslims to be equal shareholders in the country's resources and its governance.

Maulana Rizwan Ahmad Qasmi Tarapuri wondered as to why was the Milli Council unable to do something concrete about the hundreds of mosques lying idle in Gujarat after the 2002 anti-Muslim pogrom. He was particularly worried about the 63 mosques in Panchaner, nine of which were World Heritage sites of UNESCO. No prayer was allowed in these mosques by the government which said these were "protected monuments" of the Archaeological Survey of India.

Mr Wasi Ahmad Shams from Bihar gave a pep talk about being optimistic, while Engineer Iqbal from Hyderabad made some trenchant remarks about the less-than-perfect functioning of the Council. While lauding its role in Women's Reservation Bill, he criticise its "inaction" regarding armed forces excesses in J&K and the implications of growing Indo-Israeli ties. He was also sore about what he saw as Milli Council's inaction regarding Hindutva propaganda about "Muslim terrorism" even as Hindu groups themselves were found involved in numerous acts of terror.

The General Secretary, Dr Mohammad Manzoor Alam, took to the stage to explain the situation to critics as the organisation's senior most executive. He began with the advice: "Our brothers, and the lone sister sitting in that corner over there! You are advised to look at issues with some sensitivity, but never with sentimentality". He went on to tell the gathering to be courageous, not reckless. "Also, Milli Council is about the Millat – all of us – not a particular individual or group of individuals".

Mr. K.M. Ashraf, Advocate, General Secretary of Kerala unit of All India Milli Council, proposed a vote of thanks.

Another session was particularly devoted to the election of new office-bearers. The members elected to retain the top leaders, including the president, general secretary the national treasurer and some others. More vice-presidents were added this year (See inset: Office-bearers).

At the end of the two-day conference they passed the following 14-point resolution.

RESOLUTION

The Manjeri Conference passed a 14-ponit resolution on the following issues:

1. Formation of a Judicial Commission It was regarding a long-standing AIMC demand for a commission under a sitting High Court judge or a retired Supreme Court judge to look into all episodes of mass violence against minorities and weaker sections by Sangh, and atrocities by security intelligence agencies and a communalised bureaucracy. It was deemed especially important as Hindutva elements had been committing acts of terror for which Muslim youth were being blamed.

2. Corruption in Public Life The conference noted that corruption had pervaded all branches of the state, from executive to judiciary to legislature. It made an appeal to the government, opposition and society at large to combat it. Milli Council would also go out on a countrywide awareness-building caravan against this evil and allied issues of national interest.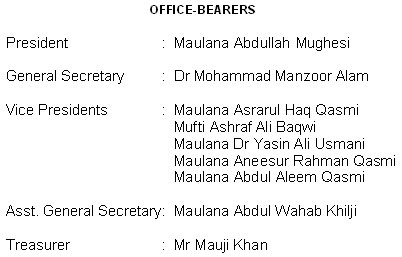 3. Plea to End Discrimination The conference pointed to a glaring lack of representation of Muslims in law-enforcing agencies and demanded that government must act to rectify it. It also wanted firm action against people spreading hatred and violence against Muslims and other weaker sections.

4. Implementation of Minority Welfare Programmes The conference took note of the poor implementation of programmes of Ministry of Minority Affairs and the Prime Minister's 15-Point Programme meant for the uplift of Muslims. The lack of a proper monitoring committee with representation of Muslims (along with government officials and public representatives) had also rendered these programmes ineffective. The conference demanded such a broad-based monitoring committee.

5. Disruption of Parliamentary Activity The conference regretted the loss of hundreds of crores of public money due to disruption of parliamentary proceedings over the 2G scam. It demanded a quick resolution to this logjam and asked legislators to rise above party politics to solve this problem and help in bringing the scamsters to justice.

6. Quota for Muslims in Central Government Jobs The conference demanded a flat ten percent reservation for Muslims in Central government jobs on the lines of West Bengal's quota for Muslims.

7. President Obama's Visit The conference approved of the visit of US President Barack Hussein Obama, at the same time cautioning India against being too closely identified with US foreign policy and its unjust wars, its economic and military hegemony. The General Assembly members favoured a return to India's socialist and Non-Aligned policies.

8. Internal Autonomy to J&K The conference asked the Government of India to withdraw armed forces from the populated areas of Jammu and Kashmir to allow peaceful life to return to the benighted state. It also demanded the restoration of internal autonomy of the state that it enjoyed in the early years after ascension to the Union of India as per constitutional guarantees.

9. Teaching of Urdu Language The conference demanded from the union and state governments to provide for the teaching of Urdu in schools in areas where Urdu speakers reside. As a national language under Schedule 8 Urdu had to be the medium of instruction in all such areas and Urdu schools must be opened in larger numbers to cater for the growing need.

10. Release of Abdul Nasir Madani on Bail The conference called upon the Government of Karnataka to immediately release Mr Abdul Nasir Madani, the Chairman of Peoples Democratic Party, who has been languishing in Bangalore jail since Ramadhan on the fictitious charge that he abetted the culprits behind Bangalore bomb blast. Mr Madani had spent more than 9 years as a remand prisoner in Coimbatore jail on a cooked-up charge in the Coimbatore bomb blast. The Kerala Legislature unanimously passed a resolution then to grant him bail and Madani was later acquitted after a prolonged legal struggle.

The BJP Government of Karnataka is trying to divert attention from the corruption charges and the anti-minority antics of RSS out-fits like Sri Ram Sena and using the Bangalore blast as an excuse to harass the Muslim organisations and activists, the resolution said.

11. Support to Palestine The conference demanded that the Union government, instead of keeping quiet over Israeli aggression against Palestinians, should work towards a peaceful resolution of the problem and creation of an independent Palestinian state.

12. Solidarity with Iran The conference asked Government of India to refrain from backing the Western aggression against Iran and respect its national will to live with dignity.

13. Withdrawal of NATO Forces from Afghanistan The conference demanded an immediate end to US-led occupation of Afghanistan and withdrawal of NATO forces.

14. Concern Over Disarray in Pakistan The conference expressed concern over the chaos in Pakistan and asked its leaders to improve their ties with neighbours.

(Courtesy: http://www.aimcnd.org/Milli_Council_Demands_Job_Quota.htm)