IOS DISCOURSE
Scintillating Presentation by Dr Shariff
Deals with ways of increasing inclusion and creating equal opportunity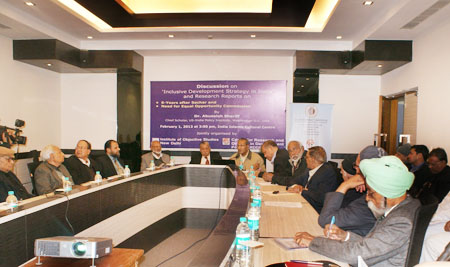 New Delhi, January 1: Eminent development economist Dr Abusaleh Shariff, principal author of the Sachar Report and chief scholar US-India Policy Institute (Washington), made a scintillating presentation on "A Vision for India: Equality, Duty and Equal Opportunity" here at the India Islamic Culture Centre.

Dr Shariff, who had been ailing for sometime, presented some key points of his larger report, deciding on an abbreviated version because of his health. He focused on what held back efforts to extend inclusion of marginalised groups, particularly Muslims, in economic development.

Placing the "local" perspective within a macro picture, he pointed out three major factors that curtailed the access of the excluded to benefits, entitlements and the general social and economic good. Firstly, "societal factors are sustaining exclusion", he asserted.

By "societal factors," he explained, he meant caste formations, religious and ethnic groupings and the like to be naturally excluding. Some were, and had been, powerful for decades and centuries, while others remained dispossessed and disadvantaged. This had to be redressed for creating an inclusive economy, polity and society.

Secondly, most of the action (and exclusionary process) was taking place locally, that is in certain locations. "Panchayats and municipalities are under elite capture", and the deprived would have to learn to act there to address the issues. Local activism by minority groups would be of help.

Thirdly, Dr Shariff said, the local-level bureaucracy's ineptitude and rampant corruption were also responsible for lack of inclusion. As remedial measure, he said, "Empower (formally) newly marginalised and excluded communities and help them get a place in local-level institutions."

He also advised creating "new types of social and political leadership," promoting civil society and helping the marginalised integrate.

Talking about post-Sachar policy initiatives he said, because of uneven and ill-conceived policies there was no measureable impact. Though there were some overall improvements in outcome measures, the earlier retarding trend for Muslims continued.

He said the Ministry of Minority Affairs had no major role to play in the inclusion of marginalised groups. This had something to do with the mainstreaming of the excluded, which was related to half a dozen significant ministries and departments, besides civil society and society itself. Mainstreaming, not ghettoisation was the answer, Dr Shariff explained.

The Muslim population in 90 districts earmarked as minority inhabited had very little access to banks, and the Minority Affairs Ministry did not have much to offer there. It happened quite often that Central funds meant for the minorities is such districts reached up to district headquarters, but there was no idea whether it reached the villages and casbahs where the intended beneficiaries lived.

He stressed the need for having a diversity index for public and private sector companies, government jobs, government, legislature and state-appointed commissions and committees. The diversity of the population must be reflected in economic, social and political life of the country. For that the establishment of an equal opportunity commission would be required.

Dr Shariff advocated a better and more rigorous monitoring of uplift programmes, more efficient mechanism for distributing scholarship funds for minorities and Muslims students and greater representation for them in local bodies.

Prof. Amitabh Kundn of JNU endorsed the views of Dr Shariff. He said the government programmes of Muslim uplift were often ill-conceived and shoddily administered. He cited the case of Minorities Finance Development Corporation, 85 percent of whose annual budget was spent as establishment cost. The rest 15 percent was of no consequence, he concluded.

Dr Shariff's presentation was part of a larger research, jointly carried out and funded by the Institute of Objective Studies (IOS) and US-India Policy Institute.

The IOS Chairman, Dr Mohammad Manzoor Alam, said that relative to other faith groups, Muslim community had been in perpetual decline since Independence. He said discrimination against Muslims on religious grounds was a constant feature of life for the community. The case of Dr Syed Hasnain was a glaring example of such discrimination.

Dr Hasnain figured twice as the prospective Chairman of the University Grants Commission at the top of the Selection Committee's list, but somebody else was finally appointed chairman and quickly handed over charge on a Sunday, Dr Alam said. In a situation like that, it was quite understandable that Muslim educational institutions were denied government recognition for years.

In his presidential remarks former Chief Justice of India, Justice A.M. Ahamdi, said that despite all difficulties Fundamental Rights were alive and well in India. He said the country was established as a socialist republic. However, over the last couple of decades it had drifted away from that socialist anchor, which had led to so much of trouble. This had hurt the Muslims more than others.

The programme was conducted by Prof. Afzal Wani of Indraprastha University.