News
2-DAY IOS-IAECF MEET RECOMMENDS
ISLAMIC VENTURE CAPITAL FUNDS IN INDIA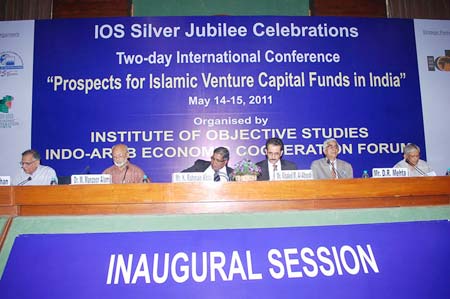 L-R: Prof. Z.M. Khan, Secretary General IOS; Dr. M. Manzoor Alam, Chairman IOS; Mr. K. Rahman Khan, Hon'ble Deputy Speaker Rajya Sabha; Mr. Khalid M. Al Aboodi, CEO and General Manager ICD, Jeddah K.S.A.; Mr. D. R. Mehta, Former Deputy Governor of RBI and Chairman of SEBI; Dr. Ausaf Ahmad, Finance Secretary IOS
New Delhi, May 15: A two-day international conference on "Prospects for Islamic Venture Capital Funds in India" that concluded here today was of the opinion that in the fast-growing economic environment of India Islamic venture capital would be a significant source of funding innovative start-ups and other business enterprises.

The programme attended by delegates from the US, Middle East, Southeast Asia as well as from all over India, began with recitation from the holy Quran by Maulana Abdullah Tariq.

In his welcome address, Institute of Objective Studies (IOS) Finance Secretary Dr Ausaf Ahmad presented a brief history and profile of the two collaborating organisations – IOS and Indo-Arab Economic Cooperation Forum (IAECF).

In his elaborative introduction of the IOS its General Secretary Prof. Z M Khan observed that the Institute had been, over the last 25 years, busy "creating a mediational space" between government, people and institutions. For that purpose, it had been collaborating with government departments, universities, IIMs, IITs, Islamic research foundations and organisation like IAECF.

"Naturally, over the years acceptance of, and expectations from, IOS has been growing". The attempt at creating a mediational space was based on constitutional values and Islamic worldview, he said.

In his address titled "A Few Words", IOS Chairman Dr Mohammad Manzoor Alam emphasised the supremacy of the Indian Constitution in public life.

He said for a just and fair order in public life, moral values had to guide all human transactions. This guiding principle had been ignored before every economic disaster, like the recent economic meltdown of 2008 and 2009 in most Western countries.

Behind that massive failure lay the monumental greed, irresponsibility and immorality of the Wall Street. He said Islamic finance (including Islamic venture capital) avoided greed, irresponsibility and immorality. Hence it provided a better alternative.

Venture capital investments were by nature high risk. The Islamic venture capital lessened the risk by dividing it between the investors, managers and entrepreneurs according to differently structured specifications.

In his inaugural address, former Deputy Governor of Reserve Bank of India (RBI) and Chairman of Securities and Exchange Board of India (SEBI), D R Mehta observed that such conferences provided alternative thinking and different economic models. "Being a rainbow society, we must be given the choice between economic models".

He said some "concrete steps" had to be taken to promote the concept of venture capital in view of its potentials as a "financial intermediary" between innovation and entrepreneurship.

He pointed out that the choice to invest in established companies was easier, but "VCs are dare-devils with deep pockets".

Playing a high-risk game, "Venture capital institutions are financial bodies that analyse risk and benefit closely. They are highly selective and there is no free flow of money. It would not happen. Never".

"Venture capital is in consonance with Islamic values. Every society has its values, and Muslims have theirs, which suits VC", Mr Mehta observed.

The best example of venture capitalism, Mr Mehta said, was Silicon Valley in the United States, where innovators got huge VC to finance start-ups, which went on to create the Information Technology revolution.

Mr Mehta advocated the case for higher levels of venture capital investments in India as it promoted science and its movement into technologies and production. Today, venture capital fund investments in India stood at mere Rs. 47,859 crore, which was "only one-tenth of the desired level".

Mr Mehta talked about a welcome change in the attitude of IIMS and IITs graduates, many of whom no longer wanted to be just well-paid employees, but entrepreneurs. In an entreprenial environment, venture capital was a crucial element.

"VC is in harmony with Islamic principles. Invest in equities, not in debt. Rules and regulations have to change to take advantage of the new business climate. Laws that don't work any longer must go."

For Islamic venture capital to find its feet in India, the Muslim community in the country had to take the initiative, Mr Mehta said. "There are good Islamic Venture Capital Funds in UAE and Malaysia, and they should be invited to set up offices in India", he advised.

"Young people have innovative minds, but not money. They can be helped with smaller funds. VCs can be incubators for innovation in technical institutions and universities. It is happening in the US."

In India, the Muslim community's rich people must come forward for this. Such action had been facilitated by Kerala High Court's verdict allowing non-interest banking.

The guest speaker Khalid M. Al Aboodi, CEO and General Manager of Islamic Corporation for the Development of Private Sector (ICD), a subsidiary of Islamic Development Bank (IDB), Jeddah apologised for the IDB Chairman's inability to attend the conference.

He thanked the organisers (IOS-IAECF) for inviting the ICD to the conference. He emphasised the growing need for Islamic capital providers and entrepreneurs. Such arrangements for capital providers and entrepreneurs under a modaraba agreement were in vogue even before Islam in the Middle East.

Islamic Venture Capital Funds started in 1995 and today there were a hundred such funds with several hundred billion dollars in investment, Mr Al Aboodi said.

In his presidential remarks Deputy Chairman of Rajya Sabha K Rahman Khan praised IOS for 25 years of work on issues of national and community concern, which included issues of economic wellbeing.

IOS had produced "voluminous work" on these issues. "Islamic finance is useful for all humanity, not just Muslims as the Quran addresses the human kind, not Muslims alone," Mr Khan remarked.

He said Islam demanded that all economic transactions should be justifiable, equitable, truthful and fair. "Interest-taking is not fair, and some of the SEBI regulations would have to be changed to allow Islamic venture capital. As India is going to grow steadily for another 50 years, it would be pertinent to have more investment of funds, including Islamic Venture Capital Funds," he concluded.

After the inaugural session two panel discussions followed consecutively. The first, titled "Global Trends in Venture Capital and Private Equity (VCPE)" was chaired by Rudy Yaksick, partner, Concord Capital Partners LLC, USA.

In his opening remarks, Mr Yaksick dealt with the strengths and weaknesses of conventional venture capital and Islamic venture capital. He showed the latter to be more desirable.

Dr Ashok Haldia, Director PTC Financial Services Ltd, New Delhi, observed that venture capital, even if it was not manifestly Islamic, had all the marks of Islamic finance.

Dr Ausaf Ahmad, former head, Special Assignments Islamic Development Bank Jeddah, and at present Finance Secretary IOS, looked at the history and present situation of Islamic finance and found it viable.

Prof. R J Masilamani of the Institute of Management Studies said Islamic Venture Capital Fund would be of great significance for India and China.

Mr Masilamani said that the finance scene was shifting from traditional markets to emerging markets. "Brazil is producing 81 percent value appreciation on investment funds while India is producing 51 percent. Venture capital is more important in such a scenario," he averred.

He said that one of the major reservations of VC investors was that exit was not easy. Unstable regulatory environment was another disincentive. Disregard for Intellectual Property Rights was yet another deterrent.

He said that India's IT revolution claims were not always credible. "We do not have a single semi-conductor factory, while Malaysia has six".

He advised that the horizon for exit should be made ten years from the current 2-4 years. Also returns on investment should be 40 percent rather than 25 percent.

Ali M Shervani, Director Islamic Finance Miftah Advisory India Private Ltd, New Delhi, explained the intricacies of venture capital and its scope in India.

Ravi Kishore, Secretary General, Indo-Arab Cooperation Forum had some candid remarks to offer on the issue. He said that in India venture capital was extremely difficult for bright young innovators to get. "Everybody demands a good track record before agreeing to invest venture capital. Naturally, young innovators would not get it."

He wanted that SEBI should clearly lay it down that a good percentage of VCs go to innovators at lab stage, start-up and IPO stage. All of it should not go to old and established companies alone.

The second panel discussion, the last session of the first day was Chaired by Dr Ausaf Ahmad. it was titled "Venture Captial Funds in Islamic Perspective."

The tone for the discussions was set by Dr Ahmad in his opening remarks. The other discussants— Khaled M. Al-Aboodi, Dr Javed A Khan, MH Khatkhatay and Dr Arshad Ajmal talked about the practical dimensions of venture capital.


DAY II (May 15, 2011)


The second day's discussions began as Panel Discussion III, titled "Venture Capital Funds in Islamic Perspective II". It was chaired by MH Khatkhatay, founder Tasis, Mumbai.

He began the proceedings with his opening remarks on venture capital landscape in India and the procedures for and prospects of Islamic Venture Capital in India. Among the panelists were Rudy Yaksick, Imtiyazur Rahman (President and Chief Financial Officer, UTI Asset Management Co. Pvt. Ltd. Mumbai), H Abdur Raqeeb (General Secretary, India Centre for Islamic Finance, New Delhi) and Shadab Mobin (former Consultant, National Entrepreneurship Network, New Delhi).

The next session was Panel Discussion IV, with the theme "Prospects for Islamic Venture Capital in India".

In his presentation on VC Funds in Islamic Perspective, Imtiyazur Rahman said that in 2010 VCPE investment in the world stood at $ 180 billion, 20 percent of which was invested in India.

He made a case for private equity and against debt.

The valedictory session was chaired by Dr Mohammad Manzoor Alam, Chairman IOS.

Dr Tahir Beg, Chairman of Islamic Economics and Development Studies, Bareilly, made a power-point presentation in which he pointed out that the interest-based economy was at the base of all trouble and made the case for an alternative economic model.

Dr Shariq Nisar, Director (Research and Operations) Tasis, Bangalore, tried to demystify the intricate workings of the financial market and locate Islamic venture capital fund in it.

In the valedictory address, President of Institute of Chartered Accountants of India, New Delhi, G. Ramaswamy, emphasised the compatibility of modern investment and business practices with Islamic finance. He offered to provide a team of five to six ICAI persons to work with an equal number of IOS experts on project of evolving viable modes of Islamic venture capital funding in India.

The IOS Chairman announced that he was trying to form a committee consisting of DR Mehta, Ravi Kishore, Dr Ausaf Ahmad and MH Khatkhatay to study the issues with the proposed team of Mr Ramaswamy.

In his presidential address, Dr Mohammad Manzoor Alam said the IOS would deliberate on these issues of concern over the next 12 month of jubilee celebrations.

"Islamic venture capital fund is not for Muslims alone. It is for all of us," Dr Alam said.

IOS would invite the best people from India and abroad and make a committee to work on the issue. "However, it is not the job of IOS alone. The society must join hands with us," he said.

The conference passed a number of resolutions, which were read out by Prof Naushad Ali Azad, former Dean, Faculty of Social Sciences, Jamia Millia Islamia, New Delhi.

The following resolutions were passed at the conference:

1. This conference noted with satisfaction the current progress of Islamic banking in theory and practice. It was gratified to note that many countries in Western hemisphere have taken necessary steps to allow various financial institutions to adopt Islamic product and practices. However, it regretted that progress in India in this respect leaves a lot to be desired.

2. The conference appealed the government of India to take necessary steps in this connection so as to lay foundations of a leveled playing field in economics and finance in which all players may take part in a fair and just manner. The conference appreciated the fact that India is a democratic country and its democratic institutions and path have stood the test of time. The democratic character of the country demands that various groups of people must have the freedom to develop financial institutions in accordance with their belief patterns and normative values.

3. The conference appealed the regulators, business corporations, investors and all others concerned to make use of venture capital funds. The conference underscored the role of venture capital funds to provide for the financial needs of new firms which have a vital role in promoting productive capacity, employment in the economy. The promotion of Islamic capital venture funds may attract more investment to this country and may direct investment towards desired directions.