News
IOS Lecture on Crisis of Quality of Knowledge Systems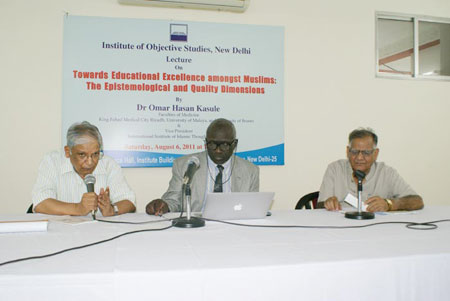 L-R: Dr. Ausaf Ahmad, Finance Secretary, IOS; Prof Omar Hasan Kasule, Professor of epidemolgy and bioethics, faculty of medicine, King Fahad Medical City; Prof Z.M. Khan, Secretary General, IOS
New Delhi, August 6: A thought-provoking presentation on "Towards Muslim Educational Excellence: Epistemological and Quality Dimensions" was made here by Prof. Omar Hasan Kasule, professor of epidemolgy and bioethics, faculty of medicine, King Fahad Medical City; university of Malaya; University of Brunei; chairman of the Institutional Review Board KFMC, and head of Knowledge Exchange and International Collaboration, faculty of medicine, KFMC.

Dr. Kasule said that for Muslims all over the world there was a "crisis of duality" at the heart of higher education that gives Muslim a schizoid mind as this education frequently contradicts what they have learnt at the mosques and madarsas.

This duality has to be reconciled before the issue of quality is taken up. He wanted a single epistemological framework covering all knowledge – "secular and religious" – to overcome the problem. He called for "an integrated curriculum that fits in with the tawhidic paradigm".

By tawhidic he meant a unified perspective that took in both secular and religious knowledge. He said good minds in different natural and social sciences that are well-versed in Islamic tradition should work on the idea.

The second aspect, he said, would be improving the quality of our knowledge. The search for knowledge should also be a search for excellence, which he translated as ihsan, a highly regarded value in Islam.

Ihsan, he elaborated, is the highest point of perfection of iman (faith). Excellence must be the hallmark of everything that a Muslim does, including the pursuit of knowledge.

Premier universities already have quality assurance departments, but new institutions also need to have them. His paper contained the details of a quality assurance system prepared on the basis of his 15-year experience in a South-East Asian university.

He said the issues of epistemology and unification of perspective on knowledge must be addressed for the ummah to revive. "Revival of Islam is already visible but it will take generations to carry it to the highest point of perfection". A single lifetime would not be enough, and the reconstruction of the ummah requires immense patience and fortitude, he concluded.