Shah Waliullah Award-2011 presented to Dr. M.K.A.Siddiqui

On 22 December, 2012 at Bhartiya Bhasha Parishad, Kolkata



L-R: Prof. (Dr.) Rahim Khan, Ex-Principal, Bangabasi College, Kolkata; Dr. M.K.A. Siddiqui, Ex-Superintending Anthroprologist, ANSI, Kolkata; Dr. M. Manzoor Alam, Chairman, IOS; Maulana Qari Fazlur Rahman, Imam Eidain, Kolkata; Prof. (Dr.) Syed Manal Shah Al Qadri, Vice-Chairman, W.B. Urdu Academy; Prof. (Dr.) Imtiaz Ghulam Ahmed, Ex-Dean, Faculty of Law, Calcutta University
A ceremony for the presentation of Hazrat Shah Waliullah Award of the IOS for the year 2011 on the topic "Sociology/Social Anthropology in Islamic Perspective" to Dr M.K.A. Siddiqui, a noted Anthropologist, took place in the glittering hall of the Bhartiya Bhasha Parishad at Shakaspeare Sarani, Kolkata on Dec. 22, 2012. The hall was fairly crowded and a large number of distinguished personalities from all walks of life in the city came to attend the event and to felicitate the scholar for his significant contribution in the field of Sociology and Social Anthropology. What distinguishes Dr. Siddiqui from other scholars is that he discusses apparently controversial and conflicting issues in convincingly logical and Islamic perspectives. A scroll of honour was presented to him along with a memento and a cheque of Rupees one lakh. All the speakers present, acknowledged Dr. Siddiqui's academic achievements, his contribution as a scholar, researcher, and administrator and as an author of a number of books devoted to the topics of great contemporary relevance. His devotion to the cause of social harmony, inter-community relationship and the problem of socio-economic development, using the tools of sociology and cultural anthropology, through his numerous publications was admired by all the speakers in the meeting.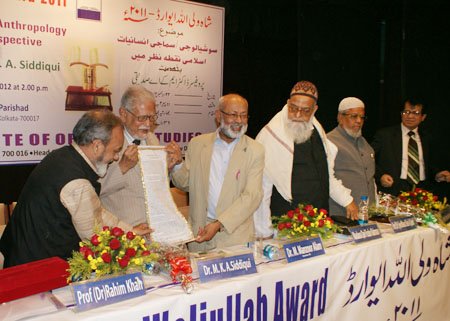 A view of presentation of Citation to Dr. M.K.A. Siddiqui
Dr. M. Manzoor Alam chairman of the IOS who presided over the meeting in his speech, brief but full of emotions, wondered at the general apathy in Calcutta towards Ulema and Scholars and towards the problems that confront the society. He said that our future is unsafe without research and continuous quest for knowledge. We must learn to give due respect to sincere efforts to collect knowledge and to make its appropriate use, bringing about unity within the fold of the community. This is the crying need of the hour in this metropolis.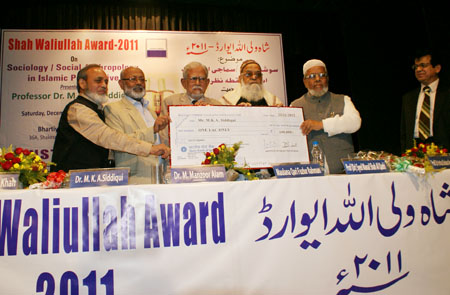 Dr. M.K.A. Siddiqui receives chaque of Rs. 1 lakh
Qari Fazlur Rahman, imam –e-Eidain earlier congratulated Dr. Siddiqui for his tireless research and academic activities for about half a century who has brought about a number of publications of great importance. He lamented that this city has lost it quality of patronizing ulema, poets and scholars. He said this practice must be reversed.

Prof (Dr) Manal Shah Al Qadari vice chairman Urdu Academy recounting his old association with Dr. Siddiqui paid a glowing tribute to his devotion to academic pursuits and research work in the field of education, sociology and anthropology. According to him, the award has not only brought honour to him but also to the city, which is a matter of pride for the people of Calcutta.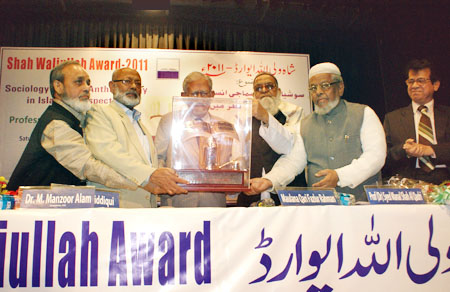 Dr. M.K.A. Siddiqui receives Shah Waliullah Award 2011
Prof (Dr) Imtiaz Ghulam Ahmed Ex-Dean Faculty of Law, University of Calcutta, who delivered the inaugural address, paid tribute to Dr. Siddiqui for his devotion to research work in the subject of his specialization for about half a century. The work published in the form of some 36 books, monographs and about 150 papers are very much relevant to the society and the community. The contents of these publications are based on theoretical knowledge, on logic and most often on data drawn from laborious field work. He is often criticized for being meticulously therotical in his works but in my view, that is the real merit of his work.

Dr. Siddiqui in his address expressed his gratitude for the honour conferred upon him. It is more so for the reason that it has an association with the name of a towering personality of Hazrat Shah Waliullah who provides guidance to us both in religious and temporal matters. His equilibrium theory alone makes him a predecessor of Marx. Dr. Siddiqui spoke on the topic "Sociology /Social Anthropology in Islamic Perspective" copies of which were distributed to the audience.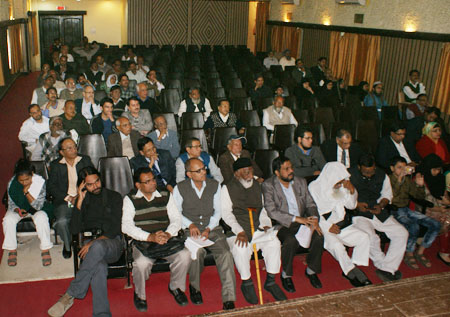 A view of audience
The scroll of Honour was earlier read out by Mr. Sohail Ahmad of Doordarshan before it was ceremonially handed over to Dr. Siddiqui. The programme started with the recitation from holy Quran by Mr. Abdul Basit Ismail, Principal, Jibreel International School, Kolkata. He also worked as an anchor. Prof. Abdur Rahim Khan ex-principal Bangabashi College proposed the vote of thanks.