Syed Mustafa Rifai Presented 10th IOS Shah Waliullah Award

August 23, 2014 at Bangalore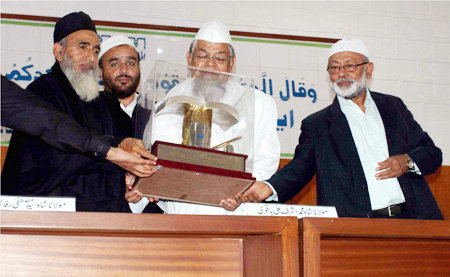 The Institute of Objective Studies organised a one-day national seminar on "Islamic sufism" and presentation of IOS Shah Waliullah Award 2012 at the Conference Hall of Darul Uloom Sabil-ur-Rashad in Bangalore on August 23, 2014.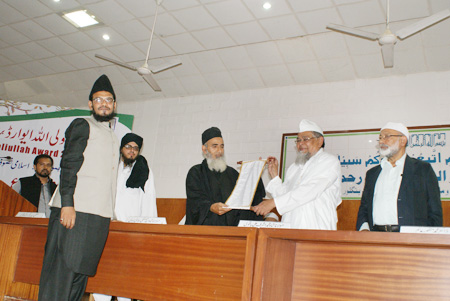 Presiding over the function Hakim-ul-Millat, Amir-e-Shariat Karnataka, Hazrat Shah Mufti Mohammad Ashraf Ali Baqvi, explained that Islamic thought connoted faith and action. These elements were needed to beautify everything. He insisted that the life of a Muslim should always reflect that he constantly believed in the greatness of Allah.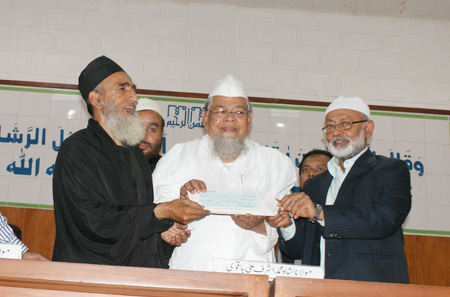 If this continued to dominate the life of a Muslim, he would desist from committing sins. He said that sufism is a way of life. Referring to the activities of the IOS, particularly the popularisation of the philosophy of Shah Waliullah, he said that he was impressed by its endeavours. He assured IOS of his full cooperation and extended his good wishes to it.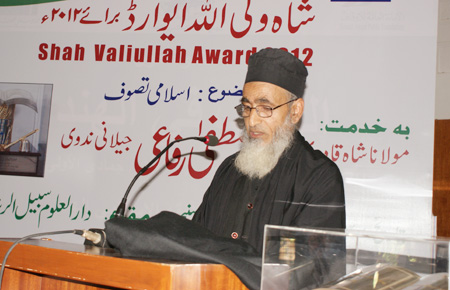 Earlier, presenting the Tenth IOS Shah Waliullah Award with a cheque of One lakh rupees and a memento to Maulana Shah Qadri Syed Mustafa Rifai Jilani Nadvi, for his contribution to sufism, the Chairman of the IOS, Dr. Mohammad Manzoor Alam, stated that Shah Waliullah Award was not just an award but rather a movement aimed at shaping up our future and setting high standards of human values.

He informed that the award was given to eminent persons selected by a jury.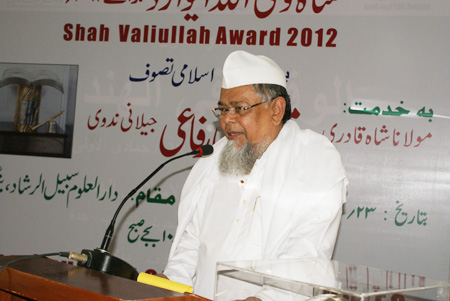 This award was instituted in 1999 and so far 9 personages, including Hazrat Maulana Abul Hasan Ali Nadvi, Qazi Mujahidul Islam Qasmi, Prof. Nejatullah Siddiqui and Dr. MKA Siddiqui, have been honoured with this award. Dr. Alam noted that Shah Waliullah Award promoted a concept that stood for the preservation of composite cultural heritage.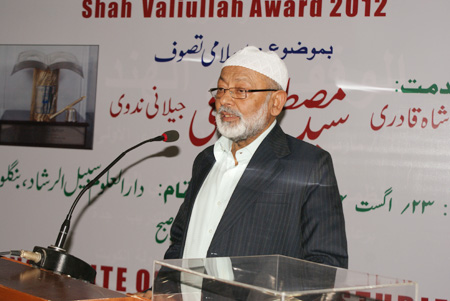 Shah Waliullah added a new chapter to Islamic studies by rendering Quran into Persian and penning a commentary on it. His works on fiqh, sufism and Islamic philosophy are acclaimed even today. His times were witness to despair and degeneration of Islamic teachings. He mustered courage to restore these values by his writings on the Quran, Hadith and Sunnah. He exhorted all sections of society to shun bad habits. He issued guidelines for rulers and nobles.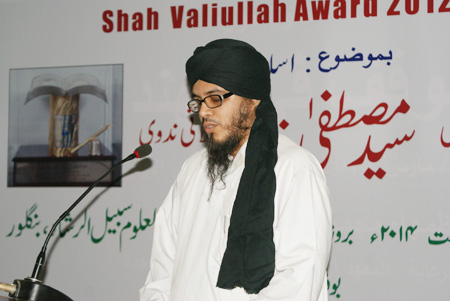 While Syed Baqar Arshad Qasmi from Bangalore made introductory remarks, Mr. Sulaiman Khan from Bangalore presented the welcome address. Shah Qadri Syed Mustafa Rifai Jilani Nadvi delivered his lecture on sufism. He dwelt at length on the subject in the light of the holy Quran and Hadith. He explained how sufism could be made a way of life.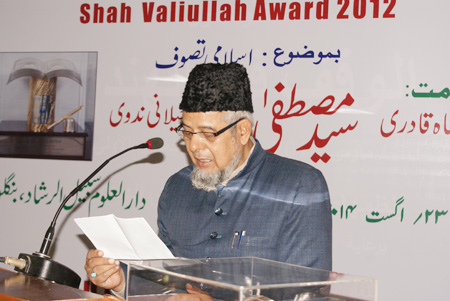 Maulana Dr. Zahir Ahmad Rahi Fidai Baqvi spoke on "Importance of Sufism in the Contemporary World", Dr. Tabish Mehdi from New Delhi, presented his paper on "Sufism: Importance and Inclusion." Sheikh Mufti Syed Baqar Arshad Qasmi, presented his paper on "Sufism in the light of the Quran and Hadith" and Maulana Maqsood Imran Rishadi from Bangalore spoke on "Hazrat Shah Waliullah and Sufism".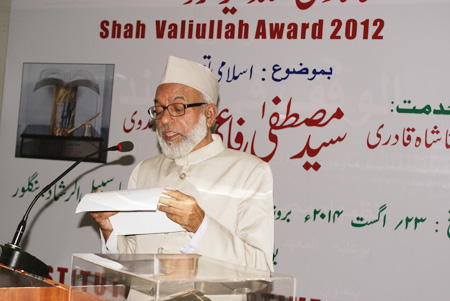 The award presentation ceremony was attended by delegates from different districts of Karnataka. Other notable personalities who attended the function included Maulana Abdul Ghafoor Baqvi, Mr. Aga Sultan, Mr. Obaidullah Sharif, Syed Shahid, Mr. Jameel Aahmed and Mr. Saiful Islam.